Travel Tips - The Best New Zealand Travel Guides
Welcome to our New Zealand travel tips home page. Planning a trip to New Zealand, joining us on a New Zealand Trails' tour or just curious about the possibilities? Here's a place to learn more about New Zealand.
Nestled within the pages of our New Zealand travel tips blog, you'll discover more about the best places to visit, the best things to do, the finest walking tracks and trails, the weather, our local cuisine, wildlife, nature and of course, essential information about planning your New Zealand adventure.
We're continually adding to this resource, so if there's something you want to know and it's not covered in the blog, just flick us an email and we'll get right back to you with the answer. We might even write an article just for you!
ORDER A FREE BROCHURE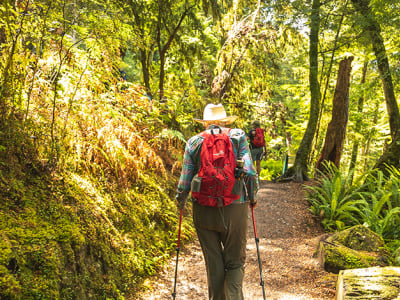 Our Latest Article
Conservation & Regeneration At New Zealand Trails
A typical day on any one of our New Zealand hiking and adventure tours will see you wander through towering ancient beech forest, brushing past native...
READ THIS ARTICLE