New Zealand climate
Aotearoa, New Zealand. Land of the long white cloud...sun, rain, wind and snow!
The New Zealand climate is varied, but broadly speaking it's temperate. We benefit from mild temperatures, moderate rainfall, coastal breezes and plenty of sunshine!
Located in the Southern Hemisphere, New Zealand is a long thin country made up of two islands, North and South. Our climate is heavily influenced by New Zealand's diverse landscape. From the sub-tropical far north, to the semi-arid mountain ranges of the deep south, you're sure to enjoy the delightful and often surprising contrasts on offer.
Alps to ocean
The two main geographical features that impact our climate are the mountains and the sea. Most of New Zealand is no more than an hour or two from the coast, so much of the country enjoys a maritime climate with mild winters and cooler summers, happily avoiding any extremes of hot or cold.
The other dominating factor on the New Zealand climate are the stunning mountain ranges. These rugged peaks contribute to significant climate variations and rapidly changing weather patterns in and around New Zealand's beautiful alpine areas.
Sunshine and rain
New Zealand doesn't have a wet or dry season and for the most part, rainfall is evenly distributed throughout the year. Average rainfall varies between 620mm to 1300mm annually, with places like Milford Sound and the West Coast of the South Island getting considerably more. Annually we enjoy around 2,000 hours of sunshine which balances out the rainfall and contributes to our lush green landscape and fertile agricultural industry.
What are the seasons in New Zealand?
We have four distinct seasons in New Zealand. Seeing as we're in the Southern Hemisphere, our seasons are the opposite way around from the Northern Hemisphere, so spring is September through November, summer is December through February, autumn is March through May and winter is June through August.
Each season is uniquely beautiful. Spring is abundant, summer is relaxed, autumn is colourful and winter is fresh. No matter what time of year you visit, the different seasons will add a layer of interest and diversity to your adventure.
Average temperatures
During summer, the average maximum temperature ranges between 20-30ºC (68 – 86ºF) and in winter between 10-15ºC (50 - 59ºF). The warmest month of the year is typically January and the coldest is July. As a result of our mild climate we rarely need to contend with extremes, although it has been known to snow on Christmas Day, which is mid-summer for us!
Temperatures on the North Island are usually a few degrees warmer than the South Island. The further south you travel, the cooler it gets. In fact, the sub-tropical far north is often known as the 'winterless north', whereas at the bottom of the South Island, winter is a force to be reckoned with (although nothing compared to winter in parts of the US and Canada).
What do the locals do?
Us locals enjoy all New Zealand's shifting seasons, but as a nation of keen hikers and outdoor enthusiasts, we particularly like getting out on the walking trails during spring. You can read more about the joys of spring hiking and five reasons to visit New Zealand during the spring months in this section of the blog.
Summer is peak hiking season and you'll often find Kiwis out and about making the most of their summer break on multi-day hikes and adventures. The long daylight hours and warm weather make for ideal hiking conditions. You'll also find us biking the trails, swimming in the sea, enjoying a game of backyard cricket or firing up the BBQ for a feast with family and friends.
Autumn is one of our favourite seasons – the weather is usually settled and still mild enough to enjoy being in the great outdoors. It's also a little quieter than the summer months, so we often get to enjoy the glorious colours of autumn all to ourselves.
During winter, the mornings are frosty and fresh on the South Island and we do get the occasional snowfall down to town level. The mountains and hills are usually blanketed in snow throughout the winter months, so it's not the best time to be out hiking and exploring, although the locals love getting out skiing and snowboarding instead.
For a comprehensive look at when to plan your New Zealand hiking or walking trip, head over to this article what's the best time for hiking in New Zealand?
We don't run trips during the winter months, but from October to April you'll find us walking, hiking, exploring and experiencing the very best of New Zealand with travellers like you from around the world on our outstanding small group tours.
To find out more about New Zealand Trails and our awesome trips, get in touch with Jodi our New Zealand travel expert, or request a free copy of our brochure.
ORDER A FREE BROCHURE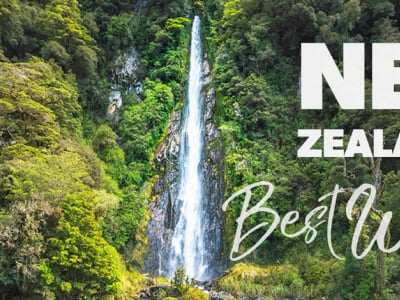 Our Latest Article
New Zealand's Best Waterfalls
Aotearoa/New Zealand is blessed with natural beauty of all kinds. As a relatively young landscape, you can witness it still being carved by the immens...
READ THIS ARTICLE