Kiwi Classic Hiking Tour of New Zealand
Endorphins aren't free. Earn the views!
See the itinerary
Trip information

Starts
Queenstown
Finishes
Queenstown
Price
NZD$7899 AUD$7499 USD$5299 GBP£4199 CAD$7199 +tax
Our most active itinerary, the Kiwi Classic is a true-blue New Zealand hiking adventure. Way more than a typical New Zealand hiking tour, this action-packed trip gets you off the beaten track experiencing incredible multi-day hikes in remote National Parks, scaling impressive heights and soaking in breath-taking views typically reserved for only the most serious mountaineers, not just recreational hikers like us.
This trip is for adventurers, people who enjoy a challenge and know the rewards of pushing outside of their comfort zone just a little. You'll hike, bike and kayak your way around the South Island, exploring places other visitors just don't get to see. If you're looking for a New Zealand hiking trip that's going to test your fitness and challenge you physically, the Kiwi Classic is built for hiking and made for you, serious bragging rights included.
With fresh air in your lungs and adventure coursing through your veins, you'll no doubt work up a healthy appetite during the hiking tour. Our awesome Kiwi guides keep you well fuelled with fresh breakfasts, nourishing lunches and delicious dinners, as well as plenty of snacks along the trail hikes to keep you going. There'll be a hot shower and a clean, comfortable bed to fall into at the end of the day so you'll wake refreshed and ready for the next big adventure!
The Kiwi Classic packs a big punch. You'll be amazed at just how much you're able to see, do and achieve over 14 days. You'll return home refreshed and full of energy, with a big smile on your face. You might well feel fitter than you were before the trip! The Kiwi Classic is worth every drop of sweat on every hiking trail – endorphins aren't free. Earn the views!
"This was a once in a lifetime trip for me and I remain completely overwhelmed with what a gift it was. Andrew and Rachael clearly love NZ and shared their love and enthusiasm in millions of ways. They were also sensitive to the needs, moods, desires, and energies of each of us. They made it FUN, kept us safe, nurtured, informed, humored and delighted us with surprises! "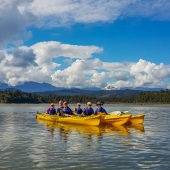 Carol Graybeal (Kiwi Classic , Dec '18)
NZD$7899 AUD$7499 USD$5299 GBP£4199 CAD$7199
+ tax, per person (twin or double share)
Kiwi Classic Day-by-Day Itinerary
Day 1
Queenstown
Hike Ben Lomond
Activities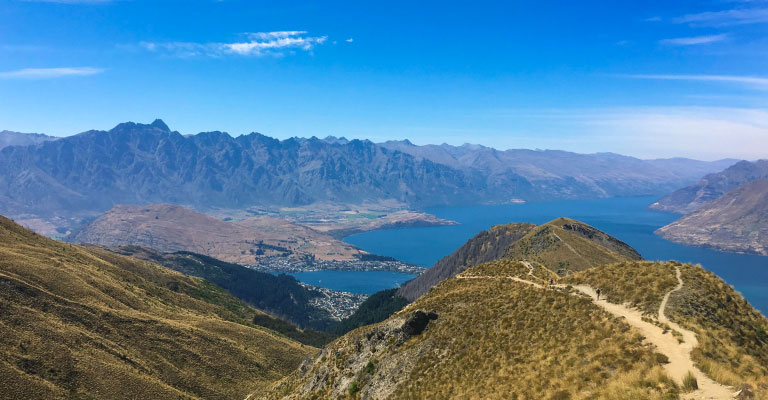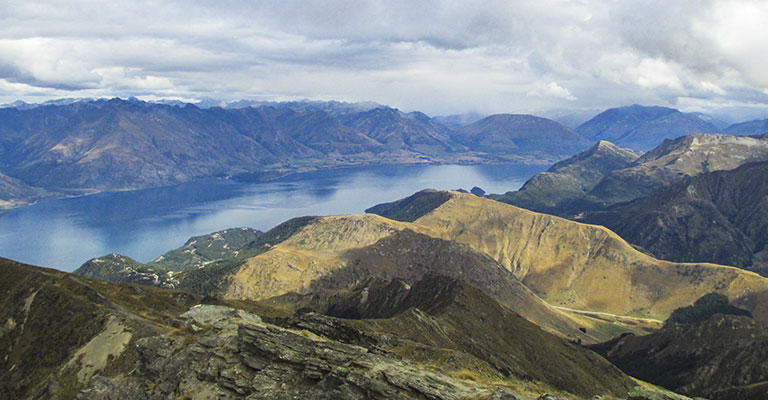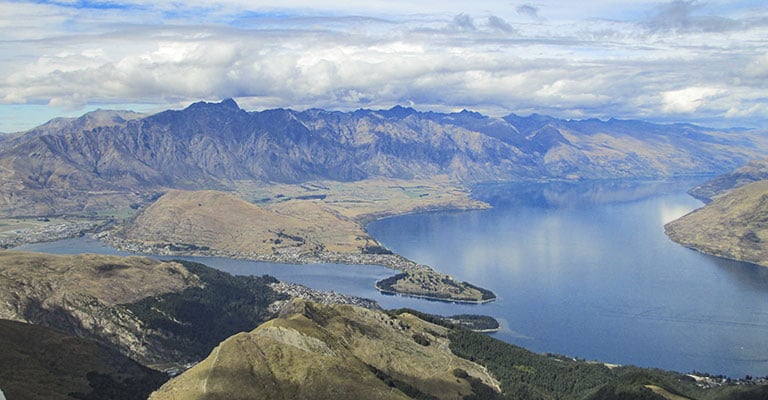 Day 1 – Arrive and hike Ben Lomond
It's time to breathe in your first taste of pure New Zealand mountain air. After making our introductions, we'll head for our first hike of the trip, Ben Lomond. This steady climb is the perfect introduction to New Zealand hiking, offering up panoramic views of Queenstown and Lake Wakatipu.
Hike Ben Lomond
We will begin this adventure by ticking off one of our favourite Queenstown hikes, the stunning Ben Lomond track. We'll buy some time by cutting out the initial slog and hopping on the gondola up to our start point. It doesn't take long to emerge from the forest canopy out onto the tussock-wrapped hills. You'll follow the ridgeline to the summit where you'll be rewarded with spectacular 360 degree views over Queenstown, Lake Wakatipu and the surrounding mountain ranges.
Tonight, we'll bed down in the neighbouring town of Wanaka. This delightful little town is home to many bustling bars, cafes and of course 'that Wanaka tree', which is just a short stroll from our accommodation.
Day 2
Blue Pools
Kayak Lake Mapourika
Includes
Breakfast
Lunch
Dinner
Activities


Accommodation
Glacier Country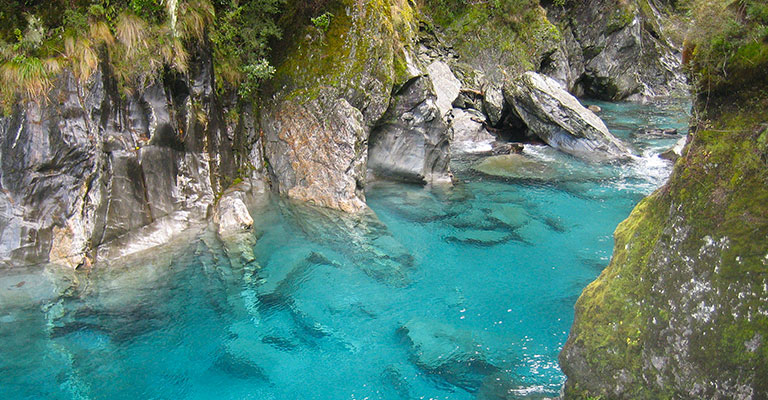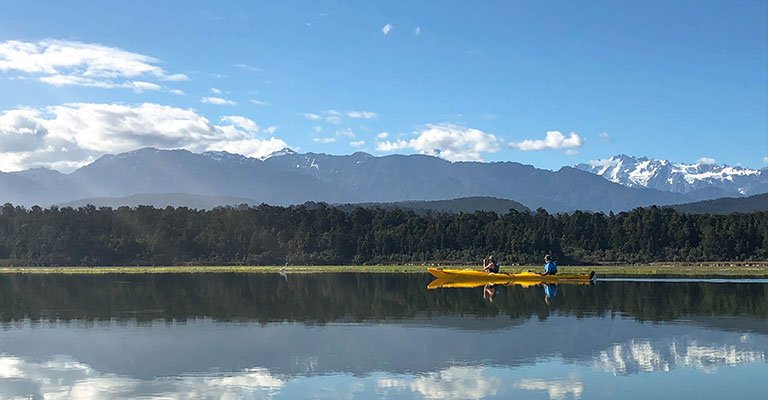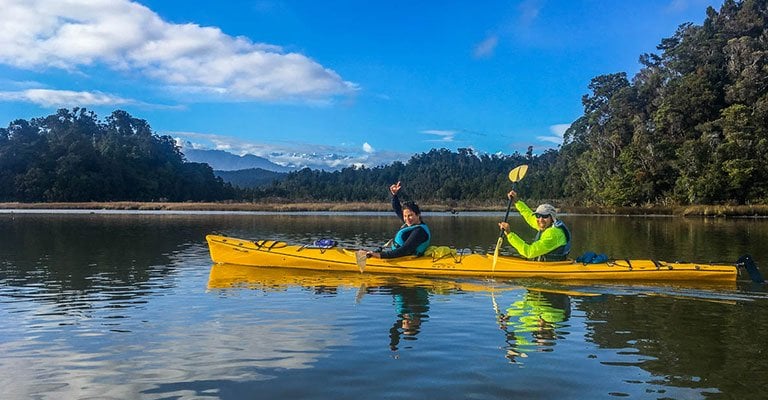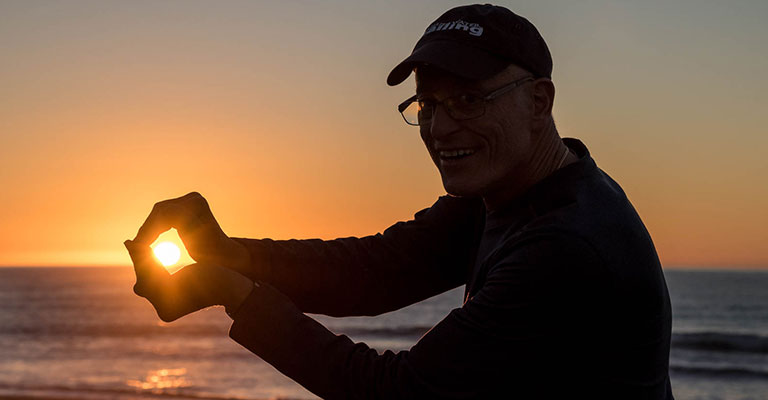 Day 2 – Hike Blue Pools and Sunset Kayak Tour
After digging into your first true Kiwi breakfast with us, it'll be time to hit the road and head off for a hike to the Blue Pools. After a morning spent stretching your legs on the trails, we'll head to Glacier Country where we will spend the night. But first, you'll spend the evening paddling the waters of Lake Mapourika as the sun sets.
Hike Blue Pools
This short walk in Mount Aspiring National Park weaves through native beech and podocarp forest. You'll be awe-struck when you first set eyes on the sparkling glacial water of the Blue Pools.
Sunset Kayak Tour on Lake Mapourika
What better way to take in the iconic West Coast sunsets than out on the water? Paddle the beautiful and serene kettle lake, Lake Mapourika and enjoy the mountainous backdrop of the Southern Alps on the largest lake in the Westland Tai Poutini National Park. Watch out for the abundance of wildlife that call this place home, from the rare crested grebe, the white-faced heron, kingfisher, tui and so many more.
Day 3
Franz Josef Glacier
Pororari River Hike
Includes
Breakfast
Lunch
Dinner
Activities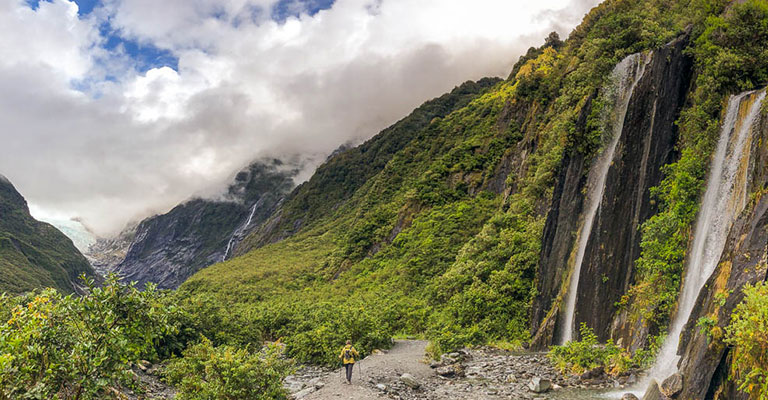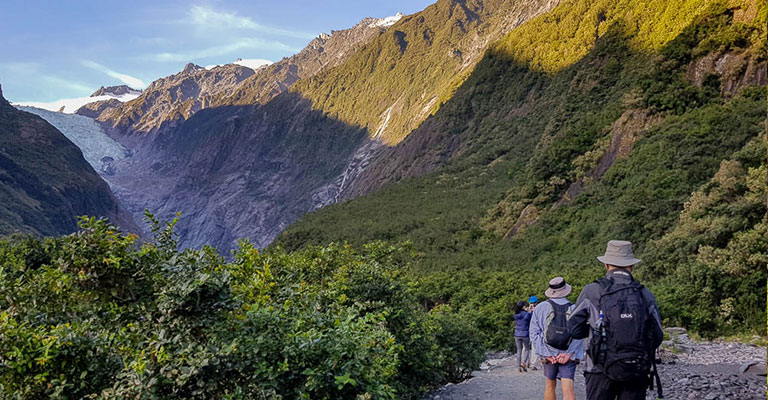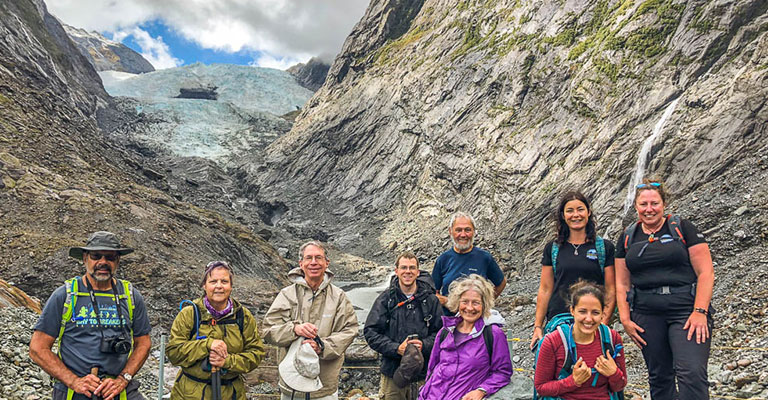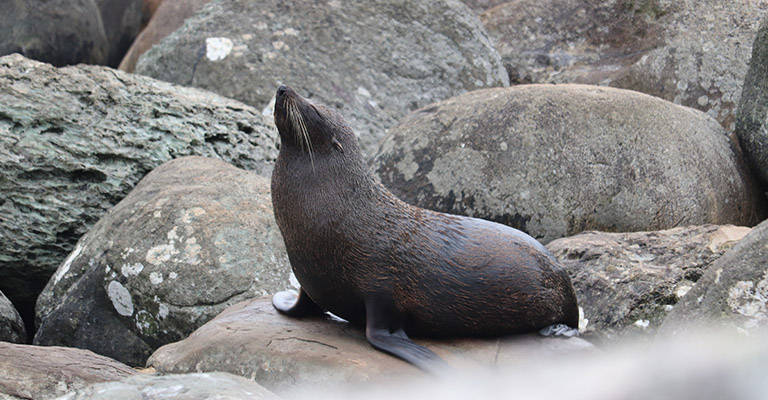 Day 3 – Hike Franz Josef, Pororari River Track and Tauranga Bay Seal Colony
Today you'll experience mountains, beaches and glaciers all in one phenomenal day. Our first hike of the day takes us near to Franz Josef Glacier for impressive views of the terminal face emerging from the rainforest. From there, we'll head to Hokitika to marvel at the driftwood sculptures and Pounamu (greenstone/jade) carvers. It's onwards from there to enjoy our second and third hike of the day, the Pororari Loop Track and the Tauranga Bay Seal Colony.
Franz Josef Glacier
The West Coast Road is a journey voted by Lonely Planet readers as one of the best coastal drives in the world. Rivers, rainforests and tumbling glaciers meet isolated beaches and crashing waves, it's easy to see why people are drawn to this barren but beautiful place. We'll travel this morning to the small township at the foot of Franz Josef Glacier. Descending 12km from the Southern Alps into lush rainforest just 300m above sea level, Franz Josef Glacier is one of our most accessible glaciers. We'll take a relaxed hike to learn about the geology of the area, as well as enjoy views of the terminal face.
Hike Paparoa National Park
Our second hike of the day is unique. Set amongst dense temperate rainforest with a backdrop of towering limestone cliffs, we'll follow the Pororari River as it winds its way through the lush undergrowth. Your guides will tell you about the fascinating flora and fauna along the way and maybe even offer you some 'bush tucker' to taste if you're game!
We'll stop off on the way to our accommodation in Cape Foulwind for a short stroll to the Tauranga Bay Seal Colony. There, you'll experience the Tasman Sea in all its glory, pounding on the cliffs below as you make your way to the Tauranga Bay Seal Colony, well known for its seal pup rookery.
Day 4
Nelson
Multi-Day Hiking or Sea Kayaking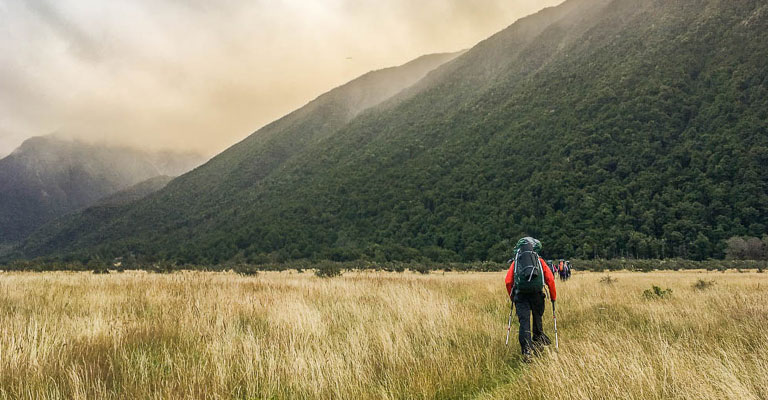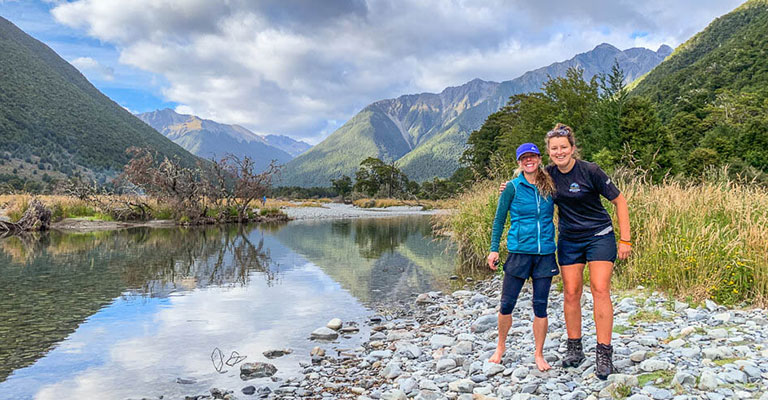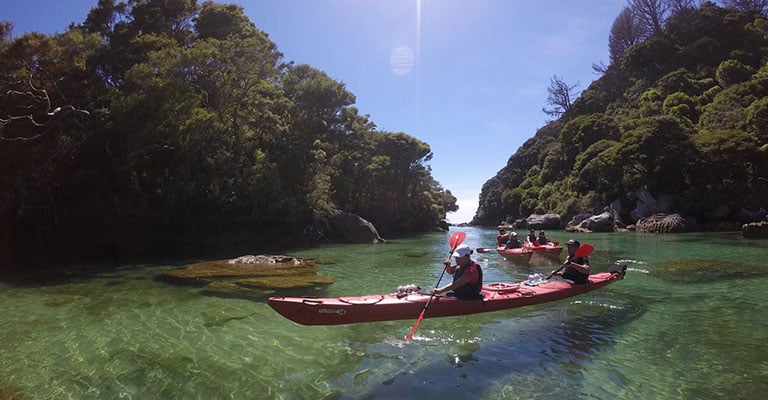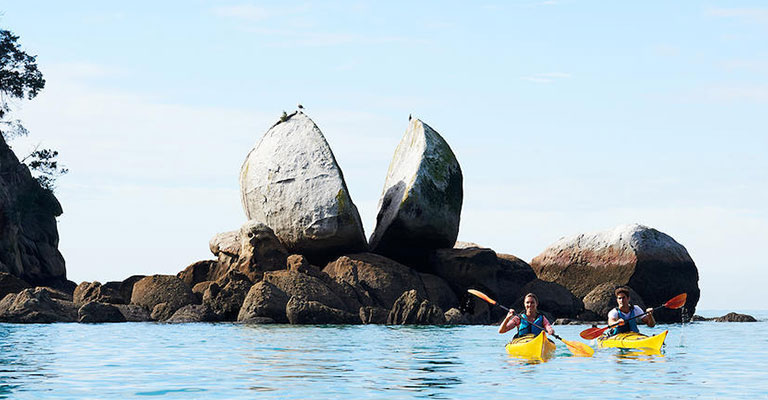 Day 4 – Backpacking Nelson Lakes National Park OR Sea Kayaking Abel Tasman
The choice is yours here - either challenge yourself to complete a backpacking circuit in stunning Nelson Lakes National Park or head off on a sea kayaking adventure in the exquisite Abel Tasman National Park.
Oh, choices, choices...
Kiwis look forward to the weekend with gusto, we're a nation of outdoor enthusiasts who never miss an opportunity to get out in our own backyard. We wake up on a Saturday morning and ponder where the day will take us. Over our obligatory flat white, we weigh up the options – will we be on foot, bike, water or snow? There are so many options and, in some places, it's even possible to go surfing and skiing on the same day. Most of us have a garage full of 'toys' including various bikes, boats, kayaks, skis and of course a few pairs of well-worn hiking boots on standby ready for the next adventure. The hardest part is narrowing down the options!
That choice is yours to make for the next few days - we'll split up in Nelson for our multi-day adventures with the hikers heading to Nelson Lakes National Park and the kayakers to Abel Tasman National Park. The hike will take us through wilderness backcountry and is best suited to those who are comfortable walking on rugged terrain. You'll be carrying an overnight pack and some gear, while your guides will carry the rest of the supplies needed. The sea kayaking is a gentler option, although not without its challenges if that's what you're after. You certainly don't need to be a technical expert to enjoy either choice, but feel free to chat with us if you're unsure about which option would suit you best.
Need help choosing? Check out our fitness guide here to compare choices.
Day 5
Backpacking
or Sea Kayaking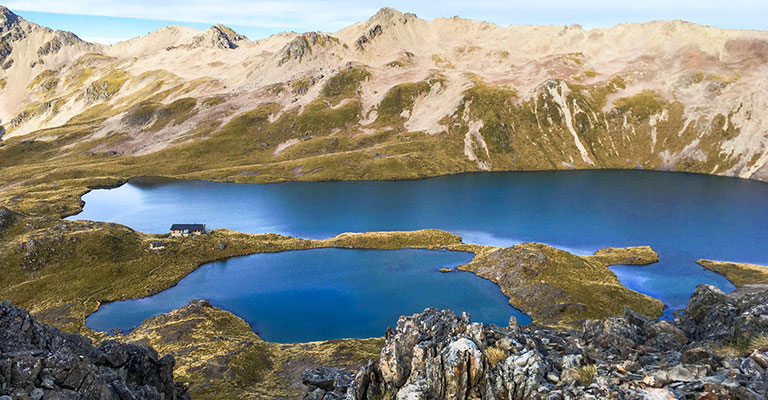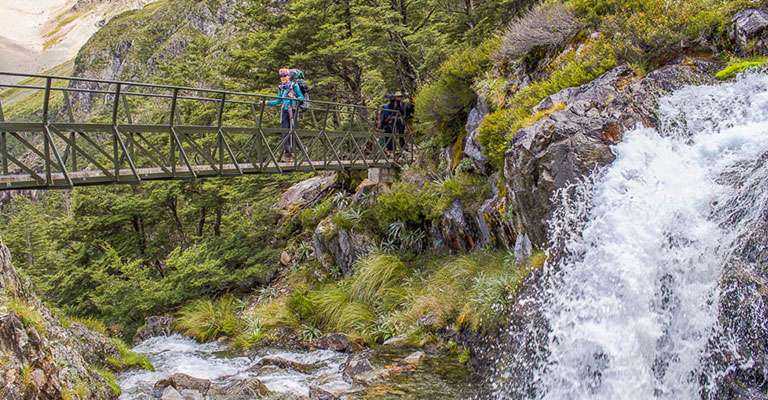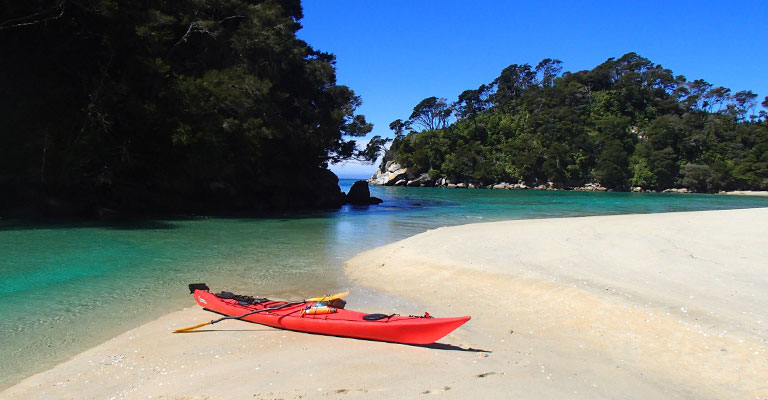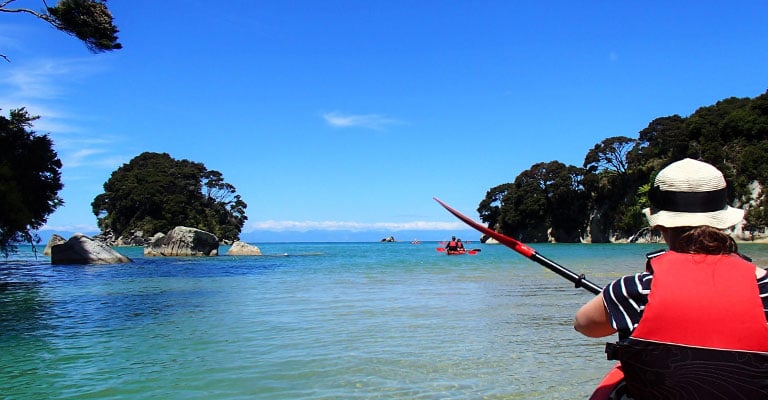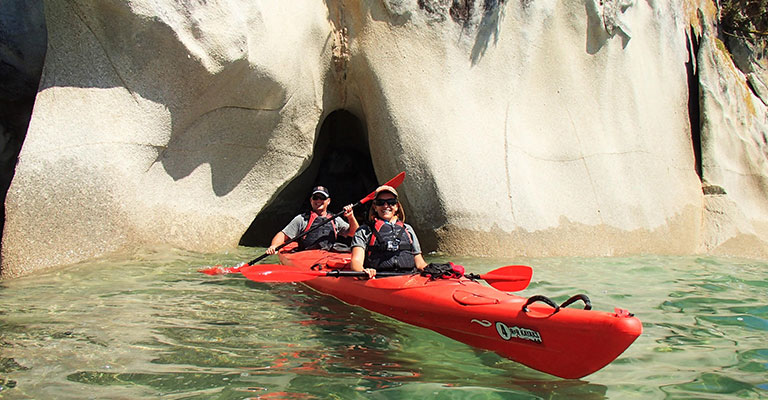 Day 5 – Multi-Day Hiking or Sea Kayaking Continued
Today we continue with your choice of either backpacking the Angelus Circuit in Nelson Lakes National Park, or sea kayaking in Abel Tasman National Park.
Day 6
Finish Multi-day options
Nelson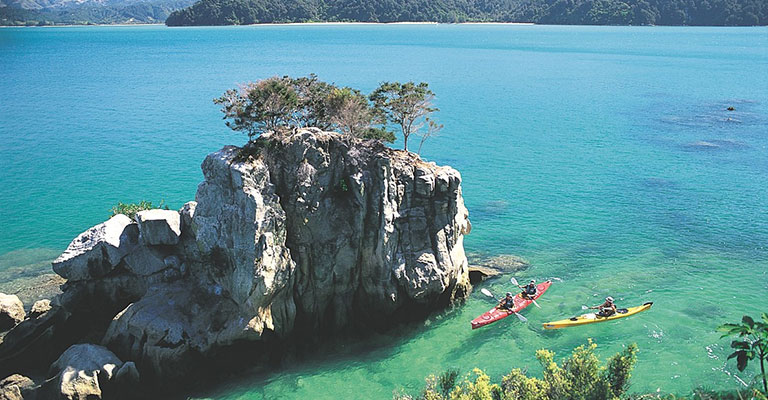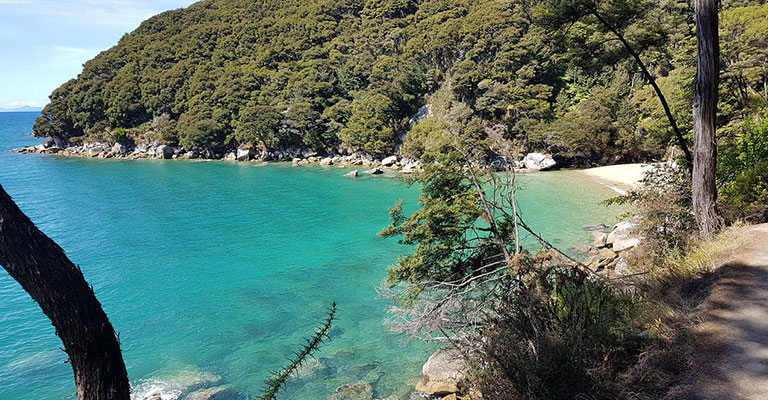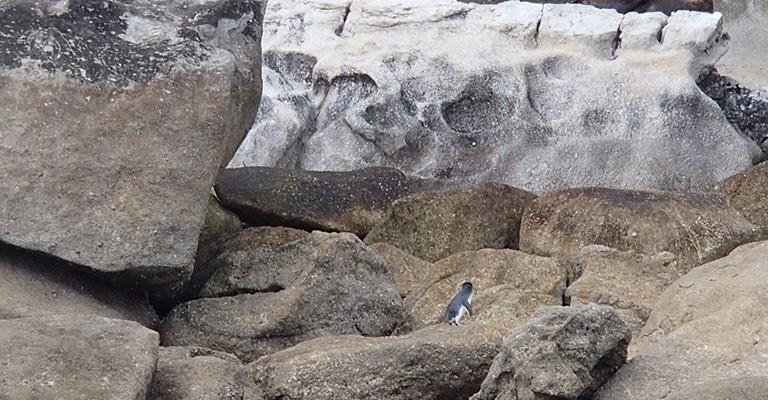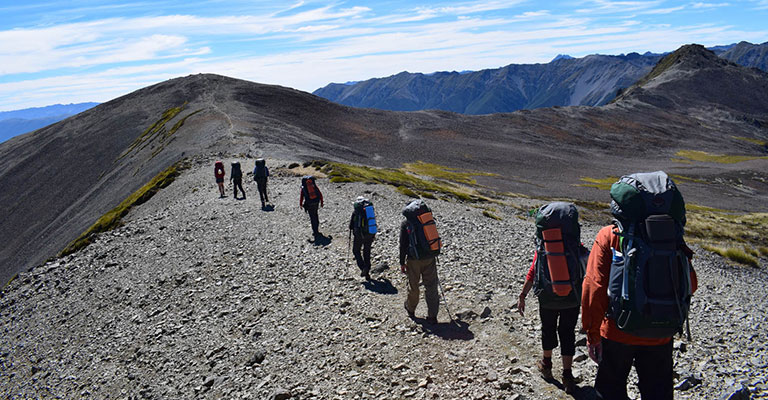 Day 6 – Finish Hiking or Kayaking Options, Regroup and Head to Nelson
Today is the final day of your Angelus Circuit Hike or Abel Tasman Sea Kayaking adventure. Having spent the last couple of days apart, we'll then reconnect with the rest of the group and travel together across to Nelson where we'll spend the night.
Day 7
Nelson
Free Day to Explore
Activities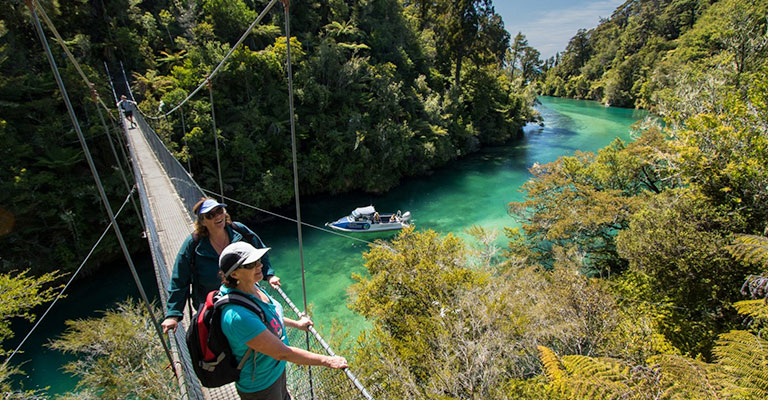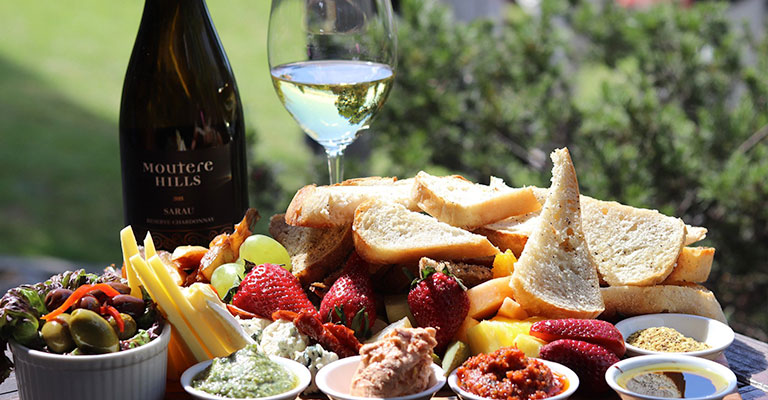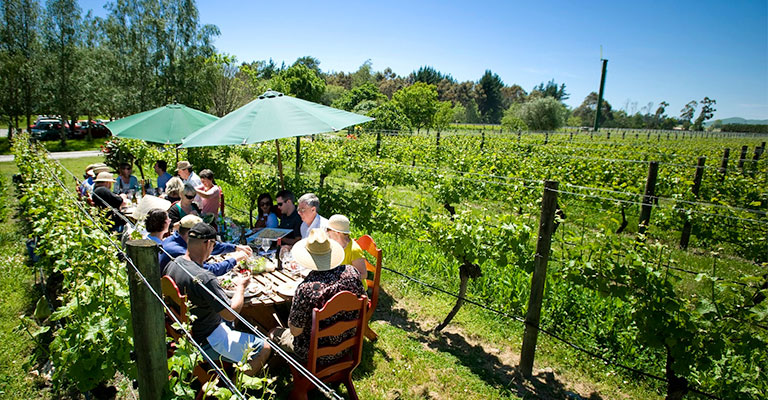 Day 7 – Explore Nelson
Today is yours to spend as you wish, and conveniently we'll be staying is just a short walk into town. Your guides can point you in the right direction if you'd like to go for a hike or bike ride. Nelson is a colourful wee town with a lively arts scene and fantastic beaches, so we recommend you enjoy a relaxing day and indulge in the fine seafood, local wine and craft beer. Or if you'd like to keep your heart rate up, the adrenaline activities on offer are plentiful – canyoning, jet boating, skydiving or quad biking, to mention just a few. One of the most popular options is a sea kayaking or hiking tour in nearby Abel Tasman National Park.
Day 8
Queen Charlotte Track
Marlborough
Includes
Breakfast
Lunch
Dinner
Activities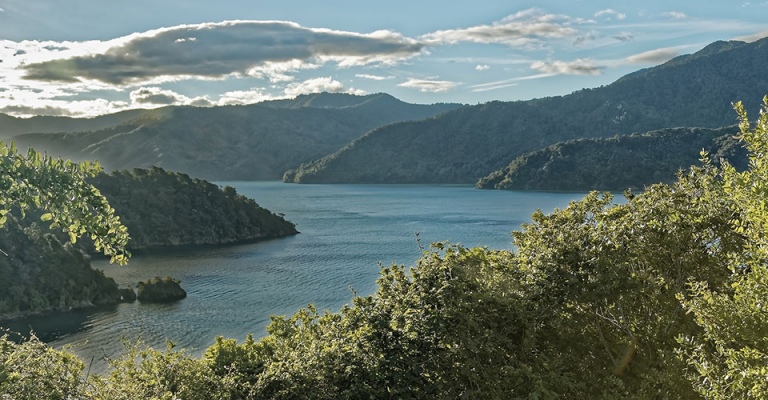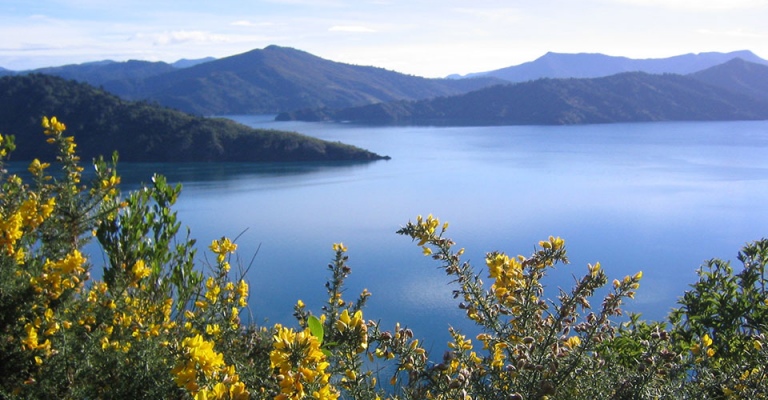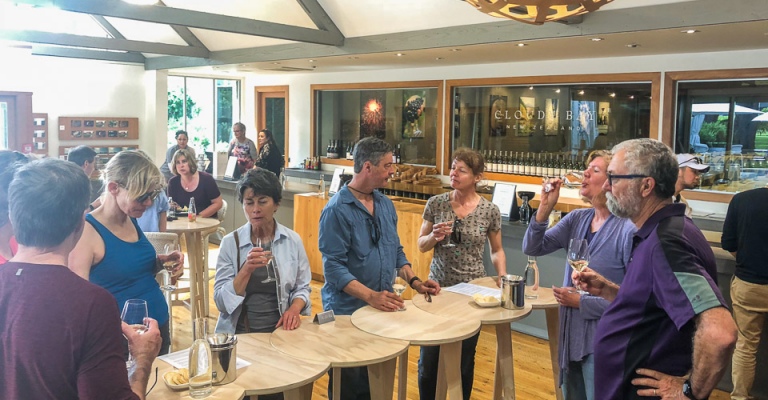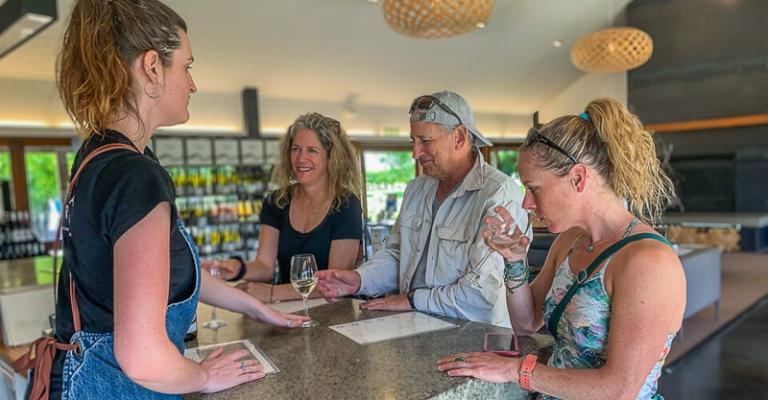 Day 8 – Nelson to Kaikoura
After your multi-day adventure, we've a real treat in store for you this morning. We'll take you to one of our favourite places to brunch in New Zealand – Morri Street Café. Then, it's time to stretch your legs on the Anakiwa to Davies Bay hike. This afternoon, we'll slow the pace down a little with a relaxed wine tasting in Marlborough followed by a Kiwi classic – fish and chips on the beach!
Hike Anakiwa to Davies Bay
This stunning day walk is part of the world-renowned long-distance walking track known as Queen Charlotte Track. It's the perfect opportunity to have a swim in Davies Bay after lunch before walking back to Anakiwa.
Wine tasting in Marlborough
After a couple of days spent in the backcountry, it's time to return to the world of comfort and style with a visit to one of the iconic vineyards of Marlborough. The region is most renowned for its zesty Sauvignon Blanc, so ready your taste buds to sample some of the finest wines in the country.
Tonight, if we're lucky, we'll catch an impressive sunset over the ocean as we enjoy a delicious and quintessentially Kiwi dinner of fish and chips on the beach.
Day 9
Dolphin Swim
Christchurch
Includes
Breakfast
Lunch
Dinner
Activities


Accommodation
Christchurch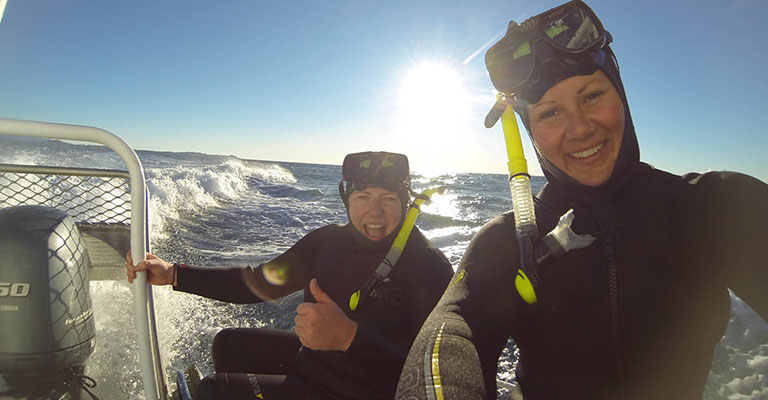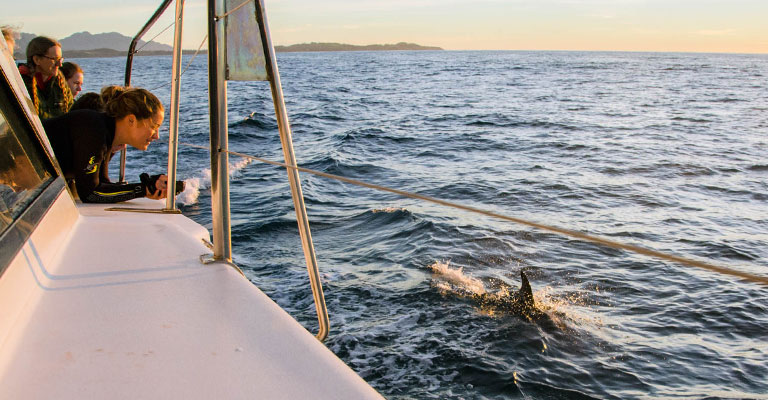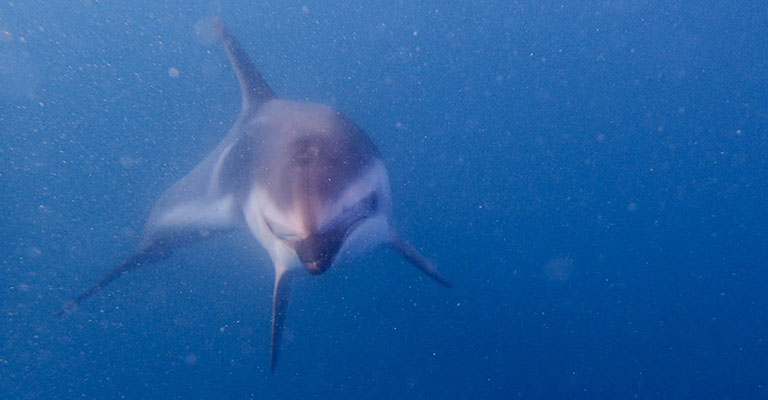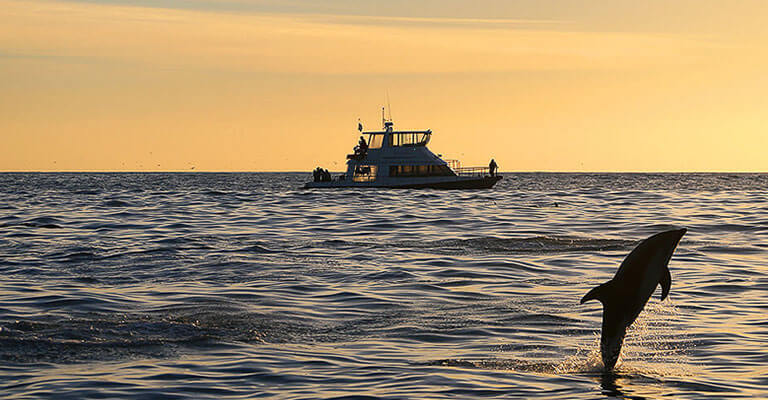 Day 6 – Swim with Dusky Dolphins in Kaikoura
Today is a special one and consistently one of our guests favourites. It is the day you'll swim with Dusky dolphins. After drying off (and tucking into a second breakfast!), we'll hit the road to Christchurch. There, you'll have the choice of hiking the Bridle Path or spending the evening exploring this vibrant city.
Dolphin Swimming Kaikoura
The early start is well worth it today for the best chance at meeting some of the local wildlife that call this area home. We'll don wetsuits to swim with a pod of dolphins in their natural environment. Of course, this is all dependent on whether the dolphins cooperate, but they usually do! The tour is an educational experience designed not to interfere with the natural behaviour, routines or habitat of the dolphins. There are strict regulations in place to protect and respect the dolphins, and to keep you safe in the water. Our boats are well-equipped with swimming/snorkelling platforms. Dusky dolphins are typically found in pods of around 100 and are well-known for their aerobatic feats and interactive behaviour. Whether you opt to get in the water, or watch from the boat, it's a joyful experience for all. Many of our guests have told us this is one of the highlights of their New Zealand adventure.
Discover Christchurch
The city of Christchurch is a lovely spot with a mix of green parks and state-of-the-art architecture. The Avon River weaves its way through a city in the process of regeneration with plenty to see including the colourful Spanish Mission architecture of New Regent Street, curious cardboard cathedral and lush botanical gardens. Discover amazing street-art and innovative projects as the new urban heart of the city blends with the garden-like greenery of the old. Be sure to sample an expertly made coffee from one of the many locally owned cafes in the area. If you are feeling energetic you can join your guides for an evening hike over the Bridle Path for incredible views over Christchurch and Lyttleton Harbour.
Day 10
Mackenzie Country
Ohau
Includes
Breakfast
Lunch
Dinner
Activities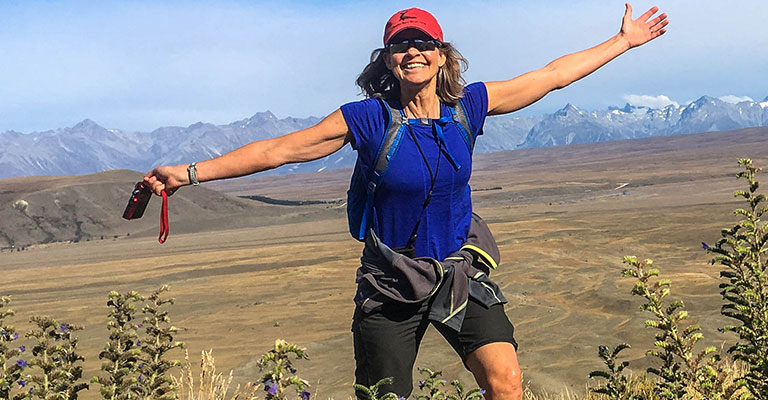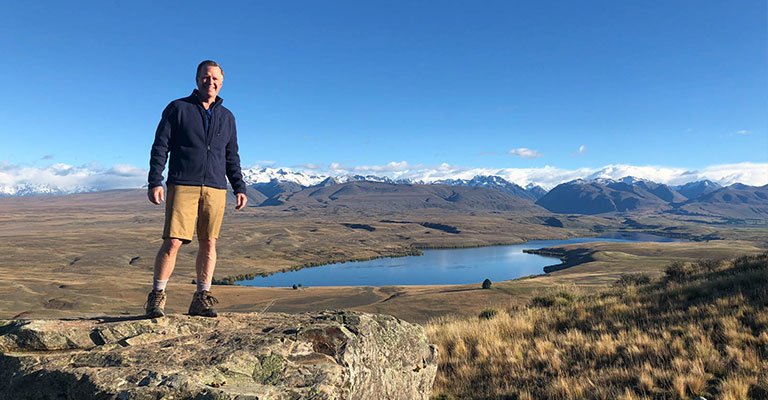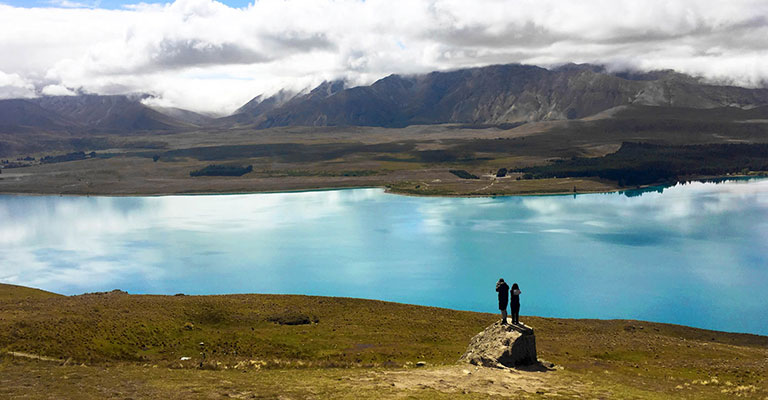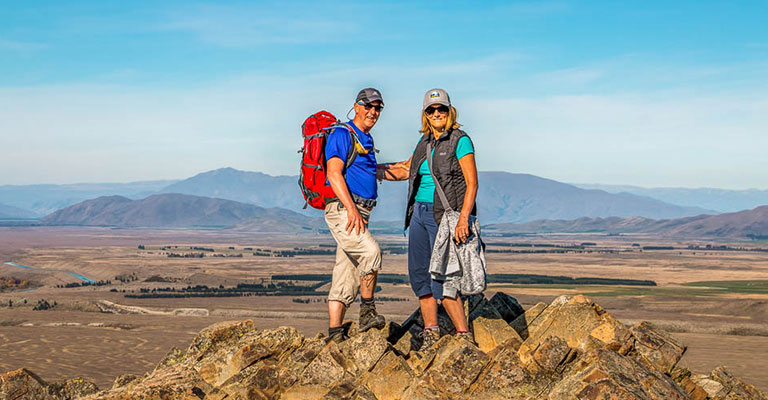 Day 10 – Hike Mount John, explore Mackenzie Country
Today's journey takes us from ocean to mountain as we head from the East Coast to the fertile plains of Canterbury. When we reach Tekapo, we'll go for a hike up Mount John to experience the panoramic views of the beautifully desolate Mackenzie Country and across the turquoise waters of Lake Tekapo. After our hike, we'll make our way towards Ohau. We'll take our time, stopping at some of our favourite spots along the way to stretch our legs and capture the glorious views.
Mount John & Mackenzie Country
This morning we'll make the steady climb up Mount John through forest and tussock to the observatory at the top. As we walk, we'll look out over 360-degree views across the impressive Mackenzie Basin flats and surrounding mountains and lakes. After our hike, we'll check out the famous and much photographed Church of the Good Shepherd, as well as Tekapo's statue to the working dog, commissioned in 1968 by local farmers to pay tribute to the role these intelligent canines played in working the land.
Journey to Ohau
We'll travel on towards Ohau and Aoraki/Mount Cook National Park this afternoon and watch as the passing scenery shifts from lush Canterbury plains and arable land to tussock and mountain. Tonight, you'll be staying on a working high-country station. 'Station' is Kiwi for ranch and 'high-country' means it's pretty tough farming country, but incredibly scenic. We'll be staying in the Aoraki Mackenzie Dark Sky Reserve, which means all you need to do is wander outside and look up for some world-class stargazing this evening.
Day 11
Aoraki/Mt Cook
Your Choice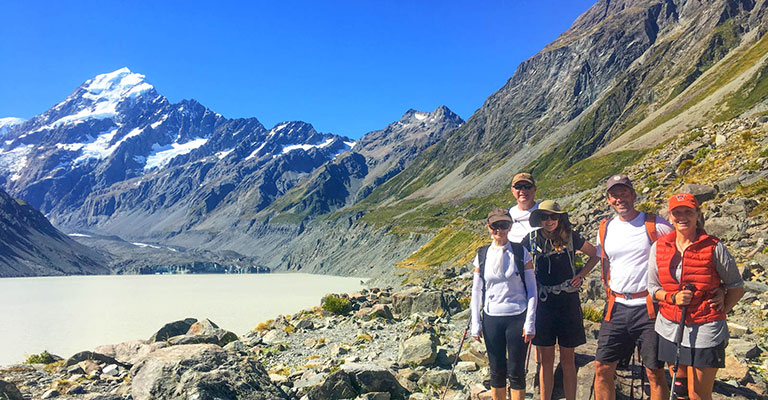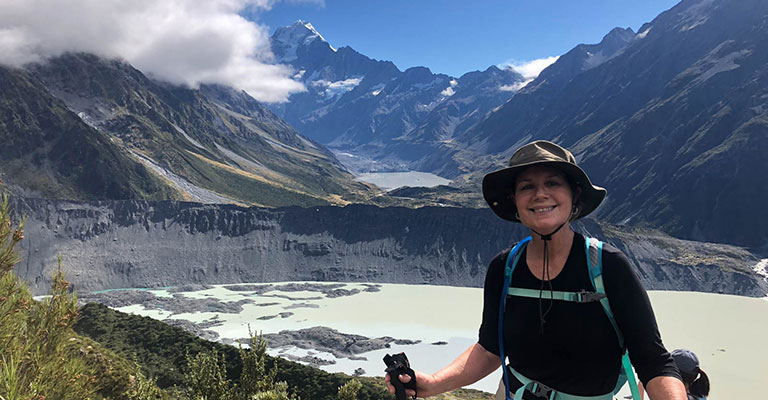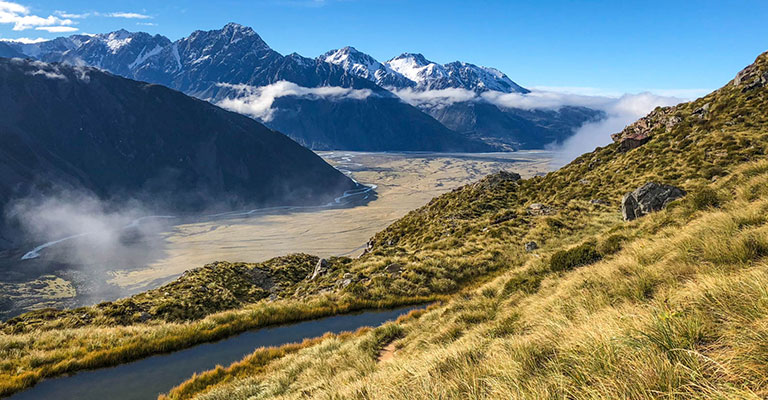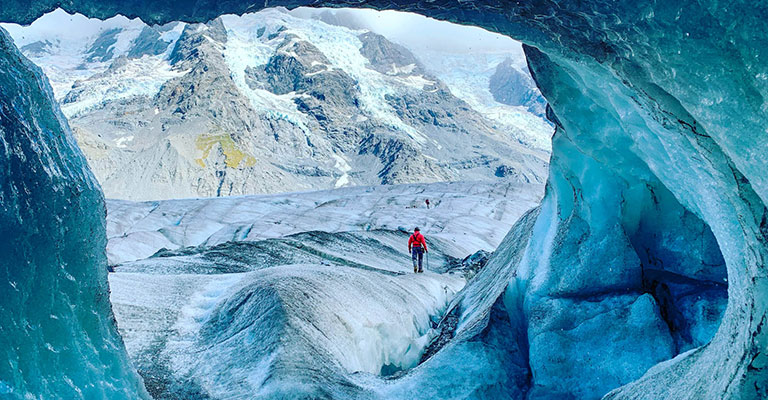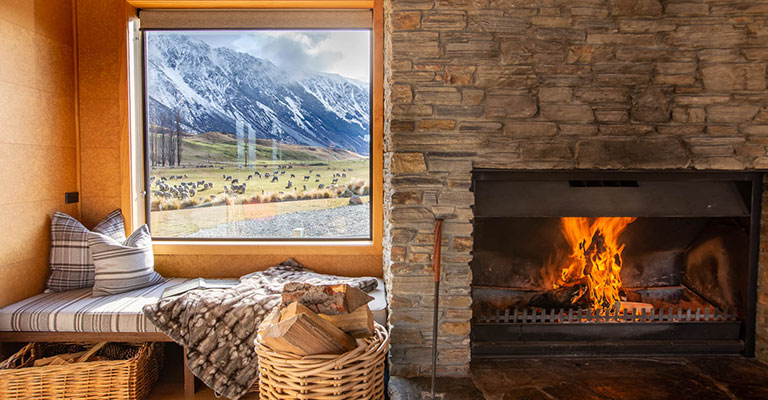 Day 11 – Your Choice in Aoraki/Mount Cook National Park
Some of New Zealand's most spectacular alpine hikes are in Aoraki/Mount Cook National Park. With views normally reserved for serious mountaineers, our hikes today take us into the heart of the national park and provide jaw-dropping vistas for our efforts. Home to our highest and most sacred peak, Aoraki/Mount Cook National Park also boasts a further 19 peaks topping more than 3,000 metres. Your options today include a choice of hikes, exploring the village at your leisure or splurging on a heli-hike or glacier boat tour.
Whichever option you decide on, you won't be disappointed. After a full day of activities, we'll meet up and return to our accommodation for a delicious home-cooked meal and a chance to trade stories from the day.
Day 11 Optional Add-ons
Below are some of the optional add-ons you can also enjoy:
Glacier heli hiking
Take a helicopter up to land high on the Tasman Glacier, New Zealand's longest glacier. In the company of an experienced guide, you'll don crampons to explore the striking ice caves of this frozen wonderland.
USD$390+TAX
Glacier lake boat tour
Hop aboard a Zodiac boat and set off across the iceberg-filled lake for an up-close encounter with the Tasman Glacier's terminal face.
USD$110+TAX
Day 12
Bike Central Otago
Fiordland
Includes
Breakfast
Lunch
Dinner
Activities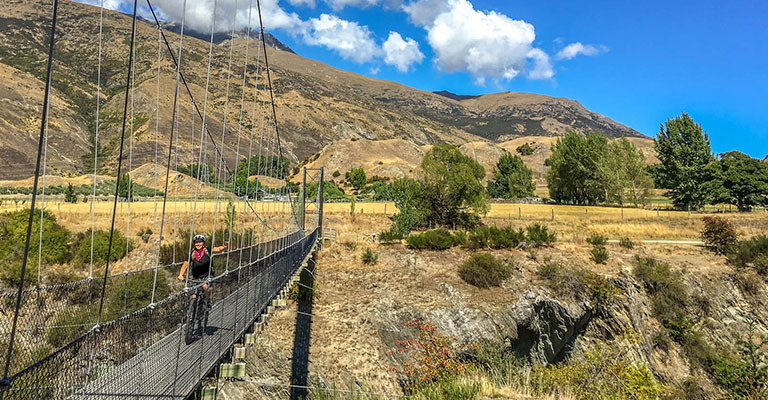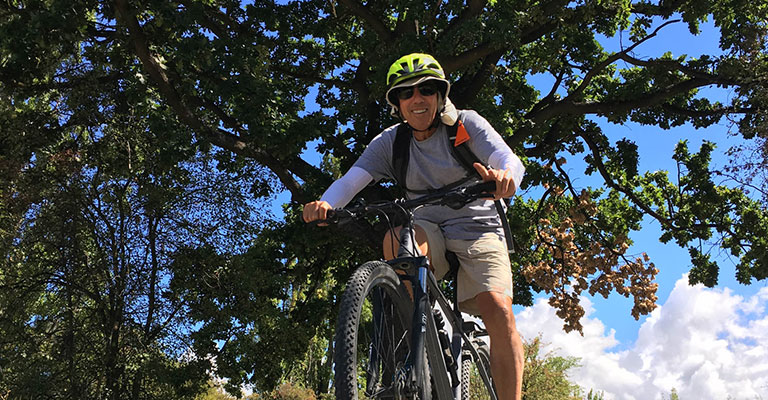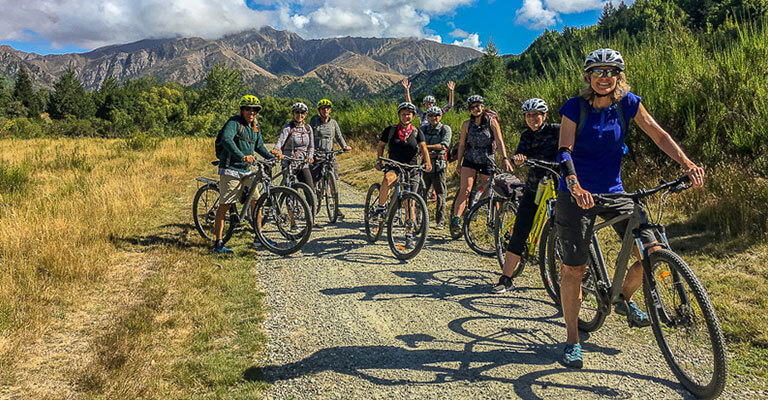 Day 3 – Bike near Queenstown
Queenstown is an internationally acclaimed, adrenaline-fuelled destination. The fresh mountain air exudes excitement, with locals and visitors alike feeding off the buzz. You'll see people out running, riding their bikes, climbing mountains and then parachuting off them! Living in one of nature's playgrounds certainly has its advantages, one of them being the fantastic purpose-built bike trails that weave their way around the Wakatipu Basin. We'll get fitted out with bikes and gear in Arrowtown, an old gold mining town with a rich Chinese mining history, before heading out on the trail. We'll follow the Kawarau River out towards the Gibbston Valley vineyards and the world's first commercial bungy bridge.
This evening we'll head to Te Anau in preparation for tomorrow's epic adventure in Fiordland National Park.
Day 13
Fiordland
Milford Sound and Routeburn Track
Includes
Breakfast
Lunch
Dinner
Activities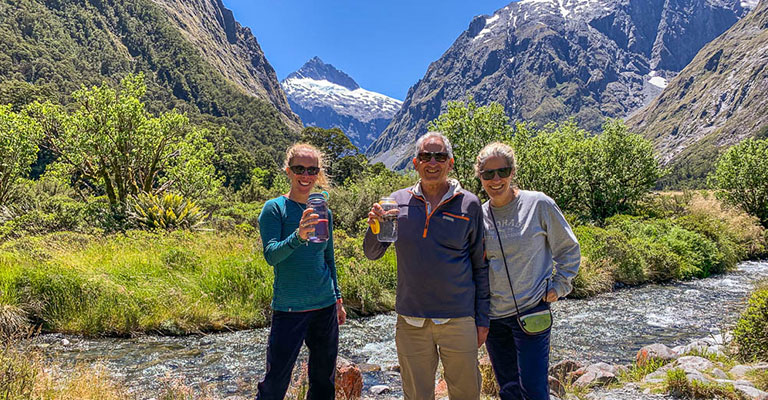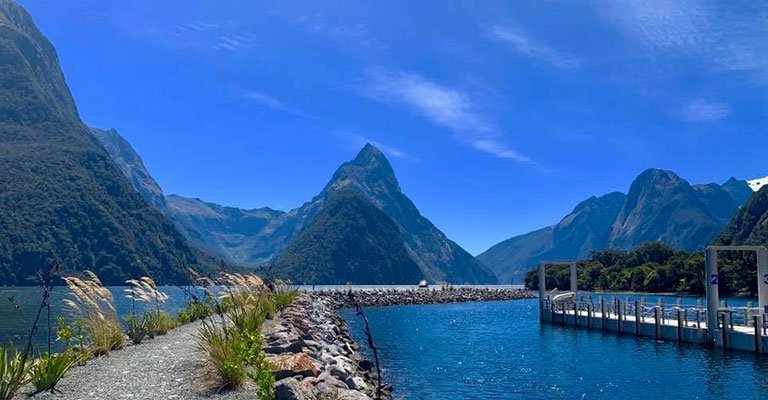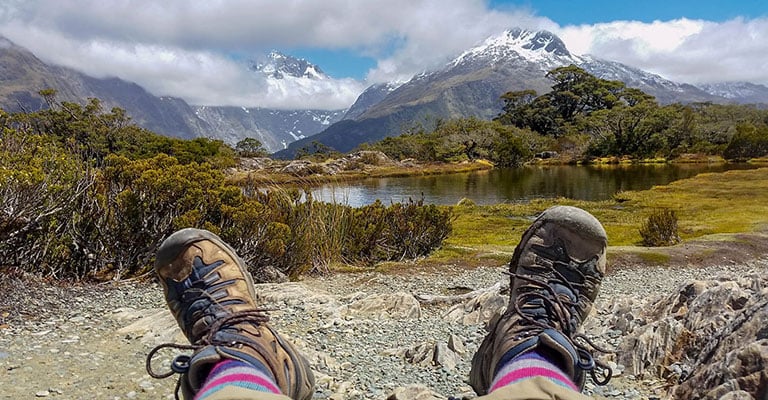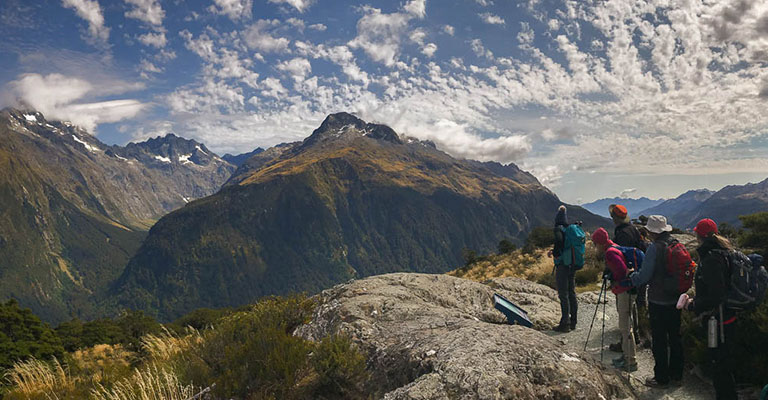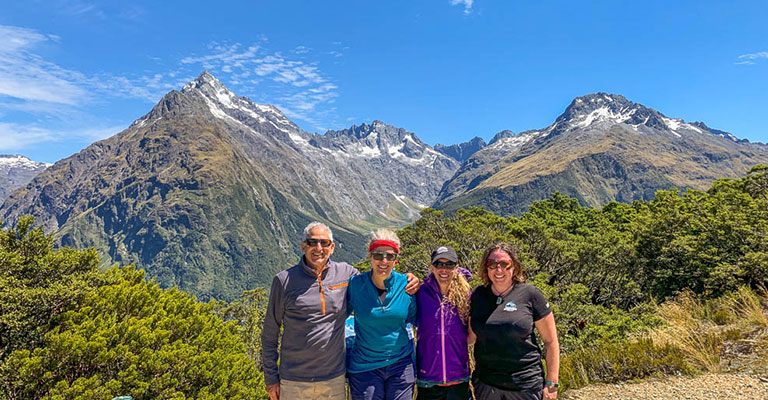 Day 13 – Cruise Milford Sound and Hike Routeburn Track to Key Summit
This morning we gear up for our adventure further into Fiordland. We'll start the day off with a cruise of the iconic Milford Sound. You'll get up close to waterfalls and catch glimpses of the unique wildlife that reside in the area. Once back on dry land we'll discover more of Fiordland on foot, with a heart-pumping hike up to one of our favourite spots in this area – Key Summit on the Routeburn Track. Tonight, you'll have time to explore the lakefront of Te Anau where we'll spend the night.
Cruise Milford Sound
You'll have time to appreciate Milford's undeniable grandeur as we cruise to the mouth of the fiord leading out into the wild Tasman Sea. Whether the sun's shining brightly or the sky's clouded over, the beauty of Milford Sound never disappoints. In a perfect world, it would be raining heavily as that's when the fiord's hundreds of waterfalls are at their most powerful. Get close enough to feel the spray on your face as the thundering torrents cascade down the vertical rock faces – it's an exhilarating experience.
Hike Routeburn Track to Key Summit
Climbing steadily up through dense beech forest, this hike on the world-famous Routeburn Track is well worth the effort. The view from the top is one of Fiordland's most iconic landscapes – across to the snow-capped Mount Christina, Mount Tutoko and the imposing Darran Mountains. A natural tapestry of alpine tarns, jagged peaks, granite cliff faces and glacial blue rivers flowing towards the Tasman Sea and clearly visible down the Hollyford Valley.
Day 14
Te Anau
Hike Kepler Track
Activities


Accommodation
Finish in Queenstown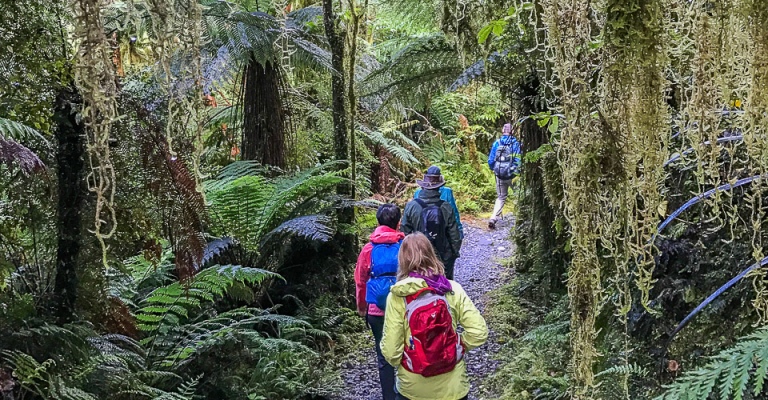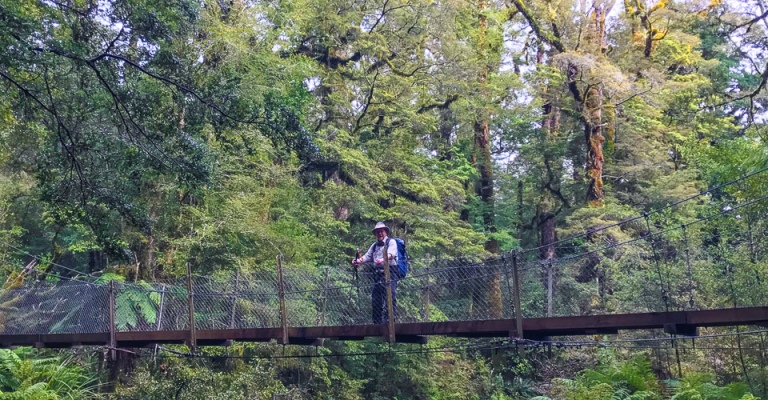 Day 14 – Explore Te Anau & Finish in Queenstown
On the last morning of your trip, you'll have a chance to explore the lakeside town of Te Anau or head out for one last stunning hike in the area on another of our Great Walks, the Kepler Track. After lunch we'll make our way back to Queenstown, marvelling at the incredible views en route, before saying our fond farewells at the airport or your accommodation.
Explore Te Anau or optional Kepler Track hike
Breathe in the fresh Fiordland air and relax in the lakeside town of Te Anau, home to the South Island's largest lake. Gateway to Fiordland's Great Walks, this small town is bustling with hikers and there's a real sense of adventure in the air. It's the perfect place to sign off your own hiking journey with one last foray on the trails. If you're up for stretching the legs this morning, we'll hike a pleasant section of the Kepler Track, one of New Zealand's 10 Great Walks, following the Waiau River as it meanders through beech forest to Rainbow Reach – a fitting end to your New Zealand adventure tour.
Finish in Queenstown
Our last journey together is a scenic trip through tussock country and small farming towns, before tracing the shoreline of the impressive Lake Wakatipu back to Queenstown. Once there, it's time to say goodbye to your guides, travel companions and new-found friends as we drop you at the airport or your accommodation. If you're joining us to explore the North Island on our Sweet North trip, we'll ensure a smooth transition for you. If not, we hope to see you again soon in the 'Land of the Long White Cloud'.
Kiwi Classic Tour
14 Day South Island Tour – Queenstown to Queenstown. All inclusive. For the 2 nights that we stay in our exclusive lakefront property at Ohau, we have access to a range of rooms, including some multi-share accommodation, and separate bathrooms for men and women. If the price below is not in your home currency, get an indication of what it converts to by using our currency converter below. Or ask us for trip prices in your home currency.
NZD$7899 AUD$7499 USD$5299 GBP£4199 CAD$7199
Combine this trip with the Sweet North to see both islands in 19 days! We do have shorter trip options and solo travellers don't pay more, unless you'd like an upgrade to a private room. PLEASE NOTE: This is a sample of our current itinerary. Keep in mind we are constantly fine-tuning and improving our trips based on feedback from our guests and guides, availability, etc. So your trip will be at least this good, but we reserve the right to make slight alterations without notice to make it even better!