Kiwi Classic Hiking Tour of New Zealand
Endorphins aren't free. Earn the views!
See the itinerary
Trip information

Starts
Queenstown
Finishes
Queenstown
Price
NZD$7899 AUD$7499 USD$5299 GBP£4199 CAD$7199 +tax
Our most active itinerary, the Kiwi Classic is a true-blue New Zealand hiking adventure. Way more than a typical New Zealand hiking tour, this action-packed trip gets you off the beaten track experiencing incredible multi-day hikes in remote National Parks, scaling impressive heights and soaking in breath-taking views typically reserved for only the most serious mountaineers, not just recreational hikers like us.
This trip is for adventurers, people who enjoy a challenge and know the rewards of pushing outside of their comfort zone just a little. You'll hike, bike and kayak your way around the South Island, exploring places other visitors just don't get to see. If you're looking for a New Zealand hiking trip that's going to test your fitness and challenge you physically, the Kiwi Classic is built for hiking and made for you, serious bragging rights included.
With fresh air in your lungs and adventure coursing through your veins, you'll no doubt work up a healthy appetite during the hiking tour. Our awesome Kiwi guides keep you well fuelled with fresh breakfasts, nourishing lunches and delicious dinners, as well as plenty of snacks along the trail hikes to keep you going. There'll be a hot shower and a clean, comfortable bed to fall into at the end of the day so you'll wake refreshed and ready for the next big adventure!
The Kiwi Classic packs a big punch. You'll be amazed at just how much you're able to see, do and achieve over 14 days. You'll return home refreshed and full of energy, with a big smile on your face. You might well feel fitter than you were before the trip! The Kiwi Classic is worth every drop of sweat on every hiking trail – endorphins aren't free. Earn the views!
"This was a once in a lifetime trip for me and I remain completely overwhelmed with what a gift it was. Andrew and Rachael clearly love NZ and shared their love and enthusiasm in millions of ways. They were also sensitive to the needs, moods, desires, and energies of each of us. They made it FUN, kept us safe, nurtured, informed, humored and delighted us with surprises! "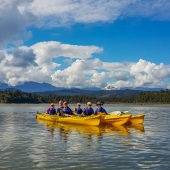 Carol Graybeal (Kiwi Classic , Dec '18)
NZD$7899 AUD$7499 USD$5299 GBP£4199 CAD$7199
+ tax, per person (twin or double share)
Kiwi Classic Day-by-Day Itinerary
Day 1
Queenstown
Hike Ben Lomond
Activities





Day 1 – Arrive and hike Ben Lomond
Get set for your first taste of pure New Zealand mountain air. After making our introductions we'll head for our first hike, Ben Lomond in the Wakatipu Basin. This steady climb will get your heart pumping and give you panoramic views over Queenstown and Lake Wakatipu.
Hike Ben Lomond
Our first hike of the trip is the stunning Ben Lomond track. You'll be rewarded at the top with spectacular 360 degree views over Queenstown, Lake Wakatipu and the surrounding mountain ranges.
Journey to Te Anau - the gateway to the fiords
After soaking up the views and fresh air of the trail, it's time to head towards the famed Fiordland to the lakeside town of Te Anau. Tonight, you'll tuck into a delicious dinner of local fare prepared by your guides and rest up for tomorrow's adventures.
Day 2
Fiordland National Park
Milford Sound and Routeburn Track
Includes
Breakfast
Lunch
Dinner
Activities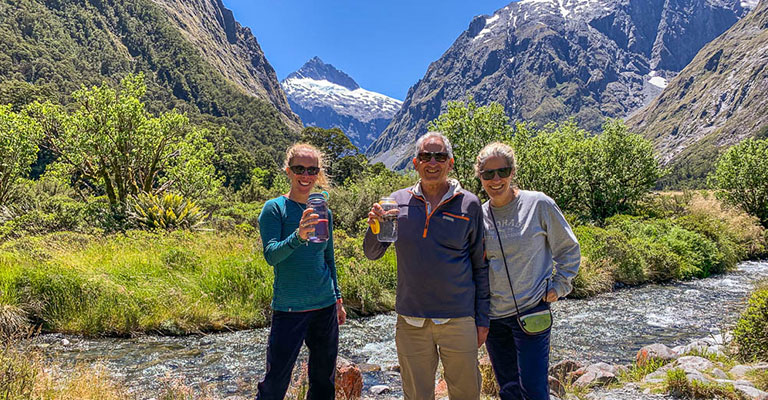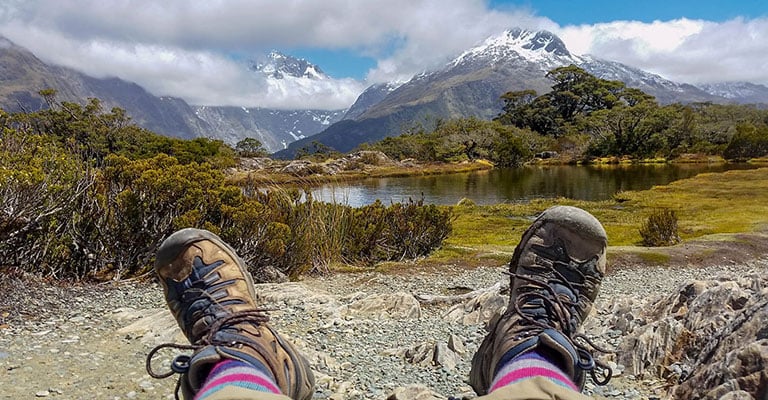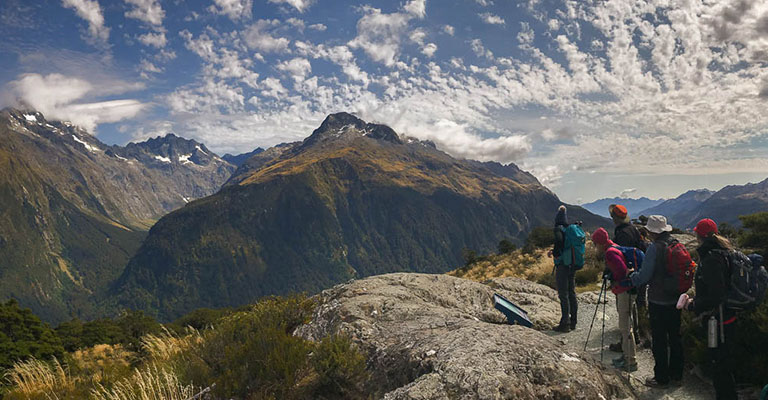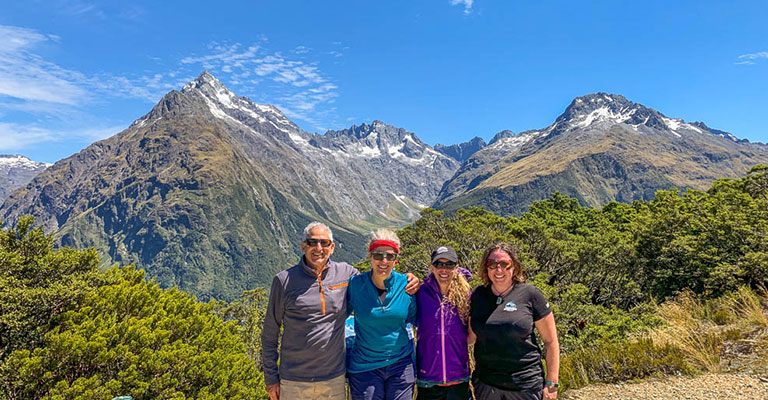 Day 2 – Cruise Milford Sound and Hike Routeburn Track to Key Summit
This morning we gear up for our adventure further into Fiordland. We'll start the day off with a cruise of the iconic Milford Sound. You'll get up close to waterfalls and catch glimpses of the unique wildlife that reside in the area. Once back on dry land we'll discover more of Fiordland on foot, with a heart-pumping hike up to one of our favourite spots in this area – Key Summit on the Routeburn Track. Tonight, you'll have time to explore the lakefront of Te Anau where we'll spend the night.
Cruise Milford Sound
You'll have time to appreciate Milford's undeniable grandeur as we cruise to the mouth of the fiord leading out into the wild Tasman Sea. Whether the sun's shining brightly or the sky's clouded over, the beauty of Milford Sound never disappoints. In a perfect world, it would be raining heavily as that's when the fiord's hundreds of waterfalls are at their most powerful. Get close enough to feel the spray on your face as the thundering torrents cascade down the vertical rock faces – it's an exhilarating experience
Hike Routeburn Track to Key Summit
Climbing steadily up through dense beech forest, this hike on the world-famous Routeburn Track is well worth the effort. The view from the top is one of Fiordland's most iconic landscapes –across to the snow-capped Mount Christina, Mount Tutoko and the imposing Darran Mountains. A natural tapestry of alpine tarns, jagged peaks, granite cliff faces and glacial blue rivers flowing towards the Tasman Sea and clearly visible down the Hollyford Valley. Tonight we stay in Te Anau again.
Day 3
Bike Queenstown
Dark Sky Reserve
Includes
Breakfast
Lunch
Dinner
Activities


Accommodation
Mackenzie Country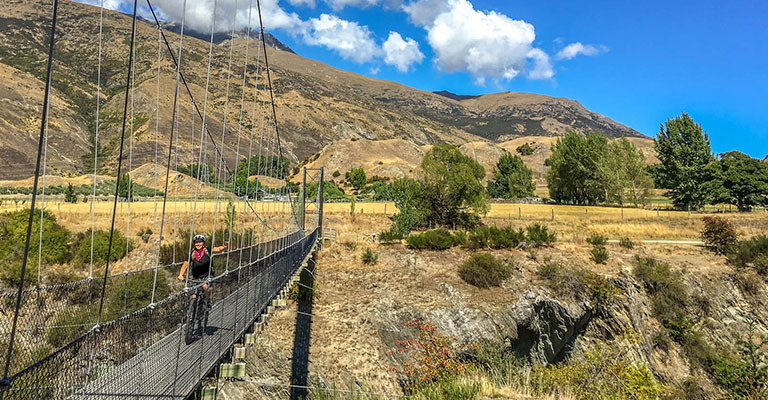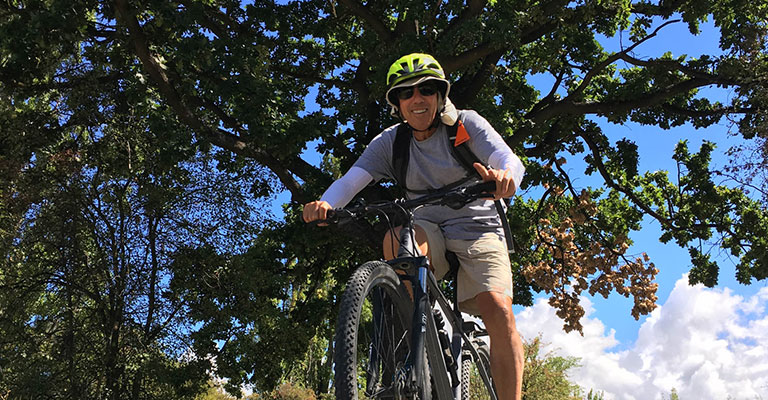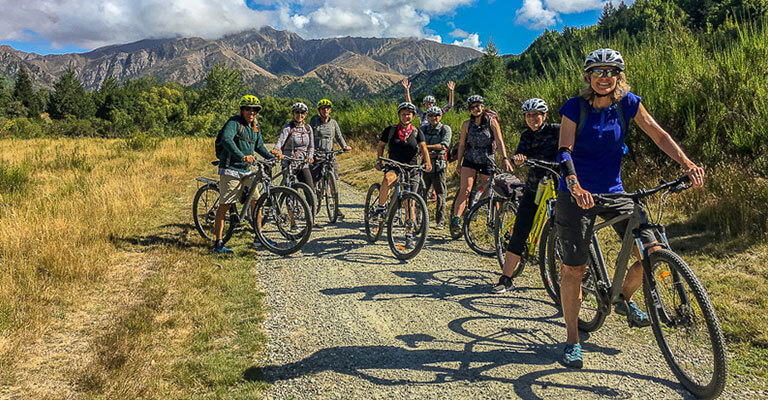 Day 3 – Bike near Queenstown
Today we'll leave the Fiordland forests behind as we head for high country lakes of Central Otago. You'll explore the Queenstown area by bike, before a hearty picnic lunch in Cromwell. Our journey will take us on to the Mackenzie high country where we'll spend the next few nights. An internationally recognised Dark Sky Reserve, the absence of light pollution in this area provides a rare opportunity to gaze up at an outstanding night sky and its myriad of wonders.
Biking near Queenstown
Queenstown is an internationally acclaimed, adrenaline-fuelled destination. The fresh mountain air exudes excitement, with locals and visitors alike feeding off the buzz. You'll see people out running, riding their bikes, climbing mountains and then parachuting off them! Living in one of nature's playgrounds certainly has its advantages, one of them being the fantastic purpose-built bike trails that weave their way around the Wakatipu Basin. We'll get fitted out with bikes and gear in Arrowtown, an old gold mining town with a rich Chinese mining history, before heading out on the trail. We'll follow the Kawarau River out towards the Gibbston Valley vineyards and the world's first commercial bungy bridge.
High Country farm near Mount Cook
After an elegant dismount from our bikes, we'll carry on to Cromwell for a well-deserved lunch, before journeying on to the Mackenzie Basin, an area of rugged natural beauty. Tonight, you'll be staying on a working high-country station. 'Station' is Kiwi for ranch and 'high-country' means its pretty tough farming country, but incredibly scenic. We'll be staying in the Aoraki Mackenzie Dark Sky Reserve, which means all you need to do is wander outside and look up for some world-class stargazing this evening.
Day 4
Aoraki/Mt Cook
Your Choice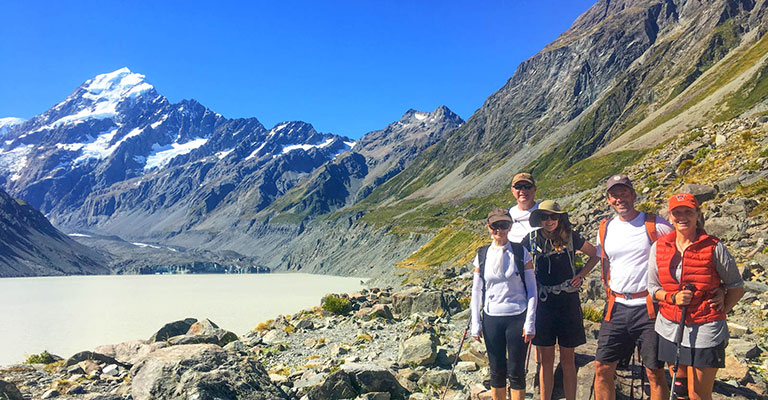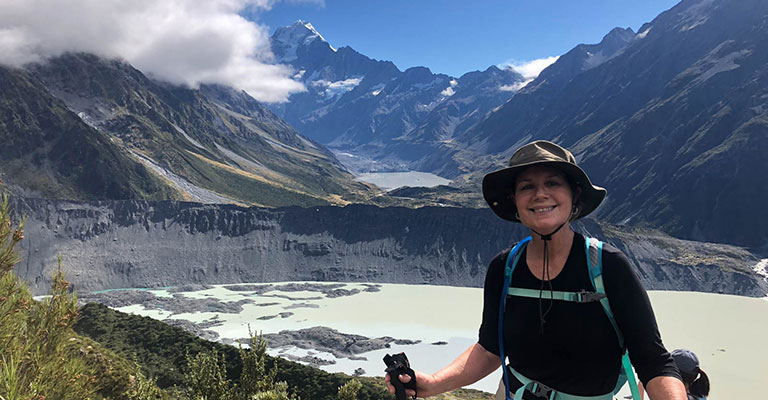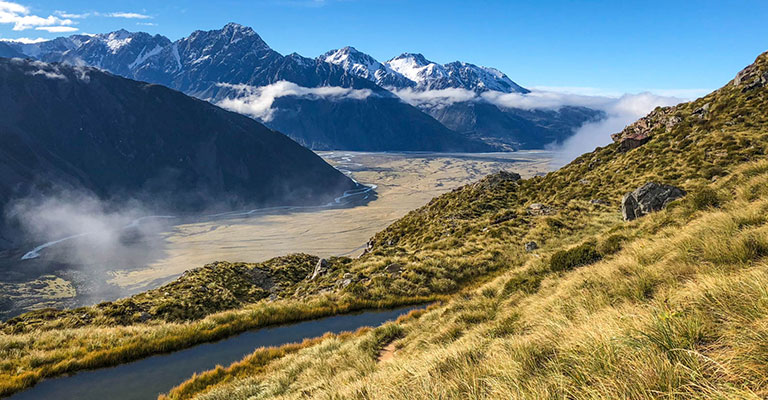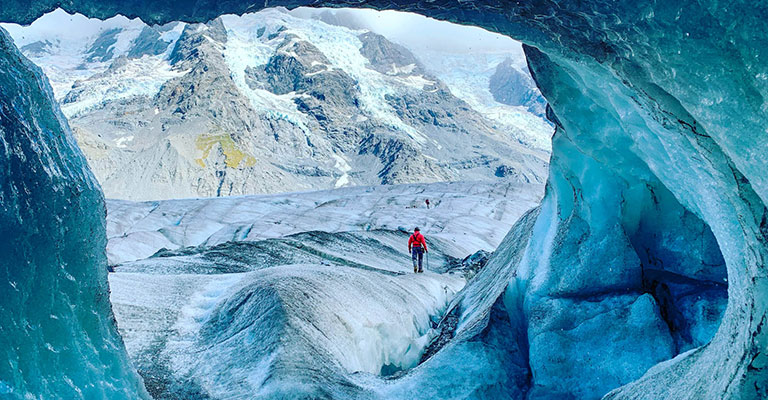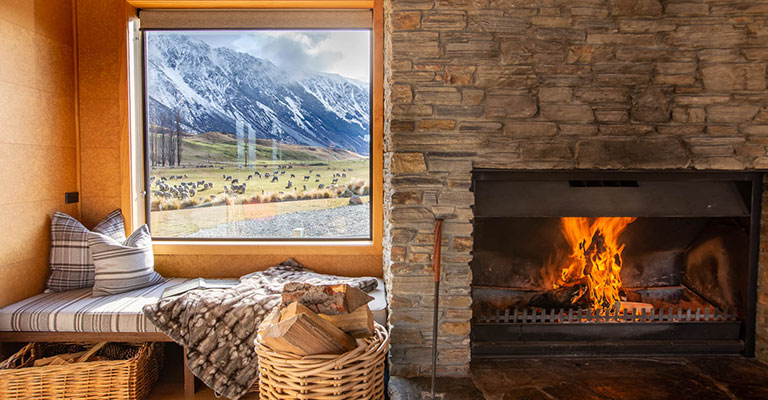 Day 4 – Your Choice in Aoraki/Mount Cook National Park
Some of New Zealand's most spectacular alpine hikes are in Aoraki/Mount Cook National Park. With views normally reserved for serious mountaineers, our hikes today take us into the heart of the National Park and provide jaw-dropping vistas for our efforts. Home to not only its namesake, our highest and most sacred peak, Aoraki/Mount Cook National Park boasts a further 19 peaks topping more than 3,000 metres. Your options today include a choice of hikes, exploring the village at your leisure or splurging on a heli-hike or glacier boat tour.
Day 4 continued
Whichever option you decide on, you won't be disappointed. After a full day of activities, we'll meet up and return to our accommodation for a delicious home-cooked meal and a chance to trade stories from the day.
Day 4 Optional Add-ons
Below are some of the optional add-ons you can also enjoy:
Glacier heli hiking
Take a helicopter up to land high on the Tasman, New Zealand's longest glacier. In the company of an experienced guide, you'll don crampons to explore the striking ice caves of this frozen wonderland.
USD$390+TAX
Glacier lake boat tour
Hop aboard a Zodiac boat and set off across the iceberg-filled lake for an up-close encounter with the Tasman Glacier's terminal face.
USD$110+TAX
Day 5
Kaikoura coastline
Hike Tekapo
Includes
Breakfast
Lunch
Dinner
Activities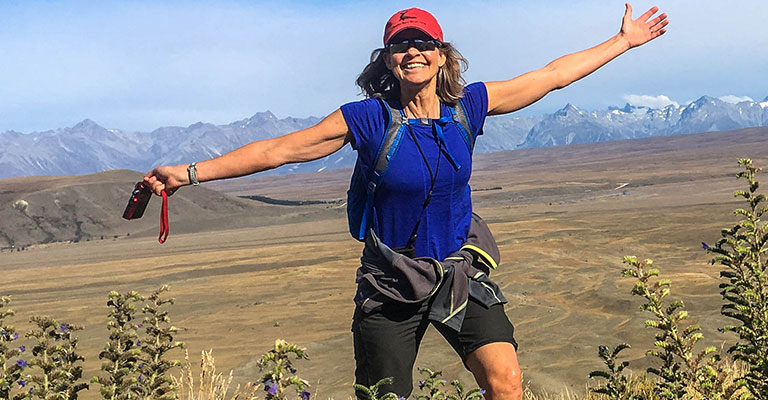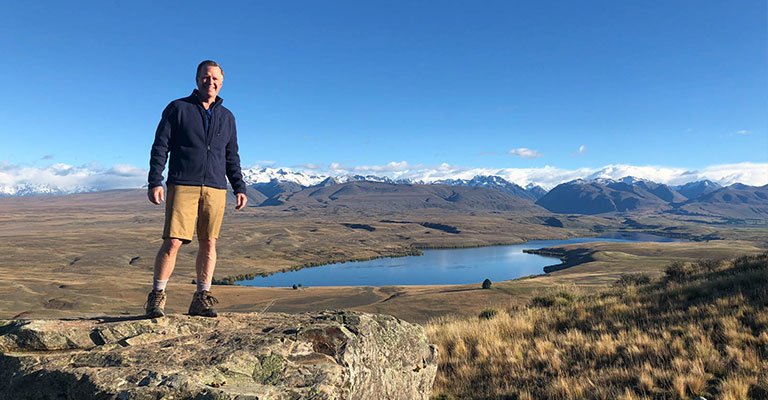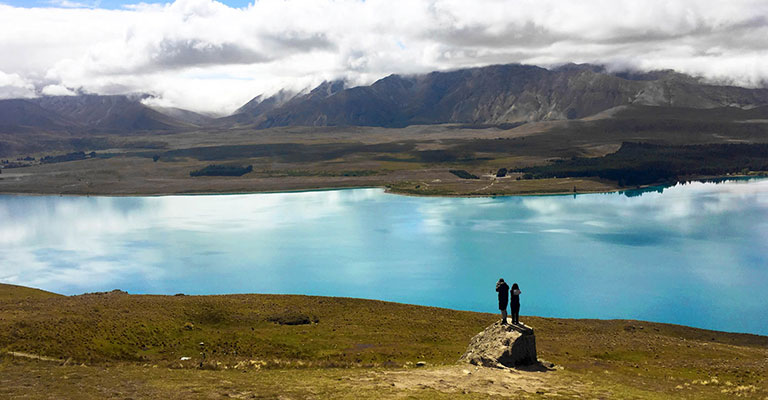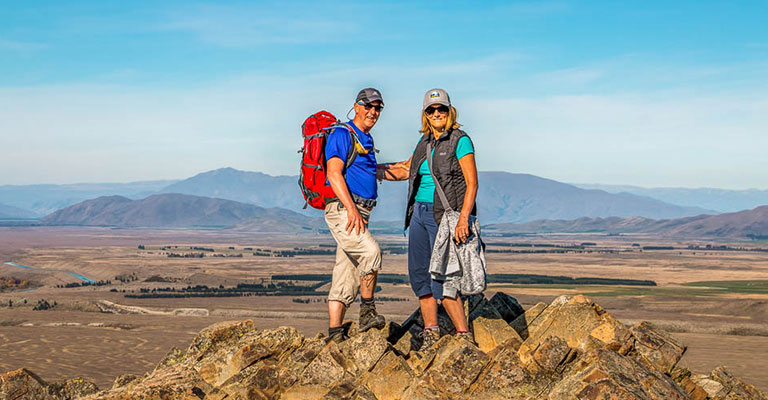 Day 5 – Sightseeing & Explore Kaikoura Peninsula
Today's journey takes us from mountain to ocean, leaving the wide-open spaces of the Mackenzie Country for the green fertile plains of Canterbury. We'll take our time along the way, stopping in some of our favourite spots to stretch our legs and capture the glorious views. Our destination is Kaikoura, a seaside settlement on the East Coast where we'll spend tonight.
Kaikoura Peninsula
The scenery shifts dramatically today, and we'll encounter more evidence of civilization along the way. Once we reach Christchurch, the South Island's largest city, we'll head up the coast a short way to Kaikoura. It's a striking area set on the edge of a deep continental shelf where towering cliffs meet an ocean floor that plunges even further in the other direction. The nutrient rich water and startling topography has created a unique mecca for an abundance of marine life. Whales, dolphins, fur seals and more are thriving in these coastal waters.
Day 6
Nelson
Swim with dolphins
Activities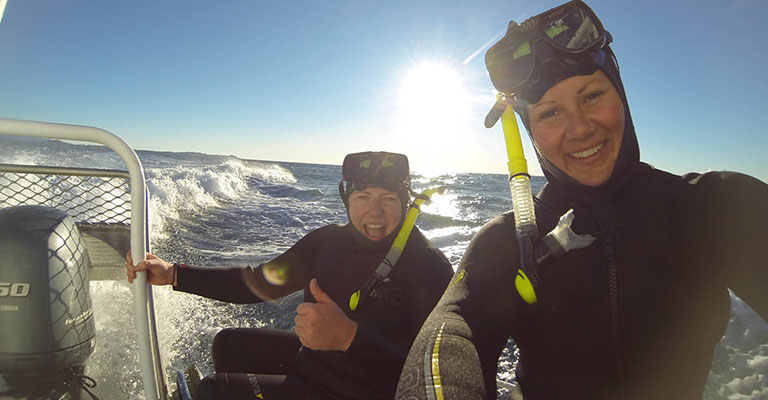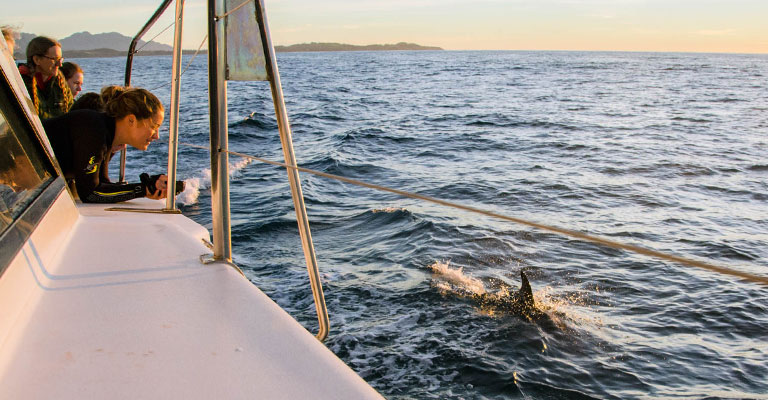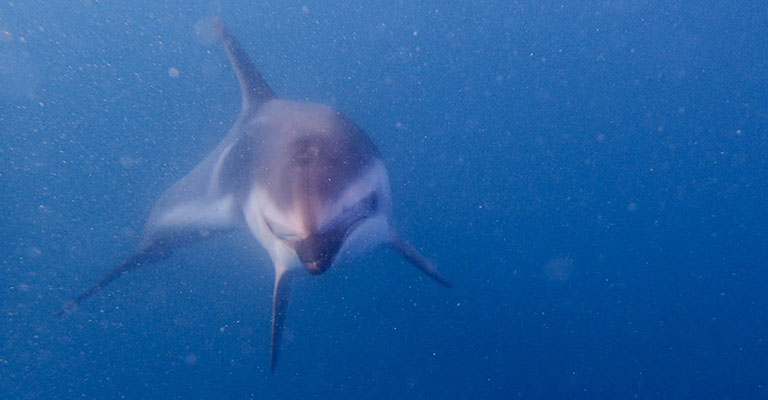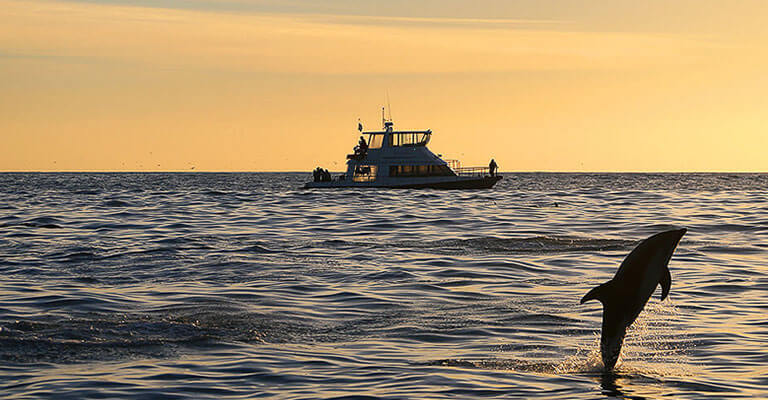 Day 6 – Swim with Dolphins, Marlborough Wine Tasting
Today's an unforgettable day and a dream come true for wildlife lovers. You'll be up bright and early to swim with Dusky dolphins, a rare breed known for their aerobatics. We'll see how many different varieties of fish, seals and even whales we can spot in this outstanding marine reserve, where unusually deep waters make a unique habitat close to shore. We'll then enjoy a vineyard lunch and wine tasting in Renwick, before we carry on north to Nelson, where we spend the next couple of nights.
Dolphin Swimming Kaikoura
The early start is well worth it today for the best chance at meeting some of the local wildlife that calls this area home. We'll don very flattering(!) wetsuits to swim with a pod of dolphins in their natural environment. Of course, this is all dependent on whether the dolphins cooperate, but they usually do! The tour is an educational experience designed not to interfere with the natural behaviour, routines or habitat of the dolphins. There are strict regulations in place to protect and respect the dolphins, and to keep you safe in the water.  Our boats are well-equipped with swimming/snorkelling platforms. Small Dusky dolphins are typically found in pods of around 400 and are well-known for their aerobatic feats and interactive behaviour. Whether you opt to get in the water, or watch from the boat, it's a joyful experience for all. Many of our guests have told us this is one of the highlights of their New Zealand adventure.
Arrive

Nelson

After a thrilling morning, we'll travel to Nelson, the sunniest spot in New Zealand. With a geography that spans everything from golden beaches and crystal-clear water, to lush forests and rugged mountains, it's the perfect place to spend a couple of days. This afternoon we'll enjoy lunch and a wine tasting, while the evening is free to explore Nelson's culinary delights on your own.
Day 7
Nelson
Free Day to Explore
Activities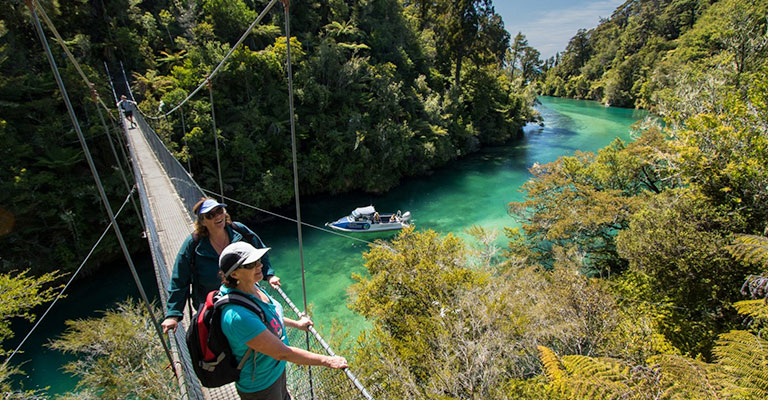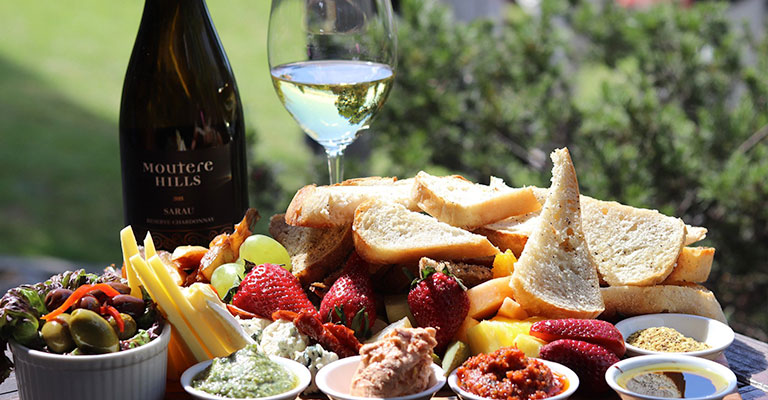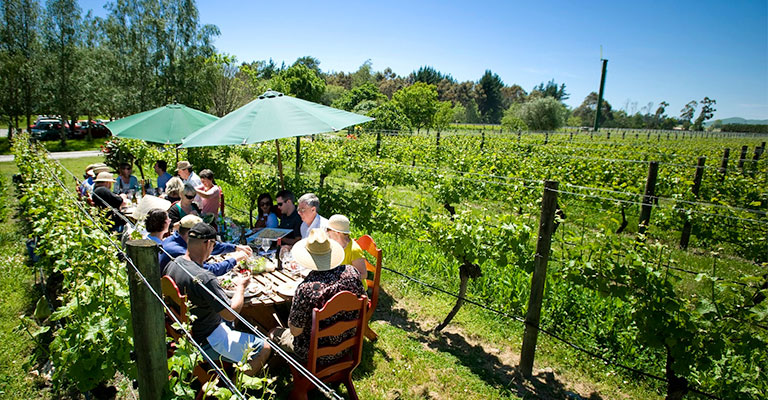 Day 7 – Explore Nelson
Today is yours to spend as you wish, and conveniently we'll be staying just a short walk into town. Your guides can point you in the right direction if you'd like to go for a hike or bike ride. Nelson is a colourful wee town with a lively arts scene and fantastic beaches, so we recommend you enjoy a relaxing day and indulge in the fine seafood, local wine and craft beer. Or if you'd like to keep your heart rate up, the adrenaline activities on offer are plentiful – canyoning, jet boating, skydiving or quad biking, to mention just a few. One of the most popular options is a sea kayaking tour in nearby Abel Tasman National Park.
Day 8
Nelson
Multi-Day Hiking or Sea Kayaking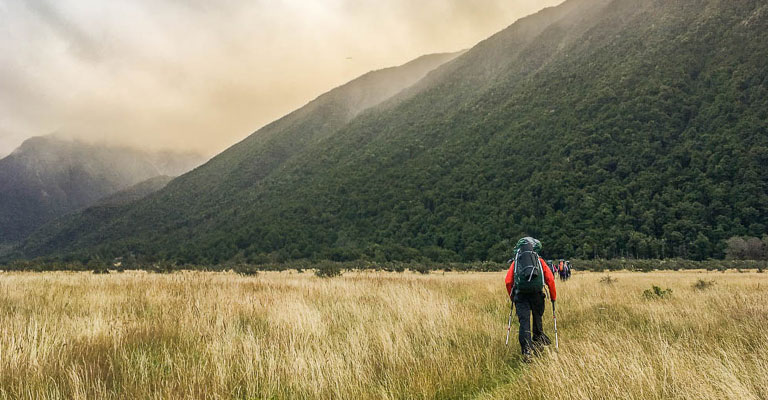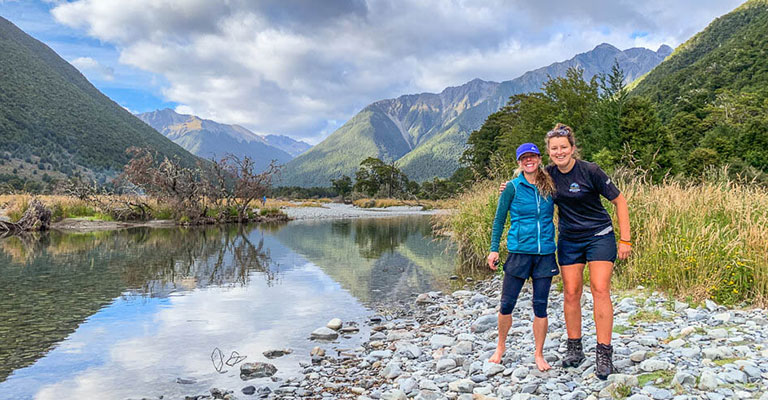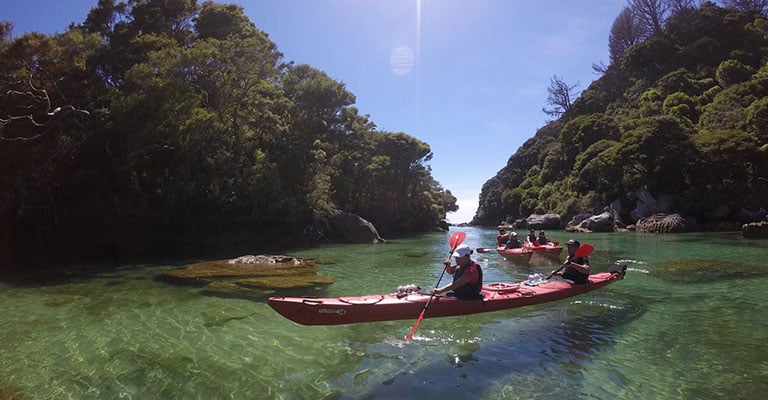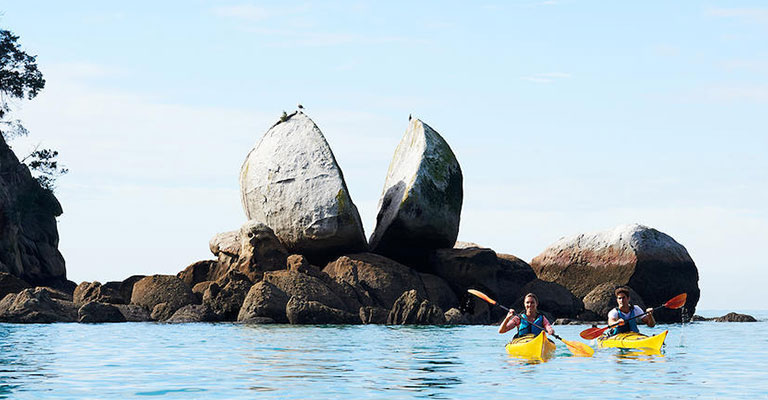 Day 8 – Backpacking Nelson Lakes National Park OR Sea Kayaking Abel Tasman
The choice is yours here - either challenge yourself to complete a backpacking circuit in stunning Nelson Lakes National Park or head off on a sea kayaking adventure in the exquisite Abel Tasman National Park.
Oh, choices, choices...
Kiwis look forward to the weekend with gusto, we're a nation of outdoor enthusiasts who never miss an opportunity to get out in our own backyard. We wake up on a Saturday morning and ponder where the day will take us. Over our obligatory flat white, we weigh up the options – will we be on foot, bike, water or snow? There are so many options and, in some places, it's even possible to go surfing and skiing on the same day. Most of us have a garage full of 'toys' including various bikes, boats, kayaks, skis and of course a few pairs of well-worn hiking boots on standby ready for the next adventure. The hardest part is narrowing down the options!
That choice is yours to make for the next few days - we'll split up in Nelson for our multi-day adventures with the hikers heading to Nelson Lakes National Park and the kayakers to Abel Tasman National Park. The hike will take us through wilderness backcountry and is best suited to those who are comfortable walking on rugged terrain. You'll be carrying an overnight pack and some gear, while your guides will carry the rest of the supplies needed. The sea kayaking is a gentler option, although not without its challenges if that's what you're after. You certainly don't need to be a technical expert to enjoy either choice, but feel free to chat with us if you're unsure about which option would suit you best.
Need help choosing? Check out our fitness guide here to compare choices.
Day 9
Backpacking
or Sea Kayaking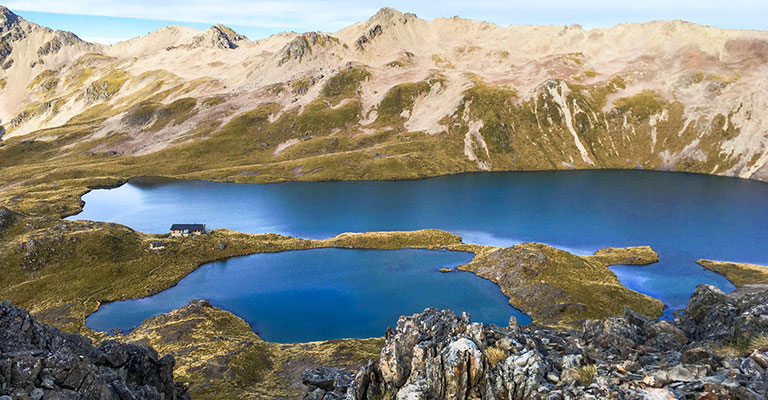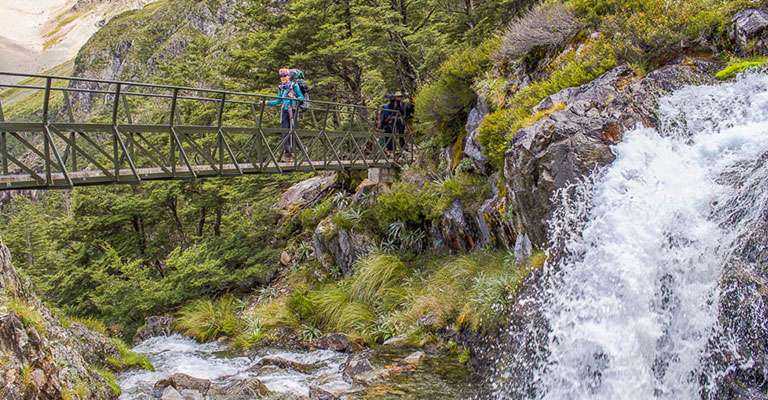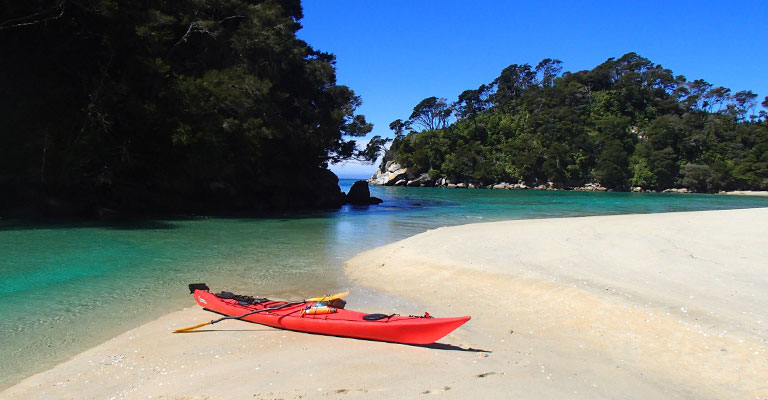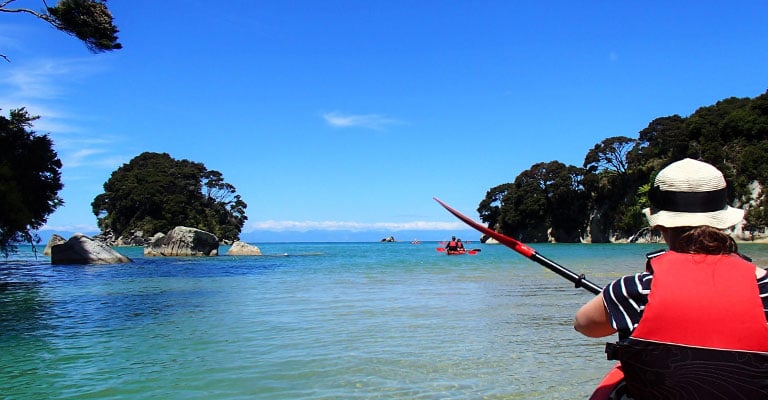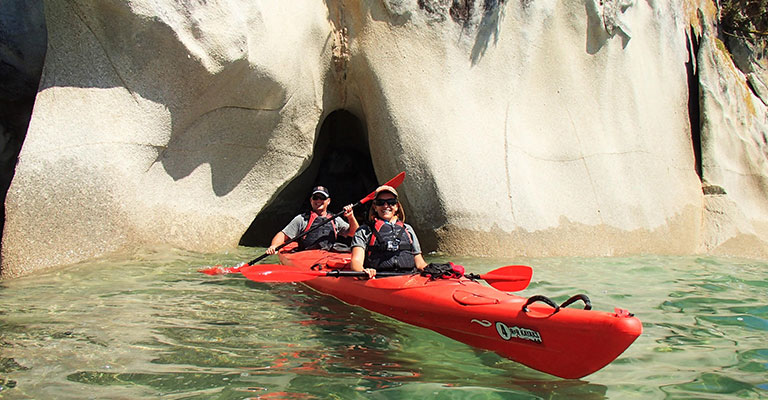 Day 9 – Multi-Day Hiking or Sea Kayaking Continued
Today we continue with your choice of either backpacking the Angelus Circuit in Nelson Lakes National Park, or sea kayaking in Abel Tasman National Park.
Day 10
Finish Multi-day Choices
West Coast Beach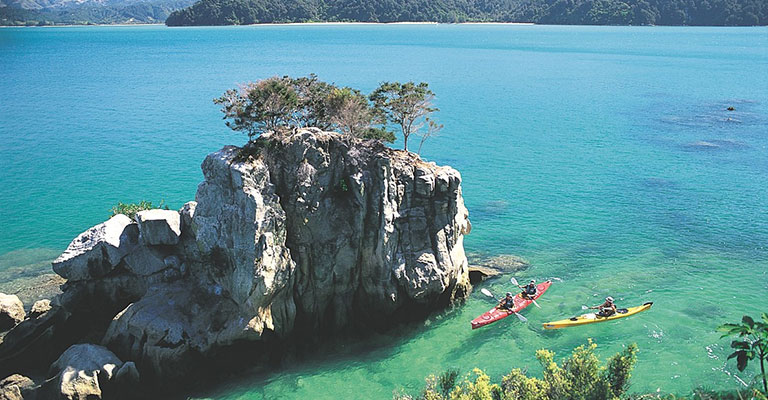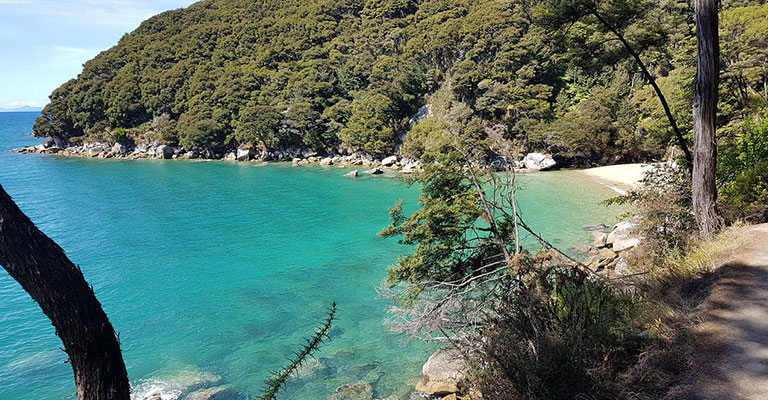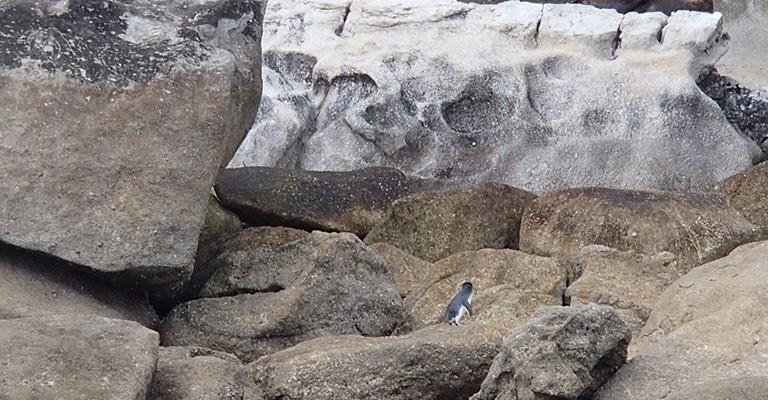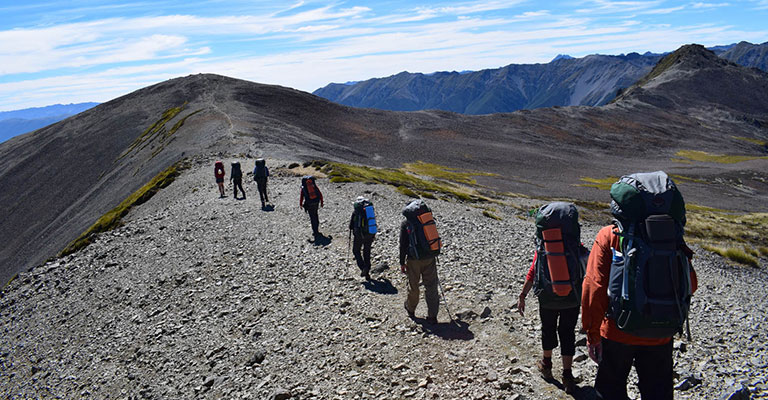 Day 10 – Finish Hiking or Kayaking Options, Regroup and Head to the West Coast
Today is the final day of your Angelus Circuit Hike or Abel Tasman Sea Kayaking adventure. Having spent the last couple of days apart, we'll then reconnect with the rest of the group and travel together across to Punakaiki on the West Coast  and then on to Buller Bay where we'll spend the night. In true Kiwi tradition we'll catch up over a drink or two and enjoy a national favourite – 'fish and chips'!
Day 11
Paparoa National Park
Hokitika
Includes
Breakfast
Lunch
Dinner
Activities






Day 11 – Hike Paparoa National Park & Explore Hokitika
This morning we'll hike the secluded Pororari River Walk deep into the rainforest. With its lush greenery and limestone cliffs, it's like stepping into Jurassic Park! We'll spend a little time at the aptly named Pancake Rocks, watching as the ocean's powerful surge courses through holes in the rock. We'll then head south to explore the quirky town of Hokitika. We'll spend the next two nights in the small beach settlement of Okarito, a chance to relax far from the regular tourist routes.
Hike Paparoa National Park
Today's hike is unique, set amongst dense temperate rainforest with a backdrop of towering limestone cliffs, we'll follow the Pororari River as it winds its way through the lush undergrowth. Your guides will tell you about the fascinating flora and fauna along the way and maybe even offer you some 'bush tucker' to taste if you're game! We'll pop out at the ocean and spend some time checking out the Pancake Rocks before heading south to Hokitika.
Explore Hokitika
After our hike this morning we'll visit the quirky town of Hokitika, known for its Pounamu (greenstone/jade) carvers and jewellery. A short onward drive away from civilisation and down a quiet lane, we'll arrive at the tiny but charming beachside settlement of Okarito. Home to less than 30 locals, this is a place of uncomplicated tranquillity and incredible sunsets. It's a little off the beaten path, but always a huge hit with our visitors and somewhere we can't resist returning to.
Day 12
Kayak Okarito Lagoon
Explore Okarito
Includes
Breakfast
Lunch
Dinner
Activities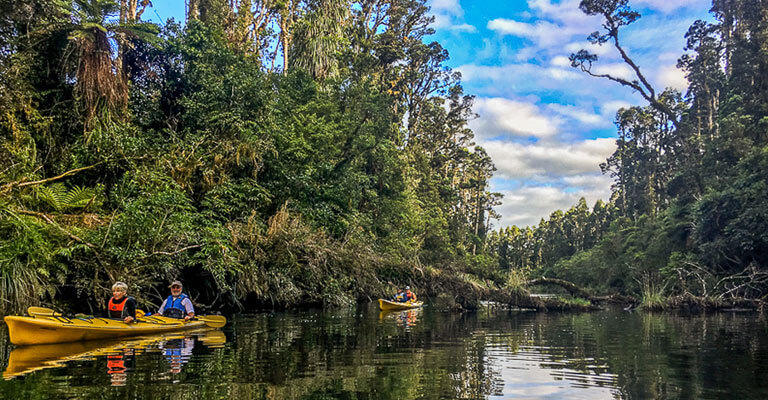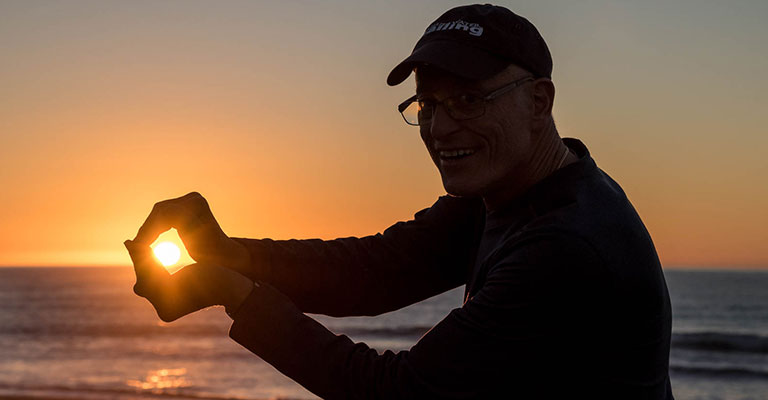 Day 12 – Kayak Okarito Lagoon and Hike Okarito Trig
This morning, paddle out on Okarito Lagoon to quietly observe the abundant birdlife in its natural habitat. Enjoy the reflections of snow-capped peaks in the still waters as you explore hidden channels and catch glimpses of rare birds. This afternoon the choice is yours whether you'd like to relax with a book, stroll along the deserted beach, or hike up to the Okarito Trig for extraordinary views of the rugged coastline, mountains, rainforest and lagoon.
Kayak Okarito Lagoon
Set your watch to Okarito Time today and enjoy the laid-back simplicity of this lovely spot. We'll start the day by hopping into sea kayaks to discover the Okarito Lagoon, just a short walk down the road from our accommodation. This tranquil body of water is home to over 70 different bird species, including the rare white heron (Kōtuku), royal spoonbills and pied stilts. Paddle the peaceful channels and soak up the outstanding views of the rainforest and the majestic Southern Alps in the distance.
Hike Okarito Trig
After lunch you can take yourself down to the beach for some peace and quiet, walk the sands, make driftwood sculptures, or if you're feeling more energetic, your guide will take you up to the Okarito Trig. This hike offers expansive views of the mountains, sea and lagoon. We'll spend a second night here in Okarito and if we're lucky we'll watch one of its famous sunsets, perhaps over a beach bonfire.
Day 13
Glacier Country
Hike Franz Josef Glacier
Includes
Breakfast
Lunch
Dinner
Activities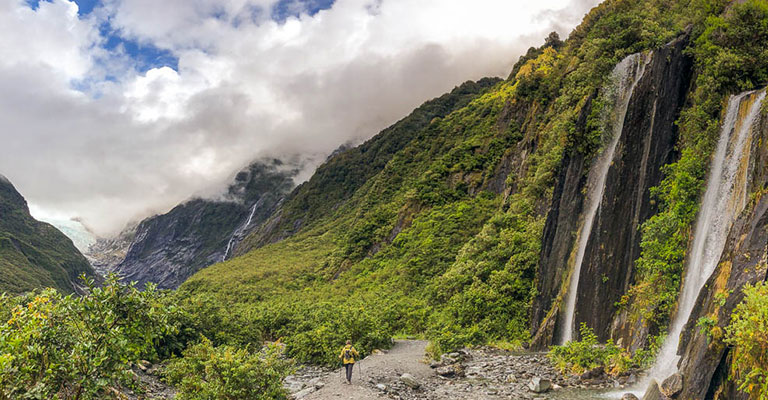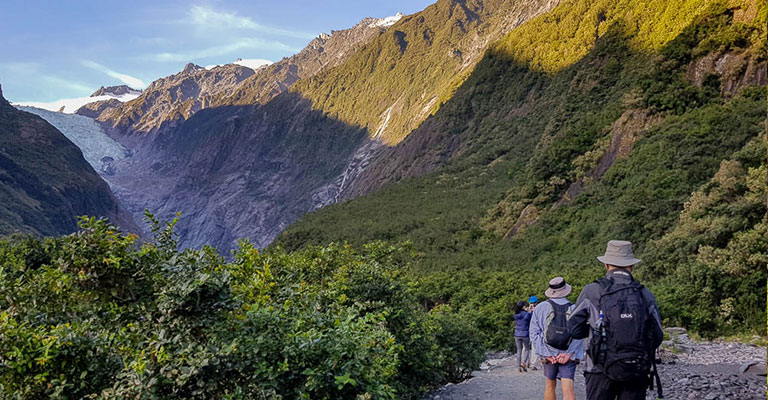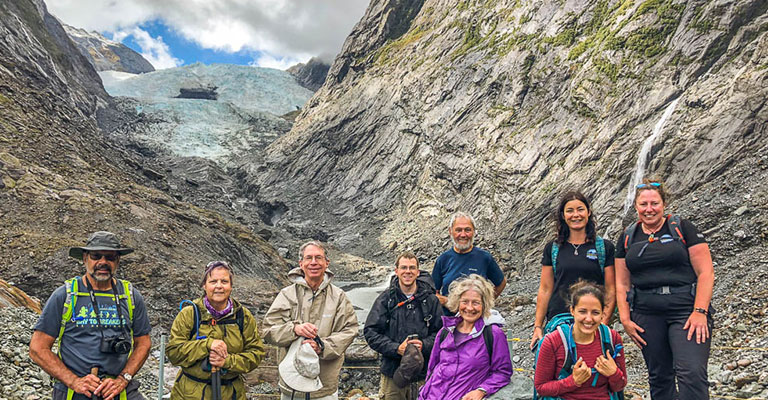 Day 13 – Hike near Franz Josef Glacier & Lake Matheson
Today you'll experience mountains, beaches and glaciers all in one phenomenal day. Our hike today takes us near to Franz Josef Glacier for impressive views of the terminal face emerging from the rainforest. We'll capture the reflection of Mount Cook in the shimmering waters of Lake Matheson, before we make our way back to the wide-open spaces of Central Otago this afternoon. We'll spend our last night together in Wanaka, a relaxed lakeside resort and firm favourite with the locals.
Franz Josef Glacier
The West Coast Road is a journey voted by Lonely Planet readers as one of the best coastal drives in the world. Rivers, rainforests and tumbling glaciers meet isolated beaches and crashing waves, it's easy to see why people are drawn to this barren but beautiful place. We'll travel this morning to the small township at the foot of Franz Josef Glacier. Descending 12km from the Southern Alps into lush rainforest just 300m above sea level, Franz Josef Glacier is one of our most accessible glaciers. We'll take a relaxed hike to learn about the geology of the area, as well as enjoy views of the terminal face.
West Coast Beaches
We'll finish our journey down the coast with a couple of stops along the way taking in the rugged beaches and powerful waves. Quite often we get the whole beach to ourselves and occasionally we catch a glimpse of Hector's dolphins playing in the surf. After getting our fill of fresh sea air, we'll travel back over the Southern Alps via the Haast Pass to Wanaka, where we'll spend the last night of the trip.
Day 14
Wanaka
Hike Aspiring National Park
Activities

Accommodation
Finish in Queenstown




Day 14 – Hike in Wanaka & Finish in Queenstown
This morning we'll end on a high note with a hike to Diamond Lake and steady climb up Rocky Mountain. Once we break through the treeline, we'll be rewarded with incredible views over Lake Wanaka. There'll be time to enjoy a final flat white or pick up any last-minute souvenirs in Wanaka, before we head back to Queenstown where our New Zealand adventure concludes, and we say our farewells.
Hike Diamond Lake and Rocky Mountain Track
On our final morning of the trip, we'll stretch our legs with a hike to Diamond Lake and appreciate the sweeping views out over the Southern Alps and Lake Wanaka. We'll then carry on up to Rocky Mountain for scenic vistas that just keep getting better with every step. It's the perfect hike to end your trip on a high note. If you'd rather have a more relaxed morning, there's plenty to enjoy in the town itself, from great coffee and boutique gift shops to a gentle stroll along the lakefront and obligatory photo in front of Wanaka's 'giant hand' sculpture.
Finish in Queenstown
After lunch, we'll travel over the short but dramatic Crown Range road and back into Queenstown where we'll drop you at the airport or your accommodation. After your epic exploration of the South Island, you'll leave knowing you've experienced the very best of New Zealand. Now that you're practically a local, be sure to come back and show your friends around or join us up on the North Island for another amazing adventure!
Kiwi Classic Tour
14 Day South Island Tour – Queenstown to Queenstown. All inclusive. For the 2 nights that we stay in our exclusive lakefront property at Ohau, we have access to a range of rooms, including some multi-share accommodation, and separate bathrooms for men and women. If the price below is not in your home currency, get an indication of what it converts to by using our currency converter below. Or ask us for trip prices in your home currency.
NZD$7899 AUD$7499 USD$5299 GBP£4199 CAD$7199
Combine this trip with the Sweet North to see both islands in 19 days! We do have shorter trip options and solo travellers don't pay more, unless you'd like an upgrade to a private room. PLEASE NOTE: This is a sample of our current itinerary. Keep in mind we are constantly fine-tuning and improving our trips based on feedback from our guests and guides, availability, etc. So your trip will be at least this good, but we reserve the right to make slight alterations without notice to make it even better!