Masterpiece New Zealand Adventure Tour
Perfected over the years. The New Zealand we share with friends!
Masterpiece Route Map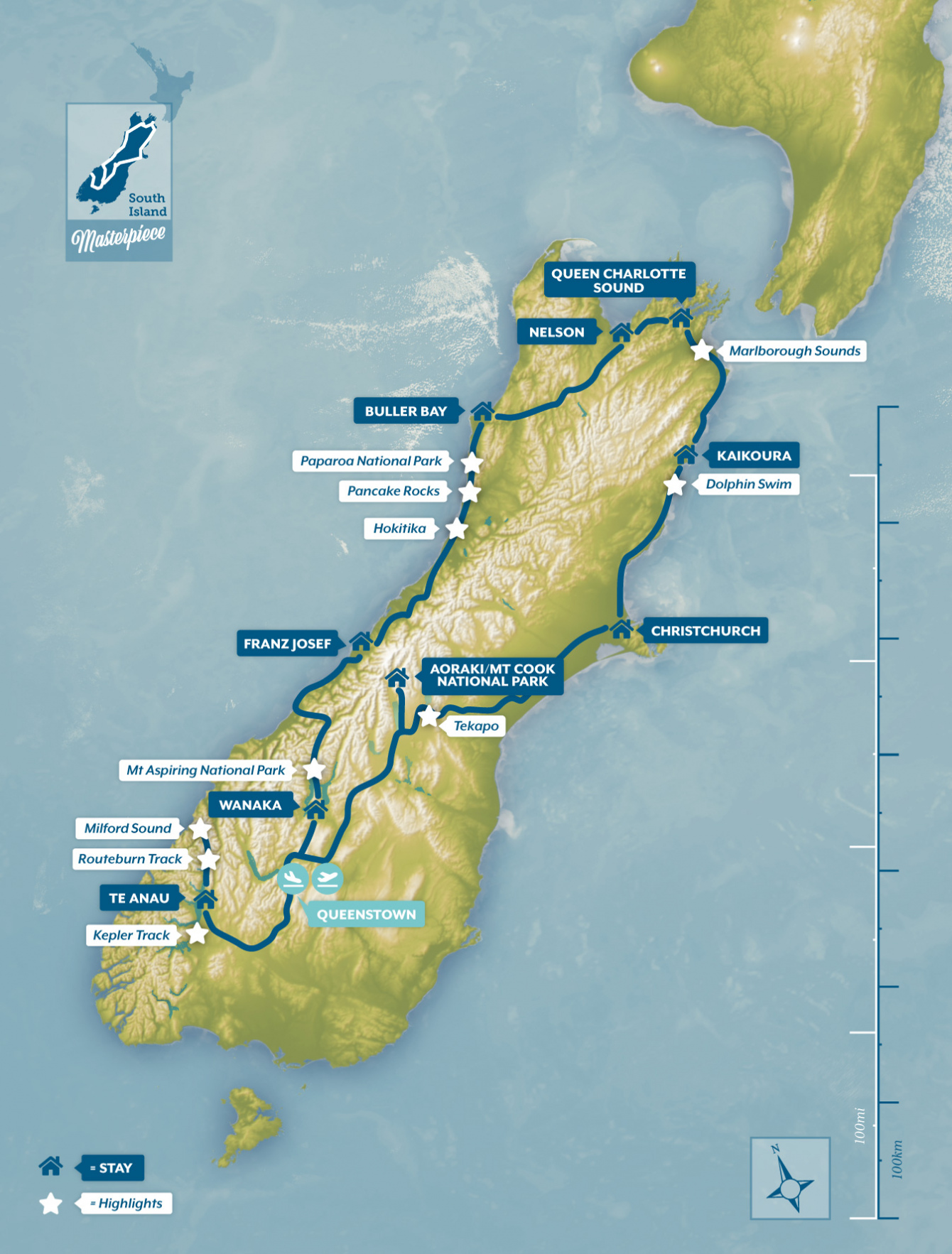 Masterpiece Day-by-Day Itinerary
Arrive Queenstown
Bike or Hike Wakatipu Basin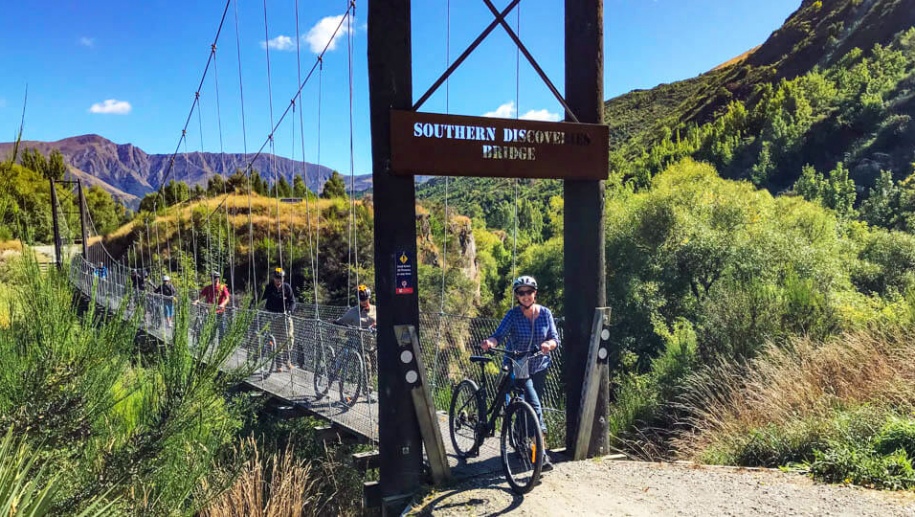 Day 1 – Welcome to Queenstown
The Masterpiece is an all-encompassing New Zealand Adventure Tour created to replenish the mind and uplift the spirit. Each day combines a blend of beautiful scenery and exceptional experiences with healthy meals, comfortable accommodations, time to relax and, of course, good company. Designed to showcase the best of New Zealand without the need to rush, this is adventure travel at its finest. 
Begin your journey in Queenstown, a gorgeous alpine resort nestled on the shores of Lake Wakatipu. After meeting your guides and fellow travellers, we'll head out for a dose of fresh mountain air on either a scenic bike ride or walk – the perfect antidote to any residual jetlag you're feeling! With our legs sufficiently stretched, we'll then travel on to the Mount Cook region where we'll spend the next couple of nights. An area of incredible natural beauty, this National Park is home to many iconic mountain vistas, including that of our highest peak Aoraki/Mt Cook.
Bike or Hike from Arrowtown to the Kawarau Bungy Bridge
Welcome to our backyard! Queenstown and the surrounding area is an outdoor enthusiast's dream, with many purpose-built tracks and trails ideal for hiking, biking or running. As part of your introduction to New Zealand, we'll travel to the historic Arrowtown, a quaint old gold-mining settlement just a short drive from Queenstown. Today you'll have the choice of either biking or walking the Arrow River Bridges Trail.
Road trip to Mount Cook
After a morning of exploring the trails, you can rest your legs as we travel out of the region and towards New Zealand's highest peak standing tall at 3,724m (over 12,000 feet). Along the way, we'll travel over the Lindis Pass and down into wide open valleys before catching our first glimpse of Aoraki/Mt Cook, 'the cloud piercer' as it's known in Maori. Tonight, we'll be staying in pleasingly cosy accommodations with incredible scenery right on your doorstep. This area is a UNESCO International Dark Sky Reserve, which means all you need do is step outside and look up for some world-class star-gazing this evening.
Tonight we stay in the Aoraki/Mt Cook region*
Aoraki/Mt Cook National Park
Multiple Choice



Day 2 – Your choice in Aoraki/Mount Cook National Park
After a sound night's sleep and a hearty breakfast, it's time to set foot on the trails this morning. Boasting views normally reserved for serious mountaineers, our hikes today take us into the heart of the National Park and provide jaw-dropping vistas for our efforts. Home to not only its namesake, Aoraki/Mount Cook National Park boasts a further 19 peaks topping more than 3,000 metres. This morning you will hike the Tasman Glacier View and Blue Lakes Track, and Governors Bush Track, or you can book an optional activity to replace this mornings hikes. 
In the afternoon you'll have a choice of hiking to either Sealy Tarns or Kea Point and the Hooker Valley Lookout. 
Whichever option you decide on, you won't be disappointed. After a full day of activities, we'll meet up and return to our accommodation for a flavoursome home-cooked meal and a chance to trade stories from the day or do some more stargazing.
Tonight we stay in the Aoraki/Mt Cook region again*
Day 2 Optional Add-ons
Below are some of the optional add-ons you can also enjoy:
Glacier heli hiking
Take a helicopter or ski plane up to land high on the Tasman, New Zealand's longest glacier. In the company of an experienced guide, you'll don crampons to explore the striking ice caves of this frozen wonderland. If you book this spectacular activity it will replace this morning's hikes. You'll then be able to rejoin the group for this afternoon's choice of hikes. 
USD$390+TAX
Glacier lake boat tour
Hop aboard a Zodiac boat and set off across the iceberg-filled lake for an up-close encounter with the Tasman Glacier's terminal face. If you book this scenic boat tour it will replace this morning's hikes. You'll then be able to rejoin the group for this afternoon's choice of hikes. 
USD$110+TAX
Mackenzie Country
Hike Mt John
Includes
Breakfast
Lunch
Dinner
Accommodation
Christchurch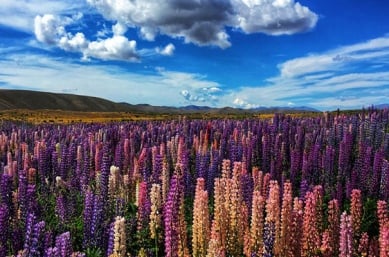 Day 3 – Hike Mount John & explore Mackenzie Country
Today's journey takes us from mountain to ocean as we head through the fertile plains of Canterbury towards the East Coast. We'll begin the day with a short climb up Mount John for panoramic views of the beautifully desolate Mackenzie Country and across the turquoise waters of Lake Tekapo. After our hike we'll make our way towards Sumner, a small seaside village on the outskirts of Christchurch. We'll take our time, stopping in some of our favourite spots along the way to stretch our legs and capture the glorious views.
Mount John & Mackenzie Country
This morning we'll make the steady climb up Mount John though forest and tussock to the observatory at the top. As we walk, we'll look out over 360-degree views across the impressive Mackenzie Basin flats and surrounding mountains and lakes. After our hike, we'll check out the famous and much photographed Church of the Good Shepherd, as well as Tekapo's statue to the working dog, commissioned in 1968 by local farmers to pay tribute to the role these intelligent canines played in working the land.
Journey to Christchurch
We'll travel on towards Christchurch this afternoon and watch as the passing scenery shifts from tussock and mountain to the lush Canterbury plains and arable land. We'll make a stop in Peel Forest and venture into the heart of one of New Zealand's last remaining podocarp forests. Our destination today is Christchurch.
Tonight we stay at Bealy Quarter Christchurch*
Christchurch
Hike Banks Peninsula
Includes
Breakfast
Lunch
Dinner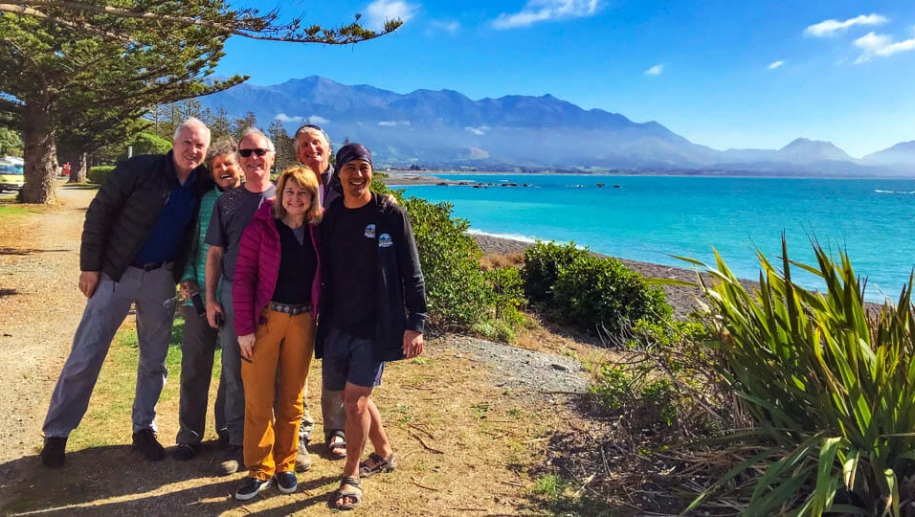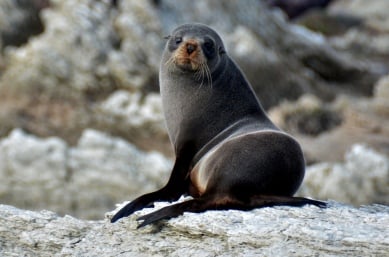 Day 4 – Explore Christchurch & Kaikoura Peninsula
After a relaxed breakfast, the morning is yours to explore the city of Christchurch and its many delights. Christchurch is undergoing an urban regeneration project but still retains a garden-like quality with much to see and do. This afternoon we'll travel north a short distance to the seaside settlement of Kaikoura on the East Coast, where we'll stay the night.
Discover Christchurch
The city of Christchurch is a lovely spot with a mix of green parks and state-of-the-art architecture. The Avon River weaves its way through a city in the process of regeneration with plenty to see including the colourful Spanish Mission architecture of New Regent Street, curious cardboard cathedral and lush botanical gardens. Discover amazing street-art and innovative projects as the new urban heart of the city blends with the garden-like greenery of the old. Be sure to sample an expertly made coffee from one of the many locally owned cafes in the area.  If you are feeling energetic you can join your guides for a morning hike on the Godley Heads track for incredible views over Banks Peninsula.
Kaikoura Peninsula
Just north of Christchurch lies the small coastal town of Kaikoura. The Kaikoura Peninsula is a striking area set on the edge of a deep continental shelf where towering cliffs meet an ocean floor that plunges even further in the other direction. The nutrient-rich water and startling topography has created a unique mecca for an abundance of marine life. Whales, dolphins, fur seals and more are thriving in ideal conditions and are a regular sight in the waters off the mainland. Tonight, if we're lucky we'll catch an impressive sunset over the ocean as we enjoy a delicious and quintessentially Kiwi dinner of fish and chips on the beach.
Tonight we stay at White Morph Kaikoura*
Kaikoura
Swim with dolphins
Includes
Breakfast
Lunch
Dinner
Accommodation
Queen Charlotte Sound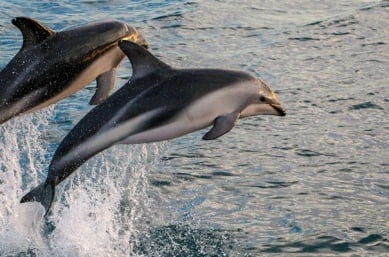 Day 5 – Dolphin Swim in Kaikoura & Queen Charlotte Sounds
Today's an unforgettable day and a dream come true for wildlife lovers. You'll be up bright and early to swim with Dusky dolphins, a rare breed known for their aerobatics. We'll see how many different varieties of fish, seals and even whales we can spot in this outstanding marine reserve, where the unusually deep waters make a unique habitat close to shore. We'll carry on to the town of Picton, where we water taxi across Queen Charlotte Sound to our accommodation for the night, where you can explore some of the world-famous Queen Charlotte Track or take in the wonderful wildlife surrounding the lodge!
Dolphin Swimming
The early start is well worth it today for the best chance at meeting some of the local wildlife that calls this area home. We'll don flattering(!) wetsuits to swim with a pod of dolphins in their natural environment. Of course, this is dependent on whether the dolphins cooperate, but they usually do! These dolphins are totally wild and it's their choice whether they interact with us or not, however, these dusky dolphins are well-known for their interactive behaviour as well as their acrobatic feats and usually love to put on a show for us. The tour is an educational experience that is designed not to interfere with the natural behaviour, routines or habitat of the dolphins. There are strict regulations in place to protect and respect the dolphins and to keep you safe in the water. Our boats are well-equipped with swimming/snorkelling platforms. Whether you opt to get in the water or watch from the boat, it's a joyful experience for all. Many of our guests have told us this is one of the highlights of their New Zealand adventure tour.
Meet the Wildlife of Queen Charlotte Sound
From Picton, we water taxi across the glorious Queen Charlotte Sound to our accommodation for the night. Set amongst a landscape of native plants and abundant birdlife, with views of the glistening bay, you'll enjoy an excellent meal and the chance to truly relax in this remote but well-equipped location.
Tonight we stay at Lochmara Lodge*
Queen Charlotte Sound
Kayak & wine tasting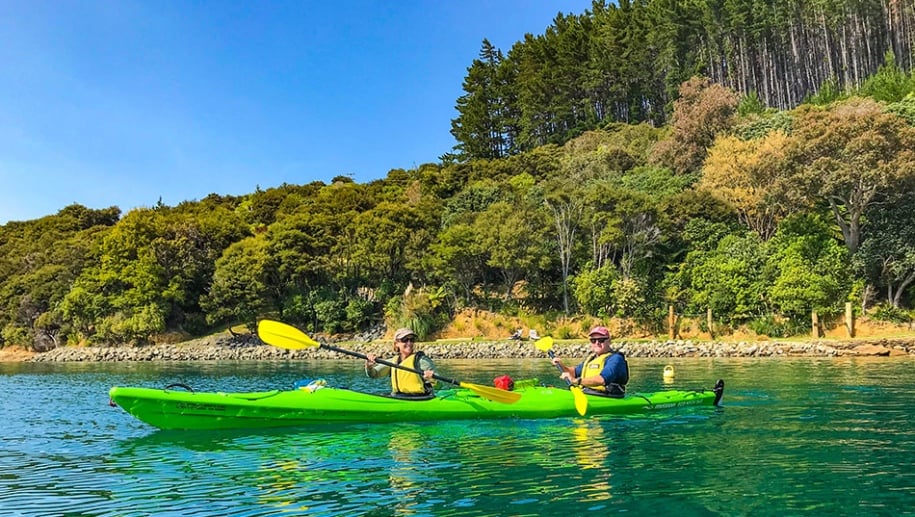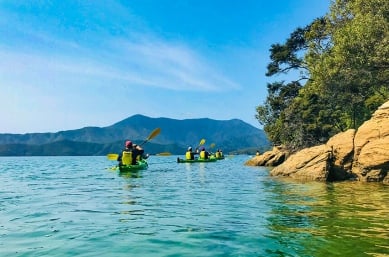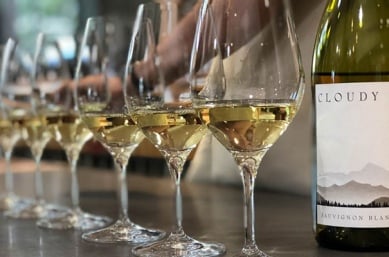 Day 6 – Queen Charlotte Sound & Marlborough Vineyards
This morning we'll paddle back to Picton, providing another opportunity to view the local wildlife. From here it's a short hop to Marlborough's wine-growing region, where we sample some of the area's produce. For the next couple of nights, we'll stay in Nelson, a colourful beachside town and comfortable resting point.
Queen Charlotte Sound
After a nourishing breakfast at the lodge, we'll take to the water again in our kayaks and paddle back to Picton, exploring some hidden coves and bays along the way. Gliding along on the water is a lovely way to spend the morning while you check out the beautiful coastline.
Marlborough Vineyards
Home to some of New Zealand's best vineyards, the Marlborough region is famous for producing excellent wines savoured around the world. We will sample some impeccable wines from this region, before carrying on towards Nelson and our accommodation for the next two nights.
Tonight we stay at The Palms, Nelson*
Nelson
Free day to explore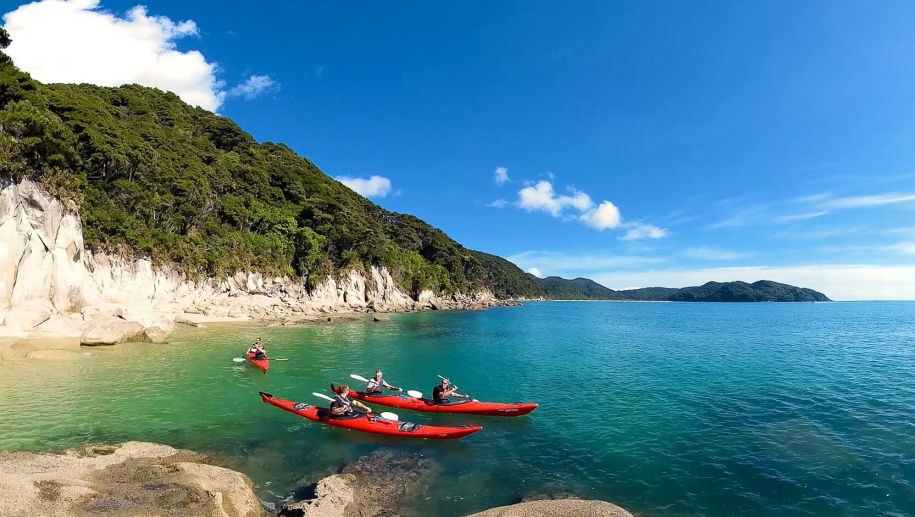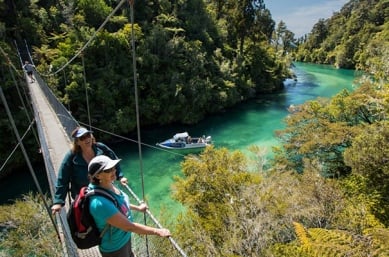 Day 7 – Explore Nelson
Today is yours to enjoy as you wish. Nelson, "the sunniest place in NZ", is famous for its arts scene, award-winning wines, craft beers and fruit orchards, with plenty to keep you entertained within walking distance. Most of our guests are happy to spend a relaxed day exploring Nelson, browsing the shops and galleries, strolling along the beach or reading a book – it's a lovely place to re-energise yourself for the rest of your adventure. There are over 350 local craftspeople and artists creating Maori, traditional and contemporary art in the area, so it's also a chance to discover what inspires New Zealanders creatively. Or if you'd prefer something a little more active, we can help you book a tour to explore Abel Tasman National Park on foot or by kayak. Abel Tasman is famous for its glorious coastline, where golden sand beaches meet clear blue seas.
Tonight we stay at The Palms, Nelson again*
West Coast
Hike West Coast Seal Colony
Includes
Breakfast
Lunch
Dinner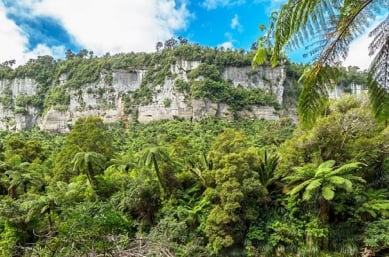 Day 8 – Nelson Lakes National Park & Coastal Walkway to Tauranga Bay Seal Colony
Today we'll leave Nelson and begin our day by making our way to St Arnaud for a leisurely stroll on the Honeydew Walk. After our stop in Nelson Lakes National Park, we'll continue on our way to the rugged West Coast, taking our time to stop and appreciate the journey, including a picturesque hike along the coast to Tauranga Bay seal colony. Our accommodation tonight is in the seaside village of Buller Bay.
Hike along West Coast to Tauranga Bay Seal Colony
The remote but spectacular wild West Coast is where we will stop for a delicious picnic lunch, before heading out on a coastal walk.  Take in the Tasman Sea in all its glory, pounding on the cliffs below as you make your way to the Tauranga Bay seal colony, well known for its seal pup rookery.
Explore West Coast Beaches
Our next destination takes us further south to 'The Coast' as it's known by locals, a journey rated by Lonely Planet readers as one of the best coastal drives in the world. Rainforests, rivers and glaciers meet deserted beaches and crashing waves, making for a unique and sometimes stark coastline. Sunsets on the West Coast are incredibly special and tonight you'll see just why.
Tonight we stay at Omau Settlers Lodge*
West Coast
Hike Paparoa National Park
Includes
Breakfast
Lunch
Dinner
Accommodation
Franz Josef Glacier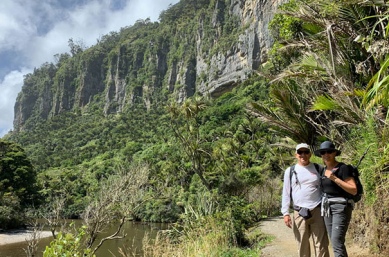 Day 9 – Hike Paparoa National Park, Pancake Rocks & Explore Hokitika
With its towering limestone cliffs and lush vegetation, this area feels like something straight out of Jurassic Park. Today we'll hike a fantastic track through Paparoa National Park, as well as checking out the blowholes and limestone formations of the Pancake Rocks. Then we drop in on Pounamu (greenstone/jade) carvers at work in the town of Hokitika. We'll spend a relaxed evening in the tiny town of Franz Josef, tucked into the Southern Alps right in the heart of Glacier Country.
Hike Paparoa National Park & visit the Pancake Rocks
We'll hike the Porarari Loop Track this morning through Paparoa National Park, a visually rich area made up of dense sub-tropical forest and limestone cliff gorges. You'll also have the chance to check out an interesting geographical phenomenon in the town of Punakaiki – the curious looking but aptly named Pancake Rocks. The surge of the incoming sea is forced into chambers creating a geyser-like explosion through rock blowholes. The unusual limestone formations, overlaid with soft mud and clay, have been forged over millions of years by the immense pressure of the sea, wind and rain, creating the pancake effect we see today.
Explore Hokitika
After our hike, we'll visit the quirky town of Hokitika, famous for its greenstone carvings and jewellery. You might also want to check out another form of artwork on the beach, where creative locals have built impressive driftwood sculptures for all to enjoy.
Tonight we stay at 10 Cottages, Franz Josef*
Includes
Breakfast
Lunch
Dinner



Day 10 – Kayak Lake Mapourika & Explore the West Coast
Today you'll experience mountains, beaches and glacially-formed lakes all in one fantastic day. We start with a picturesque paddle on the tranquil waters of Lake Mapourika, drinking in the views and discovering the birdlife. We'll then travel south down the coast, exploring some of our stunning beaches before we head over the Haast Pass and into the vast beauty and open spaces of Central Otago. We'll spend the next two nights in Wanaka, a charming lakeside resort snug amongst the mountains.
Kayak Lake Mapourika
Lake Mapourika is home to an abundance of native birdlife, including some rare species such as the Kōtuku, or white heron. There's no better way to quietly observe the birdlife in its natural habitat than by taking a peaceful paddle across the lake. An unsurpassed view of the Southern Alps makes for the perfect backdrop to our morning kayak.
West Coast Beaches and Waterfalls
We'll then travel further down the West Coast where you'll have the chance to explore some West Coast beaches and maybe spot some dolphins playing out in the waves! As we make our way down the coast treated to an array of stunning scenery, we'll also check out some of the West Coast's wonderful waterfalls.  
Tonight we stay at Edgewater Resort*
Lake Wanaka
Hike Aspiring National Park
Includes
Breakfast
Lunch
Dinner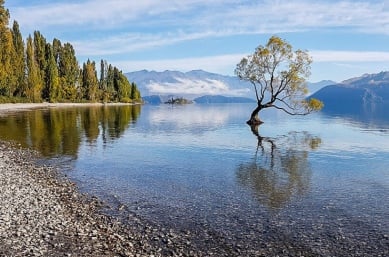 Day 11 – Hike Wanaka
After a peaceful night in our lakefront accommodation, we'll start the day with a heart-pumping hike up Rocky Mountain for an exceptional outlook across Lake Wanaka and the surrounding peaks. We'll share the views at the top and stop to visit Diamond Lake on the way back down. Then spend a pleasant afternoon exploring the delightful township of Wanaka - take a stroll along the foreshore or even head out for a self-guided bike ride on the lakeside trail – the choice is yours.
Hike Diamond Lake and Rocky Mountain Track
We'll kick the day off with a hike to Diamond Lake to appreciate the sweeping views out over the Southern Alps and Lake Wanaka, before carrying on up the Rocky Mountain trail. It's a steady climb and one that will no doubt get your heart pumping, but with each passing step, the scenery just gets better and better, making it all worth it at the top.
If you'd rather have a more relaxed morning, there's plenty to do in the town itself, from great coffee and boutique gift shops to a gentle amble along the beach and obligatory photo in front of Wanaka's 'giant hand' sculpture. We'll regroup this evening for a delicious meal together in a local eatery.
Tonight we stay at Edgewater Resort again*
Hike Kepler Track
Te Anau
Includes
Breakfast
Lunch
Dinner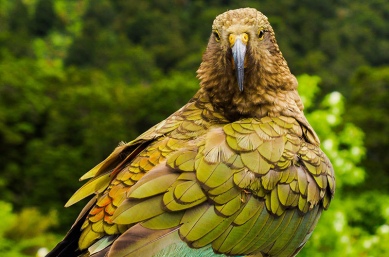 Day 12 – Hike the Clutha River and the Kepler Track
Today we'll wake up in the idyllic little town of Wanaka and after tucking into breakfast with a view, we'll head to nearby Albert Town and stretch our legs on the outlet track to Lake Wanaka. After a tasty lunch, we'll make our way to the Kepler Track for our second walk of the day, and our first glimpse of Fiordland National Park.
Hike Lake Wanaka Outlet Track
This morning's hike will take us along the mighty banks of the crystal clear Clutha River. This stretch of river is world-renowned for its trout fishing and winds its way gently along the wooded banks of the river. A particularly picturesque sight in Autumn. 
Kepler Track Hike
Breathe in the fresh Fiordland air with an afternoon walk along a pleasant section of the Kepler Track, one of New Zealand's 10 Great Walks. We'll meander through glorious native beech forest before emerging at a spectacular viewpoint on the shores of Lake Te Anau.

After a full day of spectacular views, we'll head to Te Anau - the gateway to the fiords - in preparation for our journey into Milford Sound tomorrow.
Tonight we stay at Matai Lodge*
Milford Sound
Routeburn Track
Includes
Breakfast
Lunch
Dinner



Day 13 – Cruise Milford Sound & hike the Routeburn Track
After waking up in Te Anau, it's time for the moment you've all been waiting for, seeing Milford Sound! After spending the morning cruising on the 'eighth wonder of the world', we'll head off to discover a gem on one of New Zealand's Great Walks, the Routeburn.
Cruise Milford Sound
You'll have time to appreciate Milford's undeniable grandeur as we cruise to the mouth of the fiord leading out into the wild Tasman Sea. Whether the sun's shining brightly or the sky's clouded over, the beauty of Milford Sound never disappoints. In a perfect world, it would be raining heavily as that's when the fiord's hundreds of waterfalls are at their most powerful. Get close enough to feel the spray on your face as the thundering torrents cascade down the vertical rock faces – it's an exhilarating experience.
Hike the Routeburn Track to Key Summit
This afternoon we'll head deeper in Fiordland's wilderness for a heart-pumping hike on the world famous Routeburn Track up to Key Summit. A well-formed track leads us through lush beech forest and past tall tree ferns, with velvety mosses blanketing the rich earth underfoot. Native birdsong provides a soothing soundtrack to our walk and as we climb higher, views of the Darran Mountains and Hollyford Valley stretch out beneath us providing a fitting reward for our efforts. On your final night of the trip, you'll sleep soundly having spent the past 13 days exploring the best of the South Island.
Tonight we stay at Matai Lodge again*
Queenstown
Hike Mt Crichton



Day 14 – Hike Mt Crichton & Finish in Queenstown
On the last morning of the trip, we'll make our way back to Queenstown, marvelling at the incredible views en route. After lunch you'll have a chance to head out for one last stunning hike on the Mt Crichton Track, before saying our fond farewells at the airport or your accommodation.
Hike Mt Crichton
Our last journey together is a scenic trip through tussock country and small farming towns, before tracing the shoreline of the impressive Lake Wakatipu back to Queenstown. The Mt Crichton Track is a scenic loop walk to Sam Summers Hut, where you'll get an interesting glimpse into life as an early gold prospector. This area was mined back in the 1800s and relics of that time still remain, including a large sluiced canyon and a "tail race" tunnel. You'll hike past the hut, across 12 Mile Creek and up to a ridge overlooking stunning views of Lake Dispute.
Finish in Queenstown
This afternoon we'll finish our adventure in Queenstown, and it's time to say goodbye to your guides, travel companions and new-found friends as we drop you at the airport or your accommodation. If you're joining us to explore the North Island on our Sweet North trip, we'll ensure a smooth transition for you. If not, we hope to see you again soon in the Land of the Long White Cloud.
*For logistical reasons, we may make small changes to our itineraries or accommodation from time to time.
Photos of the Masterpiece
Glorious Key Summit on the Routeburn Track.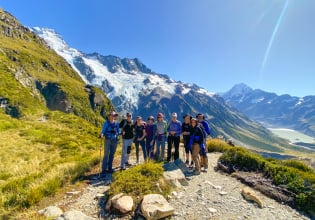 Our guests on the Sealy Tarns track.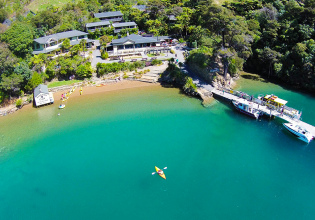 Lochmara Lodge, Marlborough Sounds.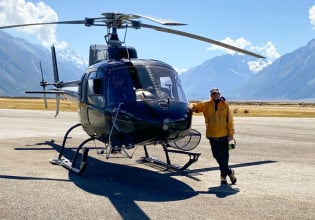 Travelling in style to hike the Tasman Glacier.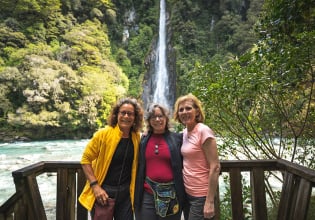 Exploring the West Coast.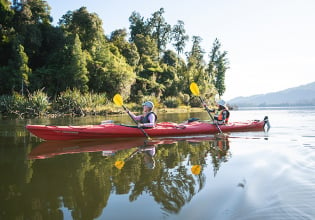 Kayaking on the West Coast.
The gorgeous Cape Foulwind.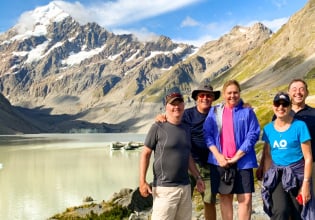 Our guests at Hooker Lake, Aoraki/Mt Cook.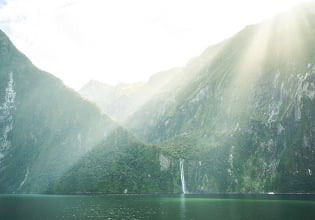 Stirling Falls, Milford Sound.
See more photos
Masterpiece Accommodation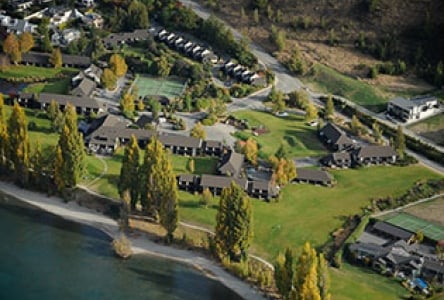 Edgewater Resort.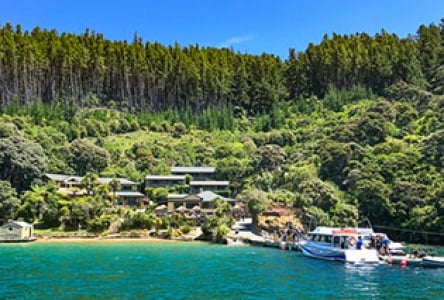 Lochmara Lodge.
Mt Cook Lodge
Read More about accommodations
Frequently asked questions
It's very important to us that you have all your questions answered about our Masterpiece trip. We've collected some of the questions we get asked most often and answered them below. Or visit our general FAQ page here for more answers!
And if you still can't find the answers you need, give us a call or send us an email and we'll help you out!
How fit do I need to be for the Masterpiece trip?
What is the accommodation like on the Masterpiece trip?
What time does the Masterpiece trip start and finish?
What's included in my Masterpiece trip?
What's not included in my Masterpiece trip?
Why do you run the Masterpiece trip in two directions?
What hikes are included in the Masterpiece trip?
What activities are included on the Masterpiece trip?
Will I have WiFi or internet access throughout the trip?
Is there electricity at all of the places we stay on the Masterpiece trip?
Tell me about your safety standards
What National Parks and Great Walks does the Masterpiece trip visit?
Biking isn't really my thing. Do you have other options?
What kind of people will be on my Masterpiece trip?
Do I have to pay extra if I'm travelling by myself?
Do you need any outdoors experience for the Masterpiece trip?
How many people will be on my trip?
What does going on a guided trip entail?
Can you help with pre/post-trip accommodation and flights?
More frequently asked questions
Tour dates
Take your time and enjoy the journey as you hike, bike and paddle in and around the South Island's most beautiful locations. With options to suit all fitness levels, our Masterpiece traverses the New Zealand landscape from alps to ocean, offering the widest variety of outdoor activities, all taken at your own pace. Along the way, you'll stay in very comfortable lodging and enjoy a delightful mix of home-cooked Kiwi fare and restaurant dining.
To experience the best of both North and South over 19 days, pair this trip with our Sweet North tour.
Check out trip dates below using the date picker and keep an eye on availability to make sure you don't miss out.
See all available dates
Masterpiece – ready to book?
Ready to start your New Zealand adventure?
If our friends were coming to New Zealand, this is what we would do. Less than an expedition, more than a retreat, the Masterpiece is the result. An adventure you won't forget. Ever.
What's included:
✓ Local guides, small groups
✓ All food (except where noted on itinerary), transportation and activities
✓ All inclusive
✓ All accommodation
NZD$13599 AUD$10499 USD$7299.00+tax GBP£6599 NZD$13599 CAD$9599.00+tax
per person (twin or double share)
Want more information?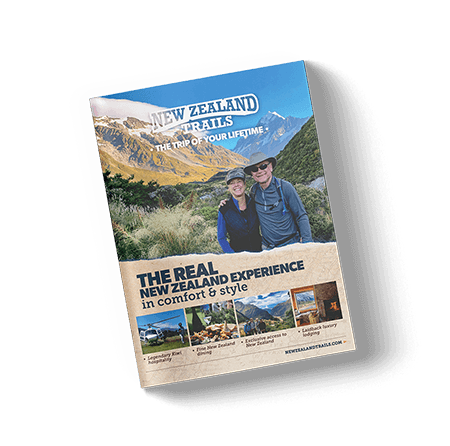 Get a free New Zealand Trails brochure!
Too many options out there? Want to "do New Zealand" your way, with expert local guides to help?
Our FREE brochure has 36 pages of detailed itineraries, maps and behind-the-scenes tour info.
All you need – nothing you don't.
SEND ME MINE

›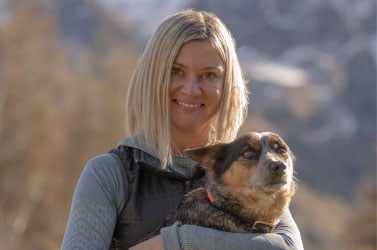 Call us!
If you're still not sure, or just want to hear a friendly voice, contact Jodi!
Email: jodi@newzealandtrails.com