NEW ZEALAND HIKING & ADVENTURE TOURS
Our guided New Zealand hiking and adventure tours make it easy, fun and safe for you to walk, paddle, cycle and hike in New Zealand's astonishing outdoors.
Our all-inclusive multi-day New Zealand hiking tours have been carefully designed by New Zealand's most seasoned operators, and it shows. Our relaxed and active New Zealand adventures tick off the big names like Milford Sound and Mount Cook, while also enjoying exclusive access to stunning locations like the secluded Lake Ohau Quarters.
Your comfort is our priority: comfortable lodgings after a fun day of activities, from hot springs to hot tubs – you name it, if it's there, we've found it. We provide only the best for our guests. With us, you'll explore all the wonderful things you've heard about New Zealand, with local Kiwi guides by your side every step of the way.
Book with Confidence - COVID-19 Flexibility Promise
We've updated our booking policy to give you more flexibility in planning your New Zealand adventure. Learn more.
GET YOUR FREE NEW ZEALAND TOUR BROCHURE
Do you want to experience New Zealand in the best possible way?
Request your free brochure here and discover exactly how.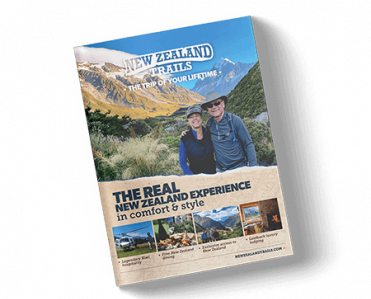 GET YOUR BROCHURE
Choose from our 5 Fully-Guided New Zealand Hiking Tours
The World Heritage Walking Tour
The original and best New Zealand walking tour
13 Days | South Island | Activity Level = Easy | Laid-back Luxury Accommodation
Experience laid-back luxury as you soak up the best New Zealand has to offer on our most sought after itinerary. Discover incredible World Heritage walks during the day and relax in style at night as you enjoy fine dining, excellent wine and very comfortable accommodation. The finest adventure trip there is.
Learn more about this New Zealand walking tour
Masterpiece Adventure tour
The New Zealand we share with friends!
14 Days | South Island | Activity Level = Moderate | Comfortable Lodging
Discover New Zealand like a bunch of mates on holiday. This is the itinerary we recommend to visiting friends. There's no rush. Experience everything at a relaxed pace on the Masterpiece. If you're only coming to New Zealand once, this is the adventure tour for you.
Learn more about this adventure tour
Kiwi Classic Hiking Tour
The classic New Zealand hiking tour
14 Days | South Island | Activity Level = Challenging | Comfortable Lodging
Challenge yourself with our most active hiking adventure and reap the rewards of taking the not-so-easy route. Explore New Zealand's remotest backcountry, get off the beaten track and push yourself with longer hikes and heart-pumping adventures. For the explorers and endorphin chasers among us.
Learn more about New Zealand's best hiking tour
Pure South South Island tour
A distillation of the very best
8 Days | South Island | Activity Level = Moderate | Comfortable Lodging
Make the most of all your vacation days on our action-packed South Island tour. Loaded with highlights, you'll experience more of New Zealand in 8 days than some do in a lifetime. The very best of the South Island distilled – it's everything you want and nothing you don't!
Learn more about the Pure South South Island tour
Sweet North - North Island Tour
Another New Zealand is calling
5 Days | North Island | Activity Level = Moderate | Comfortable Lodging
Delve deeper and enjoy all that New Zealand has to offer with our North Island itinerary. An incredible standalone trip, or the perfect complement to any of our South Island tours, experience the rich culture, pristine beaches, geothermal wonders and diverse scenery of New Zealand's compelling North Island.
Learn more about this North Island Tour
Or Combine Two Trips for the Ultimate New Zealand Adventure
NORTH 'n' SOUTH
Blend the best of both islands for the complete journey
13-19 Days | Both Islands | Activity Level = Moderate | Comfortable Lodging
Stunningly beautiful but vastly different, no New Zealand vacation is truly complete without experiencing both the North and South Islands. Really see it all. Explore New Zealand top to toe by combining any of our North and South Island tours for the trip of your lifetime.
See our complete New Zealand trips