HIKING TOURS IN NEW ZEALAND WITH LOCAL EXPERTS!
Our New Zealand hiking tours make it simple, fun and safe for international visitors to walk, paddle, cycle and hike in New Zealand's astonishing outdoors - Alps to ocean by day and first-class hospitality by night.
Our all-inclusive multi-day New Zealand hiking tours have been carefully designed by New Zealand's most seasoned operators, and it shows. Our relaxed and active New Zealand adventures tick off the big names like Milford Sound and Mount Cook, while also enjoying exclusive access to stunning locations like the secluded Beach House at Okarito Lagoon.
Your comfort is our priority: comfortable lodgings after a fun day of activities, quality wines with dinner, from hot springs to hot tubs – you name it, if it's there, we've found it. We provide only the best for our guests. With us, you'll explore all the wonderful things you've heard about New Zealand, with local Kiwi guides by your side every step of the way.
GET YOUR FREE NEW ZEALAND TOUR BROCHURE!
Too many options out there? Want to "do New Zealand" your way, with expert local guides to help?
Our FREE brochure is focused on New Zealand only. It's packed with detailed hiking itineraries, maps and behind-the-scenes tour info.
ALL YOU NEED – NOTHING YOU DON'T.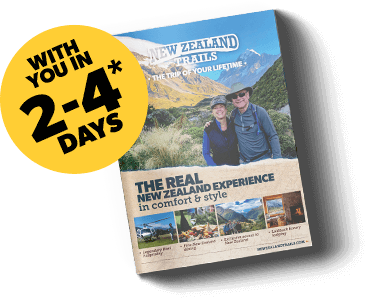 GET YOUR COPY NOW
*Mail to Australia and Canada could take a little longer, but it's worth it!
Choose from our 5 Fully-Guided New Zealand Hiking Tours