Explore the real New Zealand with real New Zealanders
Our guided New Zealand hiking and adventure tours make it easy, fun and safe for you to walk, paddle, cycle and hike in New Zealand's astonishing outdoors.
Our all-inclusive 5-14 day New Zealand hiking tours have been designed so that you can enjoy guided day walks in New Zealand's best National Parks. Our relaxed and active New Zealand adventures tick off the big names like Milford Sound and Mount Cook, and New Zealand Great Walks like the Milford Track and Routeburn Track, while also enjoying exclusive access to off the beaten track locations like Stewart Island.
Your comfort is our priority: comfortable lodgings after a fun day of activities, from hot springs to hot tubs – you name it, if it's there, we've found it. We provide only the best for our guests and make sure each of our trips are of the highest quality by only running a limited number of departures each season. With us, you'll explore all the wonderful things you've heard about New Zealand, with local guides by your side every step of the way.
Thinking of visiting New Zealand in the next year or so?
With guests booking a year in advance, our upcoming hiking season is already 80% full and our 2024 and 2025 trips are filling up quickly! It's a great idea to start looking at our trip dates so you don't miss out. Click here to see all our available dates.
GET YOUR FREE NEW ZEALAND TOUR BROCHURE
Do you want to experience New Zealand in the best possible way?
Request your free brochure here and discover exactly how.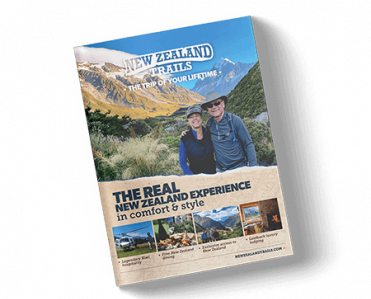 GET YOUR BROCHURE
Choose from our Fully-Guided New Zealand Hiking Tours
The World Heritage Walking Tour
The original luxury walking tour.
13 Days | South Island | Activity Level = Easy | Laid-back Luxury Accommodation
Enjoy exclusive access to some of the most remote areas of the South Island as you walk, cruise, jet-boat and helicopter into New Zealand's beautiful backcountry. Discover incredible World Heritage walks during the day and relax in style at night. This is the finest New Zealand walking trip there is.
Learn more about this New Zealand walking tour
Masterpiece Adventure tour
The New Zealand we share with friends!
14 Days | South Island | Activity Level = Moderate | Comfortable Lodging
Experience the very best of New Zealand's bucket list destinations, activities and experiences. Day walk our Great Walks, get up close with unique wildlife, cruise Milford Sound, explore our national parks and enjoy a taste of real Kiwi life, all at a relaxed pace. If you're only coming to New Zealand once, this is the adventure tour for you.
Learn more about this adventure tour
Kiwi Classic Hiking Tour
Get further off the beaten track.
14 Days | South Island | Activity Level = Moderate | Comfortable Lodging
The Kiwi Classic is a true-blue New Zealand hiking adventure that gets you off the beaten track experiencing incredible multi-day hikes, day walks and activities in New Zealand's remote National Parks. Tick the most famous South Island day hikes off your bucket list and get out into real New Zealand backcountry.
Learn more about New Zealand's best hiking tour
Pure South South Island tour
A distillation of the very best
8 Days | South Island | Activity Level = Moderate | Comfortable Lodging
Experience more of the South Island of New Zealand in 8 days than some do in a lifetime. Day walk amongst the Southern Alps on our legendary Great Walks. Soar over peaks and valleys on a scenic plane flight deep into the Kiwi backcountry. Cruise Milford Sound and swim with the smallest dolphins in the world.
Learn more about the Pure South South Island tour
The NZ Great Walk Adventure
Discover four of New Zealand's Great Walks
5 Days | South Island | Activity Level = Moderate | Laid-Back Luxury
Discover the finest of New Zealand's Great Walks over five unforgettable days in Fiordland and Stewart Island. We've carefully curated this trip to give you exclusive access to the Milford Track, Routeburn Track, Kepler Track, and Rakiura Track. Walk, fly and cruise in the most pristine and remote areas of New Zealand's backcountry.
Learn more about this NZ Great Walks Tour
Sweet North - North Island Tour
Another New Zealand is calling
5 Days | North Island | Activity Level = Moderate | Comfortable Lodging
This North Island tour is an incredible standalone trip, or the perfect complement to any of our South Island tours. Walk the Tongariro Crossing - the best day hike in the world and experience the rich Maori culture, pristine beaches, geothermal wonders and diverse scenery of New Zealand's compelling North Island.
Learn more about this North Island Tour
Grand Explorer
The ultimate way to explore New Zealand's South Island.
14 Days | South Island | Activity Level = Easy | Hotels
There comes a time in our lives when we've earned a superior kind of comfort and style in our travels. The Grand Explorer trip is at the very pinnacle when it comes to adventurous yet indulgent travel. Extensively explore our magnificent National Parks and hike the most exclusive parts of our Great Walks, all with your local New Zealand guide at the helm. It is the pièce de résistance of New Zealand travel!
Learn more about this South Island Tour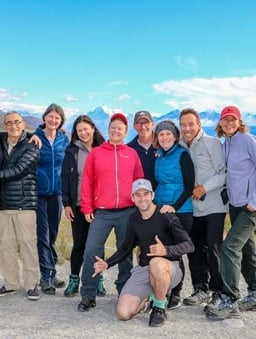 5-19 Days | North or South Island | Activity Level = Your choice
If you like the look of our trips but only want to travel with your family or friends, a private guided tour of New Zealand provides the perfect solution. We cater for all ages, interests and abilities and together we'll design the perfect private group trip for you. 
Learn more about Private Group Trips
Or Combine Two Trips for the Ultimate New Zealand Adventure
NORTH 'n' SOUTH
Blend the best of both islands for the complete journey
10-19 Days | Both Islands | Activity Level = Moderate | Comfortable Lodging
Stunningly beautiful but vastly different, no New Zealand vacation is truly complete without experiencing both the North and South Islands. Really see it all. Explore New Zealand top to toe by combining any of our North and South Island tours for the trip of your lifetime.
See our complete New Zealand trips