Which trip is right for me?
Finding the right trip to match that image of exploring New Zealand in your head, that coincides with your wants and needs, and that not only lives up to your expectations but exceeds them can be an arduous task. However, this page is here to make the decision process a breeze.
We find the easiest place to start is to ask yourself, what do you want from your trip?
We run five incredible guided tours (four hiking tours and one walking tour) in the South Island of New Zealand and one in the North Island. Whether it's luxury you seek on our World Heritage tour or a more intrepid adventure on our Kiwi Classic or something in between, you'll find it on one of our 5-14 day guided adventure tours.
Each of these trips have been lovingly handcrafted and perfected by our dedicated team over the years. We are confident that you will discover the perfect trip for you.
1. Compare our trips side-by-side
Our New Zealand Trails' trips are all-inclusive and very flexible. It's important to note that the activities on each trip can be tailored to suit your interests and fitness levels. Our trips range from the leisurely paced and luxurious World Heritage to the more challenging Kiwi Classic.
BACK TO TOP
2. Compare trip highlights
Every tour company can find the highlights of New Zealand, the likes of Milford Sound and Mt Cook. However, seeing as we're the locals, we know exactly where to go in these iconic places and the best time to go. We'll show you the secret spots just around the corner from the normal viewpoints.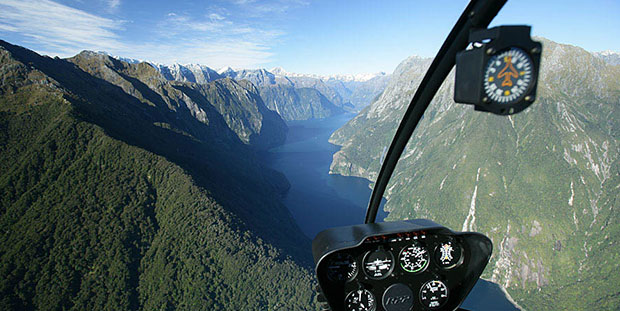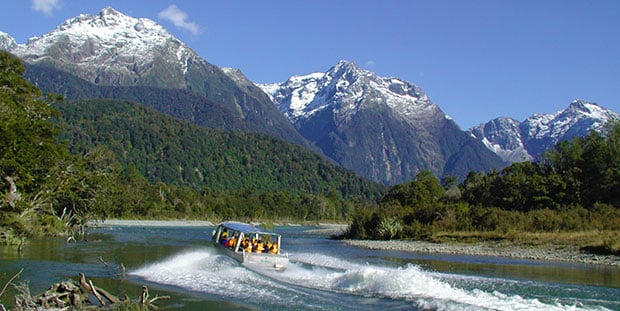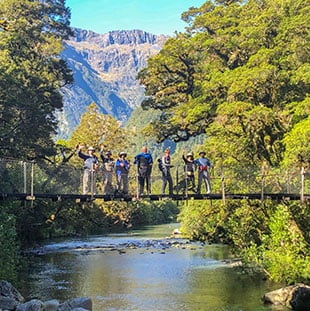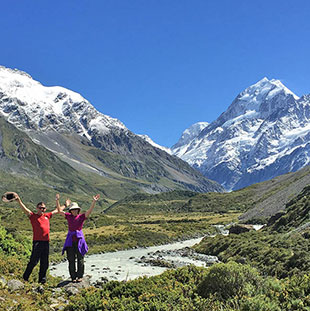 Top Highlights of the World Heritage Walking Tour:
Experience Fiordland National Park from above on a scenic helicopter ride to your exclusive accommodation, Martins Bay Lodge
Immerse yourself in the tranquility of our native forests as you explore our Great Walks including the world famous Routeburn Track
Explore Doubtful Sound, Arthurs Pass National Park, Pancake Rocks, Paparoa National Park, Glacier Country, Queenstown, Wanaka, Mt Aspiring National Park, Gibbston Valley wine region, Aoraki/Mt Cook National Park and more!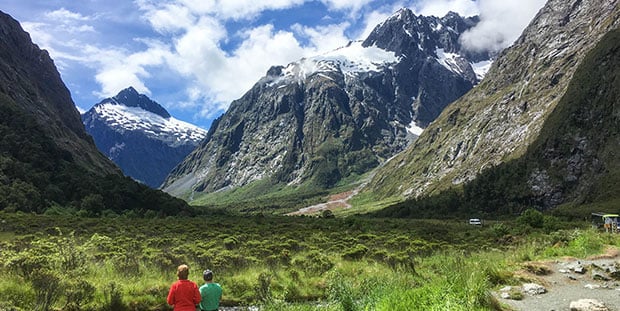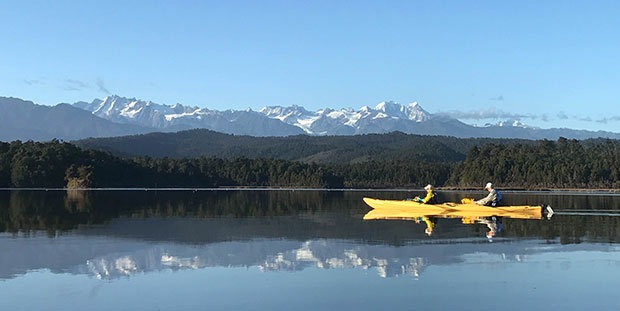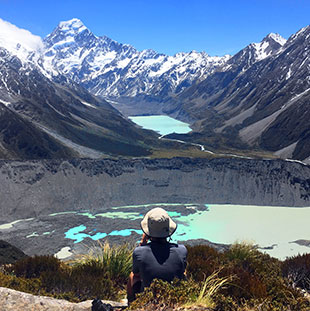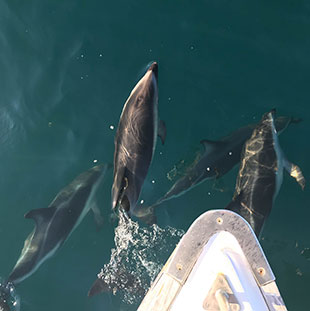 Top Highlights of the Masterpiece:
Marvel at our highest peaks and stunning glaciers as you hike Aoraki/Mt Cook National Park

Discover the coves of Queen Charlotte Sound as you paddle the crystal waters in a kayak.

Explore Milford Sound, the Routeburn Track, Fiordland National Park, Christchurch, Nelson, Marlborough vineyards, Glacier Country, Pancake Rocks, Paparoa National Park, Wanaka, the Kepler Track and more!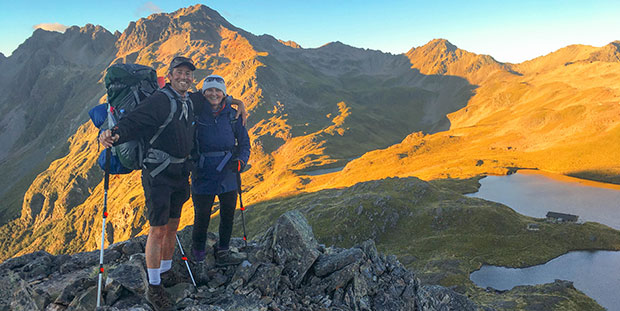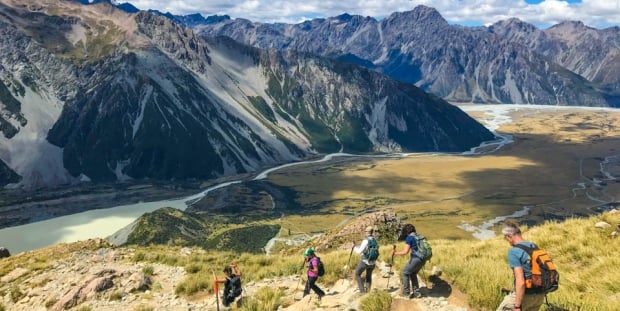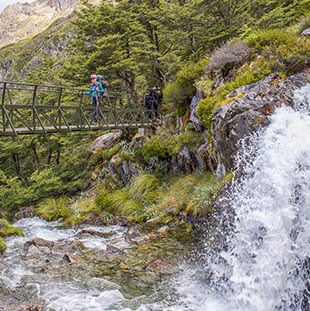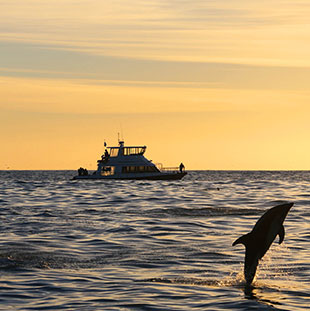 Top Highlights of the Kiwi Classic:
Discover true wilderness on multi-day hikes in Nelson Lakes National Park and Pelorus Sound

Play in the water with wild Dusky dolphins in Kaikoura.

Explore Milford Sound, Central Otago, Fiordland National Park, Aoraki/Mt Cook National Park, Nelson, Marlborough wine country, Nelson Lakes National Park, Glacier Country, Paparoa National Park, Wanaka, Mt Aspiring National Park and more!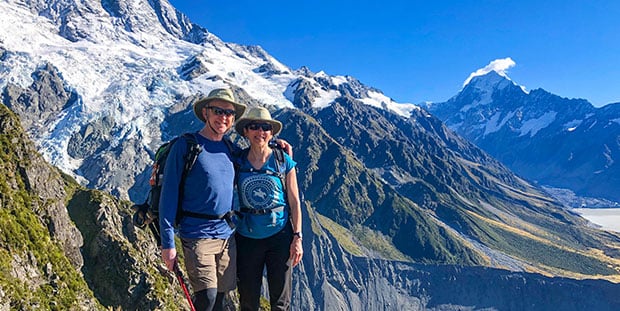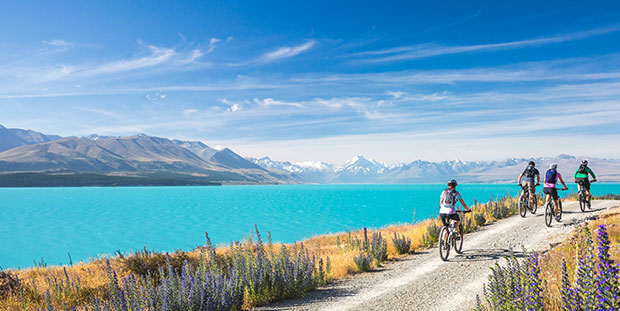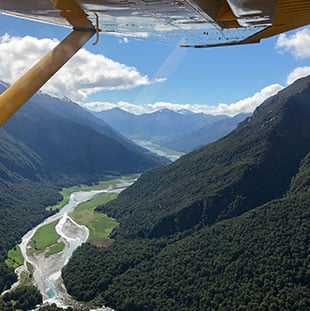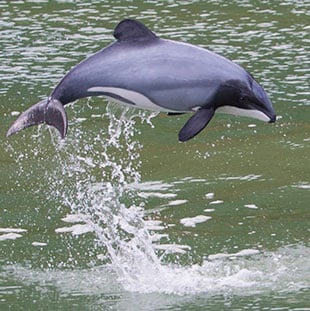 Top Highlights of the Pure South:
Touch down in Siberia Valley by bush plane to explore this remote glaciated valley on foot, and then by jetboat for the ultimate intrepid experience.

Swim with one of the world's smallest and rarest marine dolphins, Hectors dolphins, in the beautiful Akaroa.

Explore Milford Sound, the Routeburn Track, Fiordland National Park, Mt Aspiring National Park, Wanaka, Aoraki/Mt Cook National Park, Akaroa and more!
BACK TO TOP
3. Compare trip accommodation
Our founders, Nigel and Jodi, grew up as your typical adventure-loving Kiwis. As they got older, they discovered that although they still wanted all the thrill of adventure, they no longer wanted to rough it. Hence, on our New Zealand Trails' trips, we embrace comfort and style when it comes to accommodation.
For example, in Fiordland National Park on our World Heritage, you'll stay in a remote and luxurious lodge or on the Masterpiece you'll spend the night in Queen Charlotte Sound at a beachfront lodge set in native forest.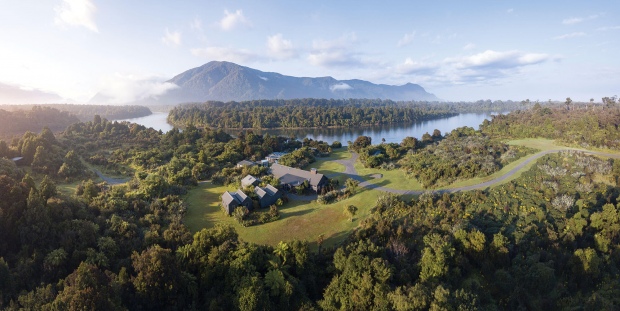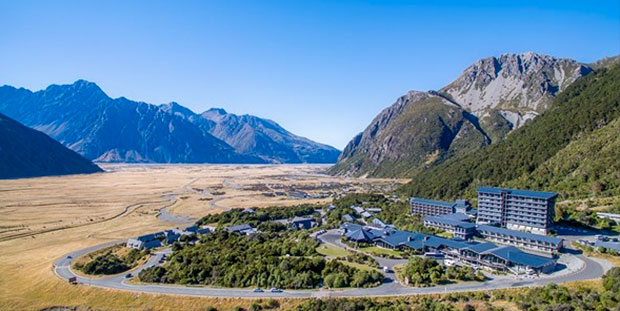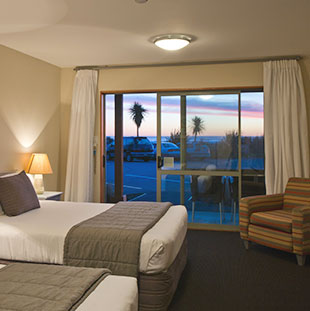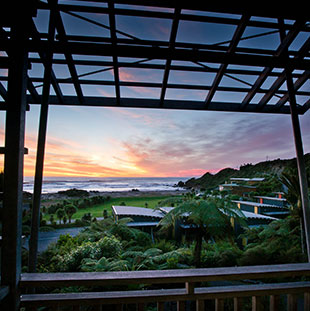 Accommodation highlights on the World Heritage Walking Tour:
Accessed only by helicopter or on foot, the remote Martins Bay Lodge in Fiordland National Park is where wilderness and luxury collide.

You'll spend two nights at the centre of Aoraki/Mt Cook National Park at the Hermitage, a stone's throw from New Zealand's tallest mountain and the park's famous namesake.

Watch the sunset while cuddled up beside a bonfire on the beach at the beachfront accommodation Punakaiki Resort.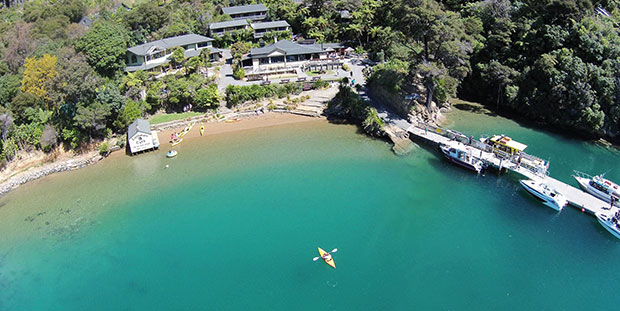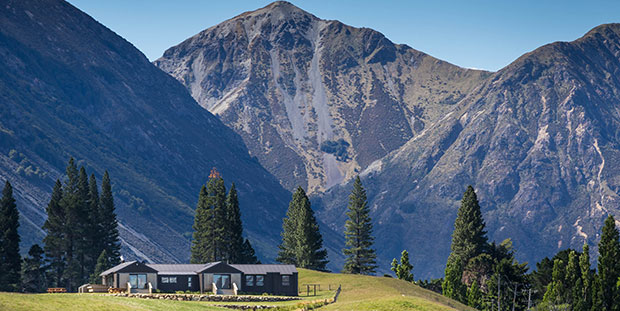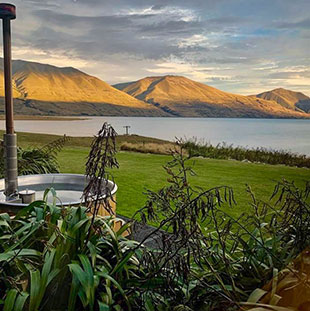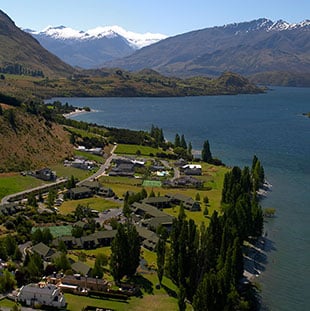 Accommodation highlights on the Masterpiece:
Relax in the hot tub outside Ohau Quarters and soak in the epic view of the sun setting across the lake or the panorama of stars above at night.

Spend a night on the lake front in Wanaka at the beautiful Edgewater Resort.

Experience the magic of Lochmara Lodge and its bustling wildlife. You'll journey here by water taxi and kayak back!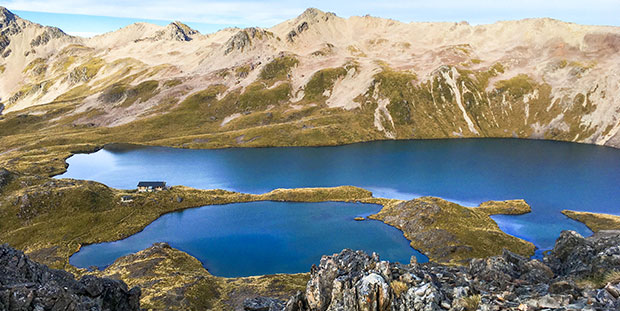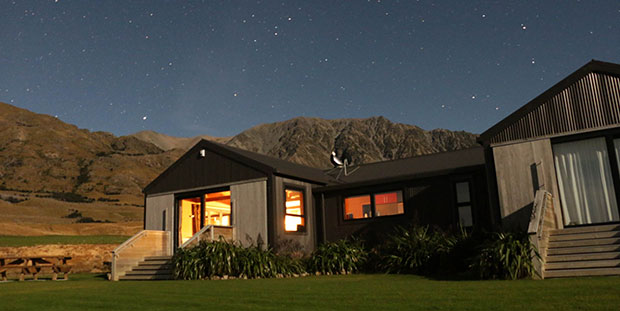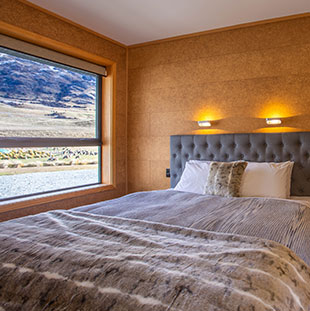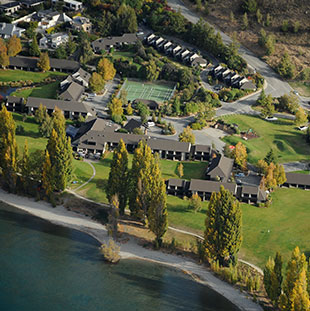 Accommodation highlights on the Kiwi Classic:
Ohau Quarters is located in a stunning remote location where you'll get that feeling of laid back luxury in the wild.

Experience the backcountry with a night in Angelus Hut. Nestled in the mountains twixt twin tarns, it's wilderness accommodation at its best.

Spend the night at Edgewater Resort on the shores of Lake Wanaka.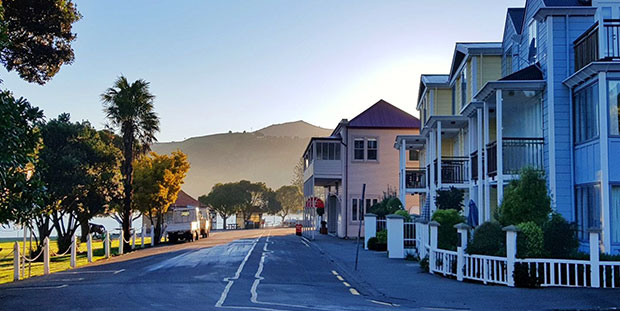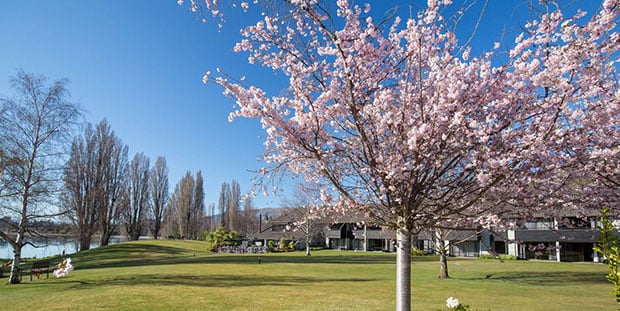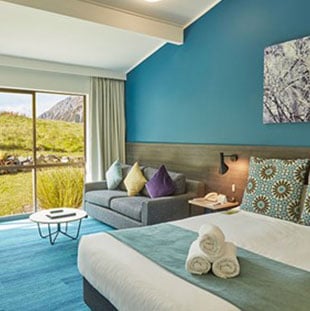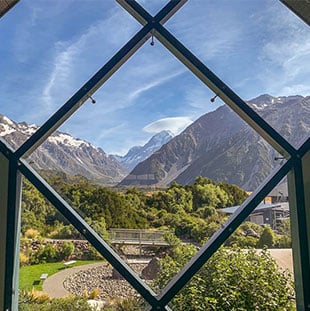 Accommodation highlights on the Pure South:
Enjoy the views over Lake Wanaka as you spend the night at the lakefront Edgewater Resort.

Spend a night in the heart of the magical Aoraki/Mount Cook National Park in comfort and style in Mount Cook Motels.
BACK TO TOP
4. Compare trip food & dining
The very last question you need to ask yourself and arguably the most important, what does your stomach want? When it comes to dining, we don't cut corners. We use food that is locally sourced, sustainably produced and made by chefs we trust. You'll experience the very best produce that New Zealand has to offer, from a wild venison dinner in Te Anau to freshly caught salmon in Mt Cook.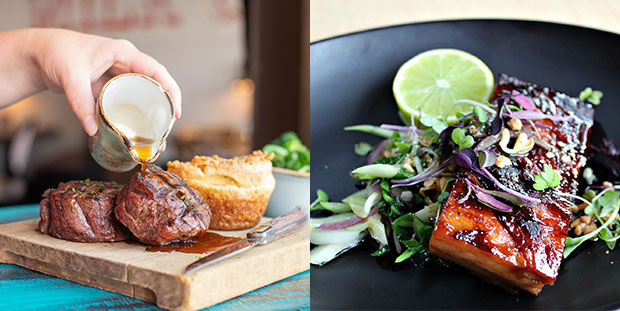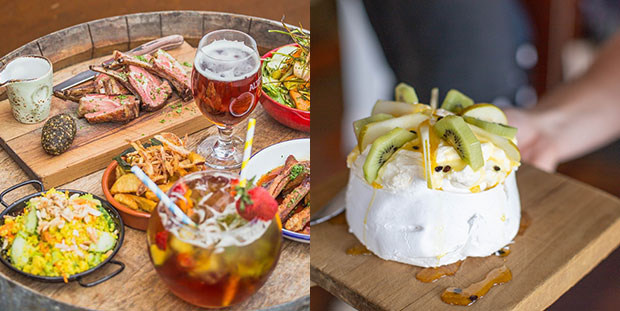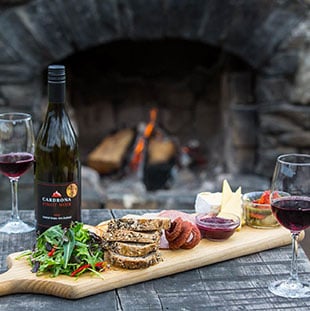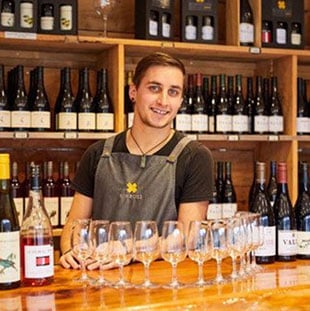 World Heritage Walking Tour food & dining:
Get ready to indulge in the best of New Zealand cuisine. You'll dine out in our favourite spots around the South Island. Places that not only serve the most delightful local produce but that are also nestled in the most scenic spots. From lunch and wine tasting in the Gibbston Valley to dinner at the Old Mountaineers Café, we hope you'll love these local restaurants as much as we do.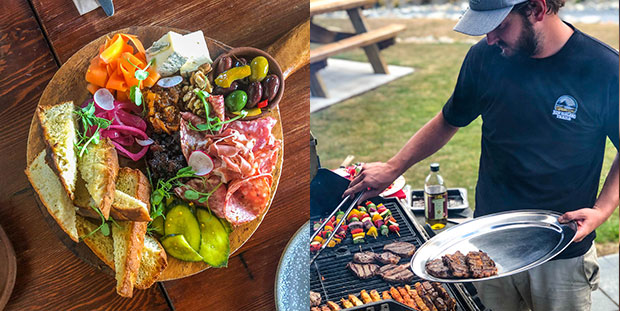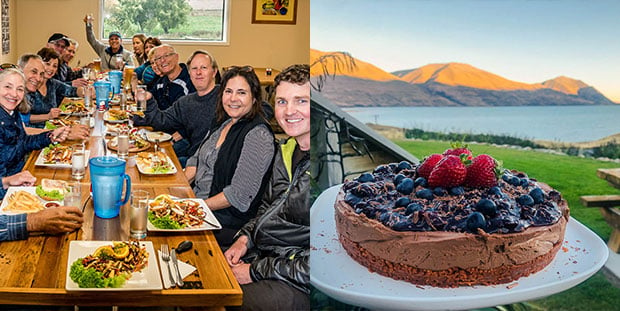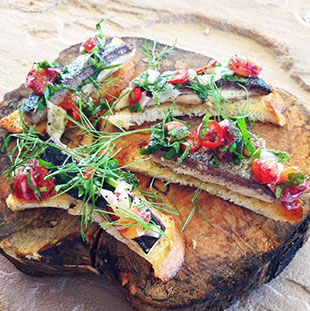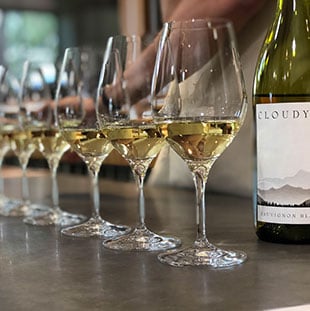 Masterpiece, Kiwi Classic, Pure South & Sweet North food & dining:
We seamlessly combine home cooked, healthy meals with our favourite character-filled restaurants to satisfy your appetite. You'll visit a vineyard to sip on a zesty sauvignon blanc or a local brewery to sample some award-winning craft beers. You'll eat Fiordland venison in Te Anau or fresh salmon in Aoraki/Mount Cook. We want to showcase New Zealand cuisine at its best and leave you wanting more.
BACK TO TOP
5. Add the Sweet North to any of our South Island trips to complete your New Zealand adventure
If you'd like to complete your New Zealand adventure, you can venture north on our Sweet North tour. The North Island is the cultural heart of Aotearoa/New Zealand. It's the land of myths and legends where you can immerse yourself in Māori culture. Home to New Zealand's largest geyser, bubbling mud pools and active volcanoes, all of which we will take you to see… You've come all this way; why not go a little further?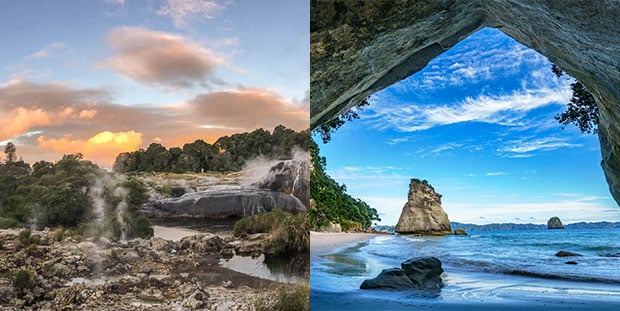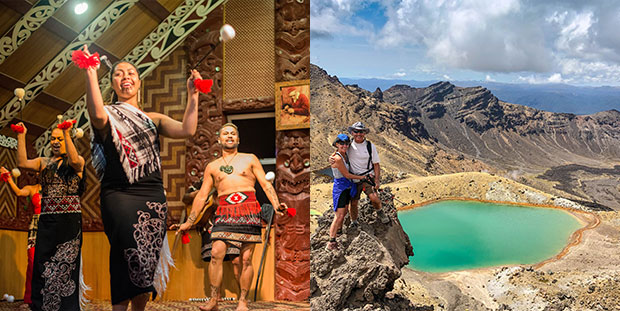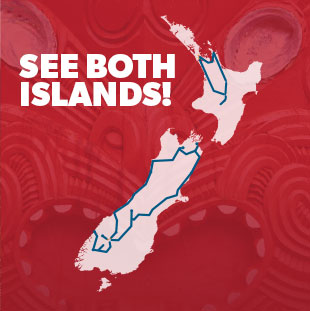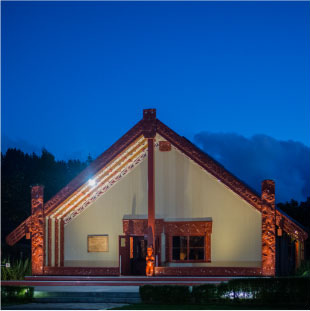 Top highlights on the Sweet North:
Paddle the warm water and explore the intricate rock formations as you kayak Cathedral Cove.

Adventure into another planet as you hike the Tongariro Crossing, with its desolate red soil, steam rising from the land and startling emerald blue lakes.

Explore Coromandel Peninsula, Rotorua's geothermal areas, Huka Falls, Lake Taupo, Tongariro National Park, Waitomo glowworm caves, Te Puia Maori Village and more!
BACK TO TOP
6. In a nutshell...
We don't play favourites, each of our trips are diverse and magical in their own right and each tour is crafted with our guests in mind.
BACK TO TOP
Still not quite sure?
Don't fret if you still can't quite decide. You can always give us a call, we're more than happy to chat! The friendly Kiwi voice on the other end, Jodi, has been pairing people up with their perfect trip since the company first began.
Please note: These are samples of our current itineraries. We are constantly fine-tuning and improving our trips based on feedback from our guests and guides as well as availability. Your trip will be at least this good, but we may make slight improvements without notice to make it even better!