Get To Know Our New Zealand Tour Guides
The common denominator on our team is a passion for the outdoor lifestyle we enjoy here in New Zealand. A lot of us were born and bred here, some of us chose to make this beautiful place our home, but at the core we're all a bunch of genuine Kiwis.
Our Super-Guides
We're proud to have assembled – without exception – the friendliest bunch of people you could wish to travel with. At a minimum, our guides have to be Kiwis, professional and up to date with all the necessary qualifications to even get an interview. Then what we're looking for is guides with the "X-factor" who we would want to hang out with on holiday. We make sure they're fully clued up on New Zealand's flora, fauna, history and heritage and are always learning more so they have more to share with you. We take your safety and comfort seriously, of course, so we provide the latest industry-standard gear and ongoing training on everything from safety plans to hospitality benchmarks to make sure they are equipped to give you their very best. They know how to be right there whenever you need something, before you know it sometimes, yet out of sight when you want to bask in the solitude. They prepare exquisite meals seemingly out of nowhere, and know how to encourage you up that track or across that bridge! They're your new mates eager to show you around their backyard.
Our HQ Team
We give it our all to make your experience with us remarkable, right from the moment you first hear of New Zealand Trails. And we're constantly improving everything. All the time. If you like what you see here, somewhere along the way you'll probably have a chat to Jodi, who is the friendly voice at the end of the line. Then when you book a trip, Amanda makes sure you have everything you need until our guides meet you on the first morning. A huge amount of work goes into producing the best adventure tours in New Zealand and we have a world-class operations team looking after all the details of our trips.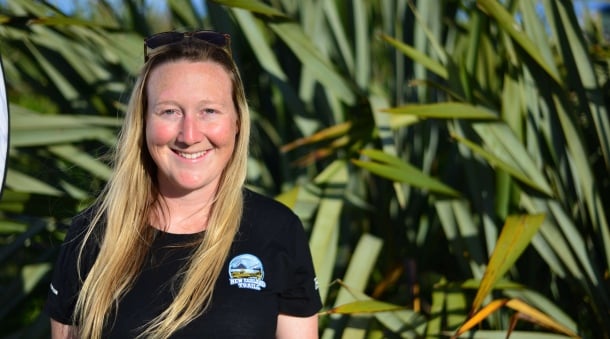 Kim Mackay-Wallace
The mountains are Kim's favourite place, and she's keen to show guests everything the Kiwi landscape has in store for them.
Kim has a Bachelor of Science in Neuroscience and Psychology and is one of our longest-serving guides. Kim is something of a thru-hiking addict and in between guiding for New Zealand Trails has hiked the length of both Norway and New Zealand! If you meet Kim on a trip be sure to ask her about her hiking, skiiing and packrafting adventures in remote Fiordland.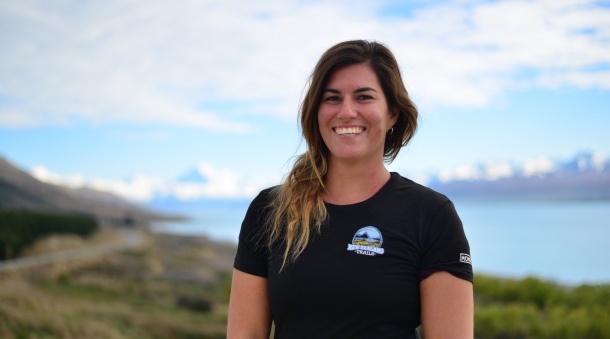 Hayley Blackburn
Hayley loves meeting people from all over the globe and especially loves showing visitors her favourite place, her home.
Hayley is as social as they come and is a self-confessed psychology buff.  She has spent the last few years guiding trips around Europe and New Zealand. Her background is in healthcare, she has a Bachelor of Health Sciences, majoring in Occupational Therapy and a Post Graduate Certificate in Allied Mental Health. Her favourite spot on our trips is Kaikoura, where you can go swimming with the Dusky dolphins.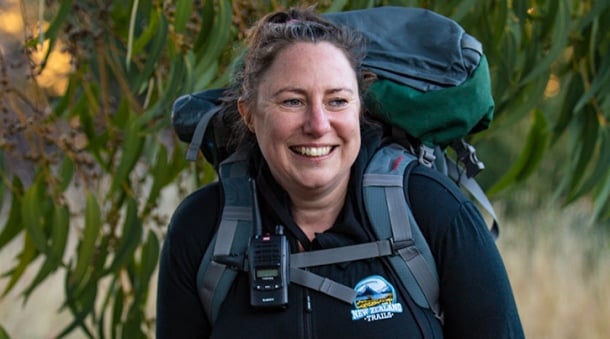 Shona Hore
Shona is our most legendary super-guide, and an expert at finding wild raspberries on tour.
She hails from Invercargill, and pops up each year to show our guests our gorgeous country. Her background is in photography. She has a Diploma in Professional Photography and a Certificate in Digital Media and Adventure Tourism, so make sure to get her to take some snaps of you! Shona's favourite place on our trips is a tie between Angelus Hut and Punakaiki. She loves the pristine alpine environment of Angelus Hut and the rewarding feeling of getting there versus the Jurassic feel and looming limestone cliffs of the Paparoa National Park.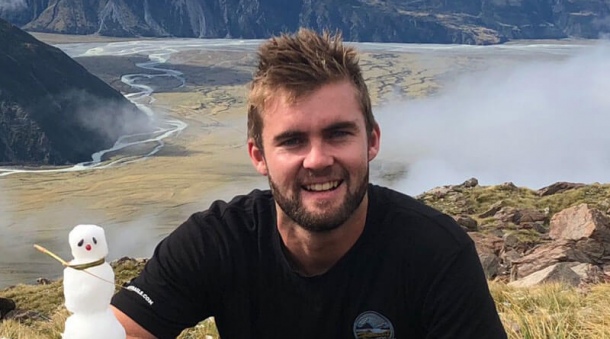 Kyle Storey
Kyle is well-known at Trails for being a bit of a Tim Tam Slam legend. He'll take any opportunity to grab a packet of Tim Tams and show you how it's done!
Originally from the Waikato region, Kyle loves to show off his home to our guests. In Kyle's opinion, you can't really beat Mount Cook in all its glory. Or Kaikoura, hanging out with his dolphin mates. He also loves stopping off at Fairlie's Pie Shop en route to Canterbury, where they have some of the best pies in New Zealand! When he's not out on a trip, Kyle can be found in and around forests, lakes and mountains or out on the golf course dreaming of one day becoming the next golf legend.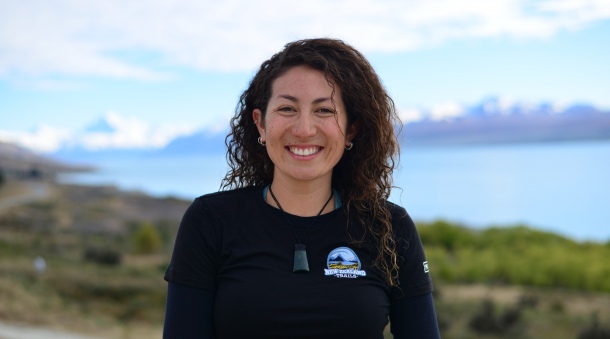 Miki Brown
This Queenstown local will have you singing along to her guitar on your New Zealand Trails tour in no time.
Miki is hands down one of the best performers amongst our awesome group of guides. When she isn't on a trip, she can always be found singing her heart out and playing guitar. Miki loves all the places we visit on our trips for their own unique assets. If she had to choose one, she says her heart and soul definitely enjoys stepping back into the deep south of Fiordland National Park.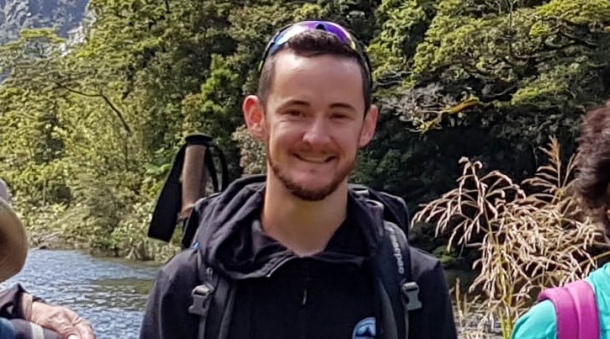 Andrew Graham
With a degree in Conservation Ecology and a Diploma in Outdoor Instruction and Management, Andy is our resident ecology expert.
Andy also holds a certificate in advanced first aid (Pre-Hospital Emergency Care) and Avalanche Awareness Stage 1. Originally from the North Island; the surfer, climber and slackliner now calls the South Island his home. When Andy isn't out on a New Zealand Trails trip, he is hiking, climbing rocks, running, cooking up a storm or researching his next travel destination. In one year, he travelled to see all seven wonders of the world, just because. He is excited to show you the very best of New Zealand.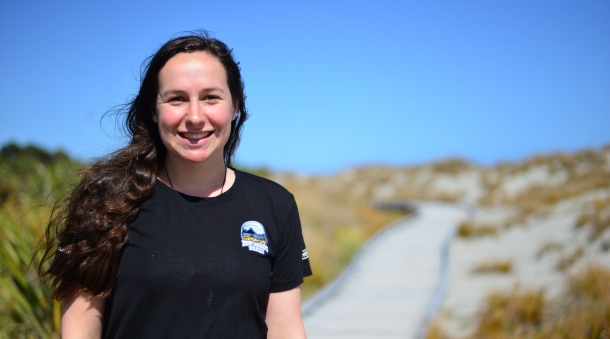 Monica Bean
Monica from Christchurch is our resident eco-warrior and spends her spare time volunteering for the Department of Conservation.
She looks forward to putting big smiles on the faces of her guests. Monica has a Bachelor of Sustainability and Outdoor Education, a PHEC (Pre Hospital Emergency Care), a NZOIA (NZ Outdoor Instructor Association) and is a Bush Leader and Rock Leader. Her favourite place in New Zealand is along the Pororari river track in Punakaiki. The nikau palms are unbelievable! When Monica is not on a New Zealand Trails trip, she is either rock climbing or looking up her next travel destination.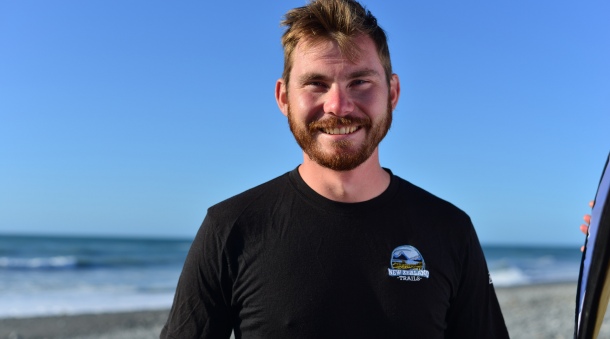 Rob Dunkerley
Rob hails from Wanaka and is driven to show our guests some of New Zealand's most striking spots.
Rob is a certified skydiving instructor, qualified first responder, paragliding pilot, and served in the military for over three years. In winter, the self-proclaimed adrenaline junkie can be found doing twenty jumps a day in his work as a skydive instructor. When he's not out on the road on a New Zealand Trails trip, Rob is in the mountains waiting to take off on his paraglider to absorb the decadent views of the Southern Alps. Or else skydiving in Wanaka!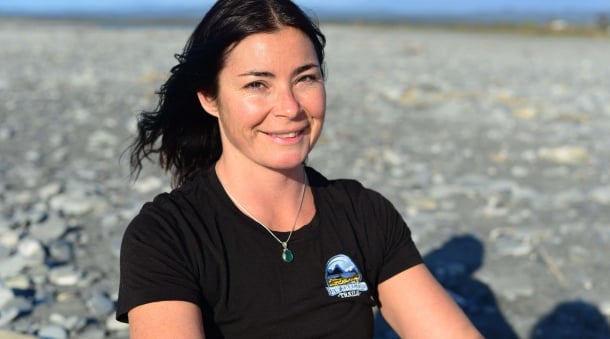 Racheal Helleur
Racheal is super knowledgeable on the country's flora and can't wait to tell you all about it.
Rach hails from the lower half of the North Island, from a little town called Dannevirke. She holds a Certificate 3 and 4 in Tourism, Travel and Business and a Diploma in Business Management. When Racheal isn't on a New Zealand Trails trip, she is camping and swimming in our beautiful rivers and lakes, hiking backcountry trails, foraging for bush tucker or curling up with a good book. When asked about her favourite spots on our trips she says, "it's hard to pick just one but Milford Sound, the Hollyford track, Martins Bay and Nelson Lakes National Park are definitely some of my favourites."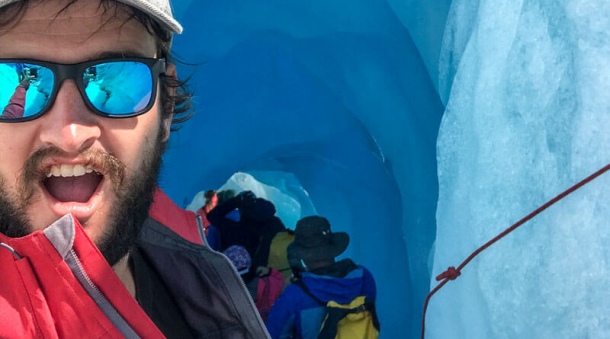 Sam Harris
Sam is a true outdoors expert, it's rare we see him without his mountain bike or paraglider in tow.
Originally from Hamilton, the former wilderness first responder has explored much of the world before returning home to New Zealand. Sam has a Bachelor of Sport and Leisure. When Sam isn't out on a New Zealand Trails trip, he'll be somewhere in the sky flying his paraglider or on the wharf fishing.  His favourite place on our trips is a toss-up between relaxing at Lochmara Lodge or hiking in Mt Cook National Park.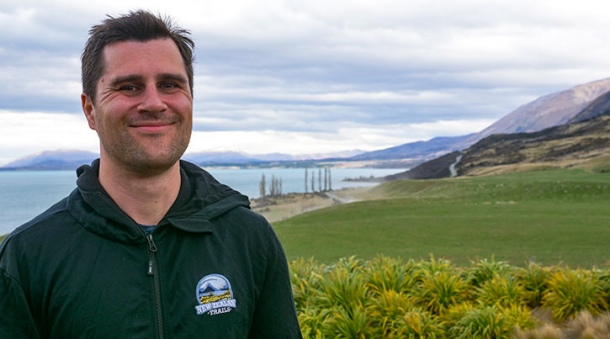 Kahurangi (Kahu) Tapsell
The first thing Kahu does when he reaches a new place is to climb the closest hill/mountain to find his bearings!
Kahu has a Graduate Diploma in Science (Earth Science), Bachelor of Resource and Environmental Planning (Honours) and Te Ara Reo Māori (Level 2). He can't wait to take you up some mountains on your New Zealand Trails trip. When he is not out on the road, he will be working on his Māori language skills or up in Tauranga enjoying the fantastic sunshine at the beach and also discovering new water holes for swimming with his kids. When he leaves the city behind, it's usually to seek out a new track in his local forest park, the Kaimai Ranges.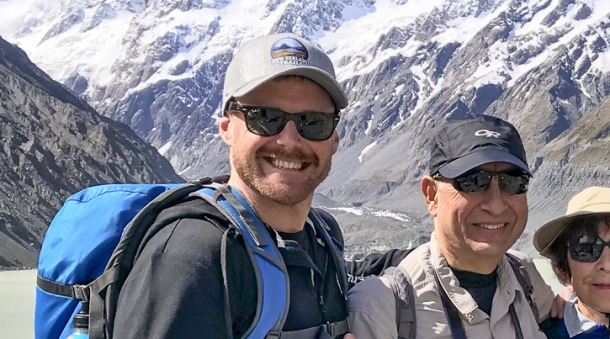 Dan Mackay
Dan is your typical kiwi bloke, he enjoys all things sports related and loves getting in the thick of it and getting his gumboots mucky!
The Otautahi/Christchurch local is already looking forward to his next fun-filled adventure. When he's not out on a New Zealand Trails trip, Dan is spending time with friends and family or doing some form of outrageous outdoor adventure like walking the length of New Zealand. Dan's favourite place on our trips is Nelson Lakes National Park. He says, "it is a beautiful playground and a super part of the Te Araroa."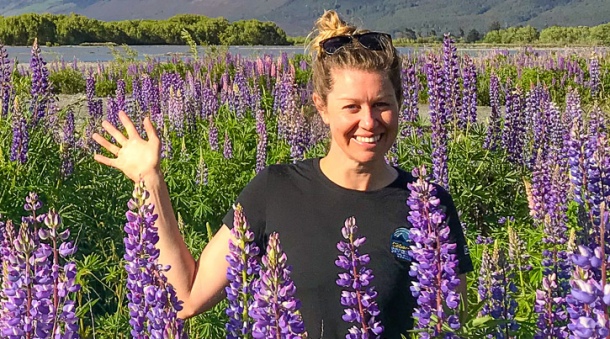 Ellie Tresidder
Ellie is most likely to be found outside; hiking, biking, skating, swimming, eating with friends or solo, just as long as it's outside.
Ellie loves to enjoy the snow and is an outstanding snowboarder. She once lived her life in endless winter (17 winters in ten years!) but now she's back home and ready to thoroughly re-embrace the summer and show our guests around her beloved New Zealand. Ellie has a Bachelor of Physical Education in Sport and Exercise Science, Post Graduate Diploma in Teaching and Learning, Avalanche and Mountain Safety Certificates and is a fully certified snowboard and ski instructor. When asked about her favourite spot on our trips she says: "Angelus is up there (literally) because it's like another world and I love the walk out the next day."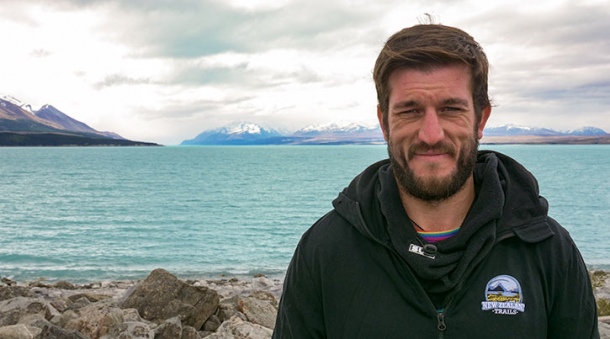 Tim Thorstensen
Tim lives life at a faster pace than most and his love for the mountains has taken him all over the world.
He's a qualified teacher, ski instructor, inventor and of course, a New Zealand Trails guide! When not on a Trails tour, he is most likely to be found teaching, building anything out of recycled timber, traveling the world or selling his own brand of innovative ski poles. Tim's favourite hike would have to be the Mueller Hut route. He says, "It starts off easy and you can get a good warm up and then, boom, you're into the climb."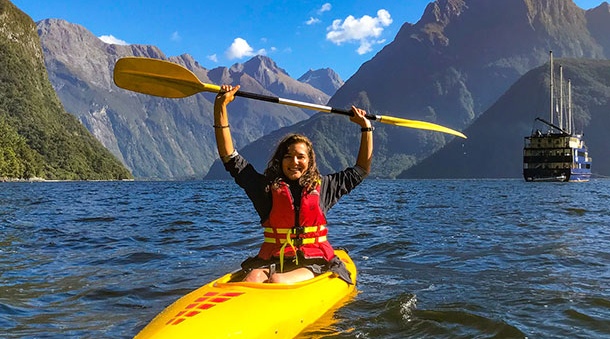 Ky Mclachlan-More
Ky is a creative adventurer who is looking forward to sharing our beautiful whenua (land) with the world as part of the New Zealand Trails team.
Ky has a Certificate in Psychosynthesis, Certificate in Te Reo and Whanau Ora and a Diploma in Mental Health and Wellbeing. When not on a Trails trip, she is most likely to be found exploring and regenerating in the valley of Makarora with her family, wandering in nature or reading, cooking, dancing and singing at home. Being a Southlander of Ngai Tahu and Waitaha descent, the locations (her favourite places in the world) and cultural significance of Fiordland, Mt Aspiring and Aoraki really appeal to her.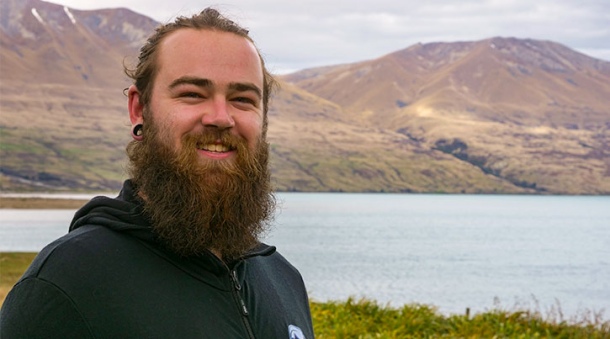 Chris Gillard
This Hamiltonian has a guitar permanently strapped to his hand. He's ready and waiting to serenade you with songs of the sea (his other favourite thing!).
When not out on a New Zealand Trails trip, he can be found at the beach, lying in the sand and strumming away on his guitar. Chris' favourite spot on our trips is the Tongariro Alpine Crossing, this was the first big hike he ever did. He says. "It was in school camp in year 10 and it was before I realized how much I loved hiking".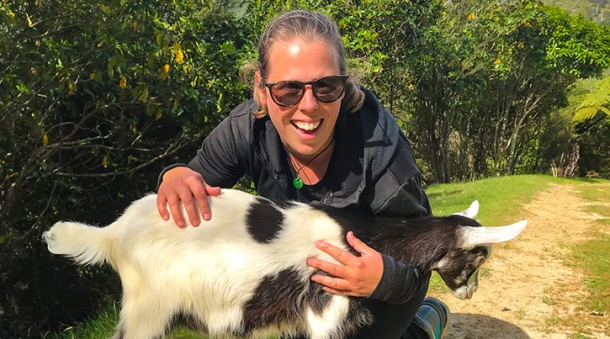 Jodi Alexander
Jodi in addition to guiding with New Zealand Trails, has worked as a guide at Mt Nicholas sheep station.
She has a Certificate III in Fitness, Class 2/Medium Rigid Licence, P Endorsement and an LF Forklift Truck Licence. When not on a New Zealand Trails trip, Jodi is most likely to be found hiking/camping somewhere beautiful with her friends. Jodi's favourite spot on our trips is up at Angelus Hut, watching the sunrise/sunset.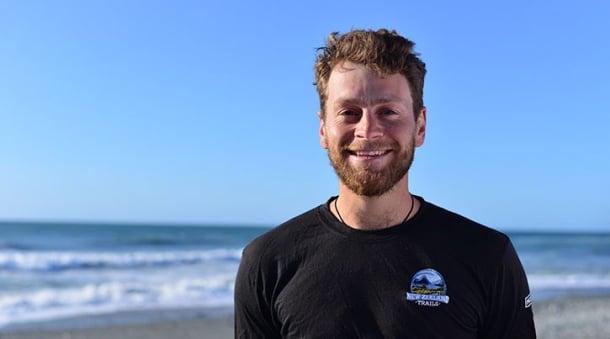 Tom Prebble
Tom is eternally positive, our resident storyteller who loves all things water above and below.
Tom is a qualified pharmacist and all-round energiser bunny. When he is not on a New Zealand Trails trip, he is most likely to be found outside; tramping, mountain biking, diving, paragliding or kayaking. Tom's favourite activity on our trips is kayaking in the Marlborough Sounds on a good day.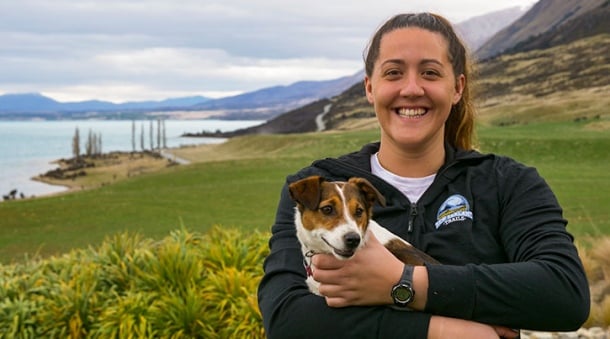 Libby Judge
Libby's goal in life is to facilitate transformational outdoor experiences with people of all ages.
Originally from Hawkes Bay, Libby says that working at New Zealand Trails is a dream come true for her. She has a Bachelor of Arts (Honours) in Education, Bachelor of Education - Primary Teaching (Montessori Specialty) and a Diploma of Sport and Recreation and Certificate in Hospitality. When Libby is not on a Trails trip, you can find her camping next to a beach somewhere - surfing, reading, sleeping, and eating good kai (food).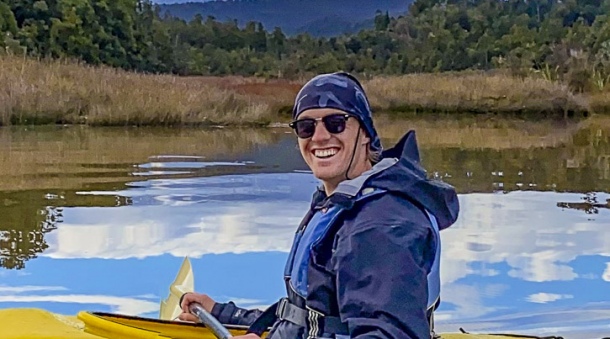 Corben Turner
Corben is the ultimate adventurer who loves nothing more than a good mission!
Corben is all amped up and ready to take you exploring in the New Zealand wilderness. He has a Bachelor of Business from Newcastle University in Australia and is a qualified Emergency First Responder. When Corben isn't on a Trails trip, he is most likely to be found surfing, rock climbing or travelling. His favourite place in New Zealand is Abel Tasman. "There are some beautiful communities and scenery in that region," he says.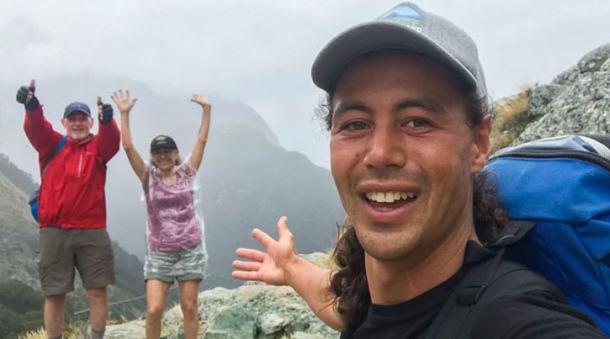 Chris Tafili-Reid
If you want to learn about Maori culture, Chris is the man to talk to. He is passionate about bringing our guests together as a family.
The all-round good guy loves nothing more than to see you with a smile on your face and enjoying everything New Zealand has to offer. Chris has a Diploma in Adventure Tourism. When not on a New Zealand Trails trip, he is most likely to be found on the road, in the moment following his true north or out sailing. Chris once hitch-hiked on a sail yacht 1200nm from Samoa to Vanuatu with a couple that had just broken up, a broken engine, two waterlogged GPS devices and too few charts!When asked about his favourite spot on our trips, Chris said "definitely the Angelus Circuit in Nelson Lakes. It's the most incredible multi-day hike in superb surroundings".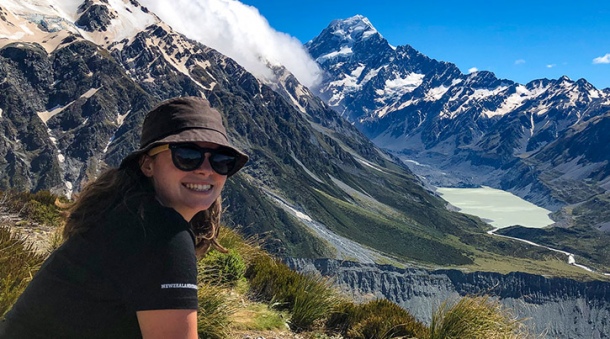 Megan Baxter
Megan will guide you around our tracks and trails safely and then whip up a feast to remember for you at night.
Just wait until you taste her food! When she's not on a Trails trip, Megan is most likely to be found tramping up a mountain or kayaking down a river. Or studying for her degree in Sustainability and Outdoor Education. Megan loves the tramp up to Angelus Hut. "The variety of terrain and the amazing views are incredible," she says.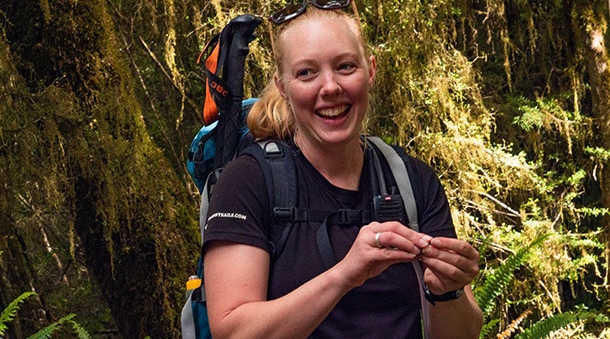 Kristy Williamson
Meet our guide Kristy, she is one of our long-timers! Kristy has dedicated her life to the outdoors; you'd be hard-set to find a plant or bird that she can't identify. 
Here at New Zealand Trails, we see guiding as a life-long calling. It's a profession, not something you tick off on your gap year. With a Certificate in Outdoor Recreation and a Diploma in Outdoor Instruction and Guiding, the skydiving instructor turned outdoor instructor, turned guide, has done it all. You'll know the moment you meet Kristy that you're in good hands!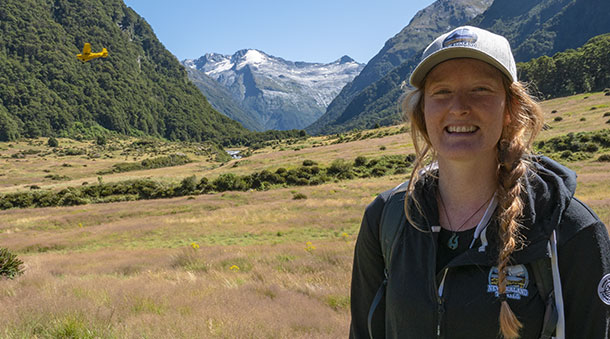 Finn Bulman
With a background in biology, Finn is another of our resident flora and fauna experts. Make sure to ask her about fungus, which was the focus of her Masters research!
Growing up in the stunning Tasman region, Finn has hiked, kayaked, rock climbed and skied her way through life. Spending extended periods of time in the Canadian Rockies, Indian Himalayas and European Alps has given her an even deeper respect and appreciation for the incredible natural beauty here in New Zealand and an enthusiasm to share it with our guests. Nothing gives her greater pleasure than tramping (New Zealand's way of saying hiking) in all terrains and conditions, especially the feeling of reaching a mountain summit.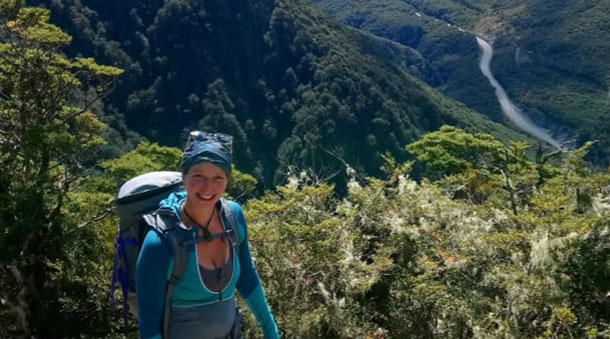 Nicki Dent
Nicki is our self-confessed bird-nerd! She'll have you attuned to every bird call in New Zealand in no time.
When not on a Trails tour, Nicki is a busy bee! Not only does she run her own marketing business, she also does a whole lot of conservation work and adventuring with her dog, Charlie! Her home is the stunning geothermal wonderland of Rotorua (one of the spots on our Sweet North tour!). Her favourite place in the South Island is Lake Matheson, but she says, you can't beat a West Coast sunset! The all-round adventurer is excited to take you exploring the entire island.