Get To Know Our New Zealand Tour Guides
The common denominator on our team is a passion for the outdoor lifestyle we enjoy here in New Zealand. A lot of us were born and bred here, some of us chose to make this beautiful place our home, but at the core we're all a bunch of genuine Kiwis.
Our Super-Guides
We're proud to have assembled – without exception – the friendliest bunch of people you could wish to travel with. At a minimum, our guides have to be Kiwis, professional and up to date with all the necessary qualifications to even get an interview. Then what we're looking for is guides with the "X-factor" who we would want to hang out with on holiday. We make sure they're fully clued up on New Zealand's flora, fauna, history and heritage and are always learning more so they have that bit extra to share with you. We take your safety and comfort seriously, of course, so we provide the latest industry-standard gear and ongoing training on everything from safety plans to hospitality benchmarks to make sure they are equipped to give you their very best. They know how to be right there whenever you need something, before you know it sometimes, yet out of sight when you want to bask in the solitude. They prepare exquisite meals seemingly out of nowhere, and know how to encourage you up that track or across that bridge! They're your new mates eager to show you around their backyard.
Our HQ Team
We give it our all to make your experience with us remarkable, right from the moment you first hear of New Zealand Trails. And we're constantly improving everything. All the time. If you like what you see here, somewhere along the way you'll probably have a chat to Jodi, who is the friendly voice at the end of the line. Then when you book a trip, Amanda makes sure you have everything you need until our guides meet you on the first morning. A huge amount of work goes into producing the best adventure tours in New Zealand and we have a world-class operations team looking after all the details of our trips.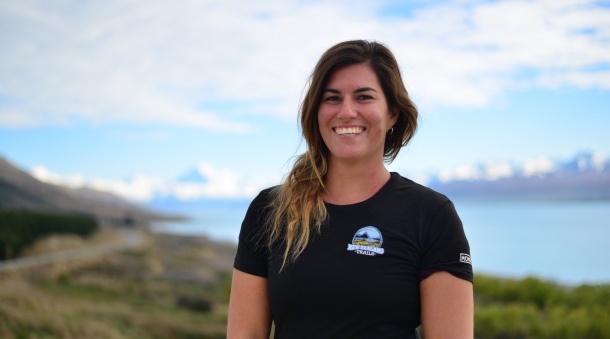 Hayley Blackburn
"Hayley is an impressive woman who modelled what it looks like to move with graciousness and compassion in this world. She elevated what was already an over-the-top travel experience." Winslow Umberger, World Heritage Walking Tour
Hayley is as social as they come and is a self-confessed psychology buff.  She has spent the last few years guiding trips around Europe and New Zealand. Her background is in healthcare, she has a Bachelor of Health Sciences, majoring in Occupational Therapy and a Post Graduate Certificate in Allied Mental Health. Her favourite spot on our trips is Kaikoura, where you can go swimming with the Dusky dolphins.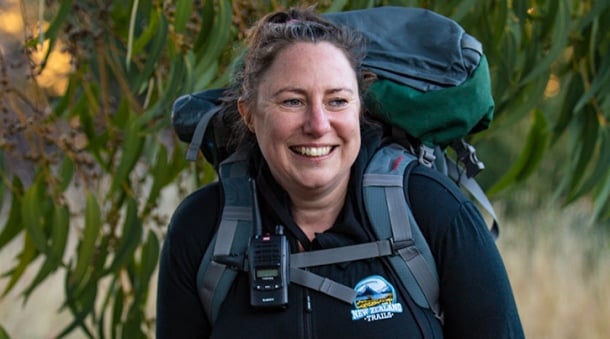 Shona Hore
"Shona was truly amazing. One of the best guides we've EVER had (we have visited 65 countries). An incredibly enthusiastic Kiwi, she was a fund of knowledge, humor, and can-do spirit. We loved our time with her." Tom Page, World Heritage Walking Tour
She hails from Invercargill, and pops up each year to show our guests our gorgeous country. Her background is in photography. She has a Diploma in Professional Photography and a Certificate in Digital Media and Adventure Tourism, so make sure to get her to take some snaps of you! Shona's favourite place on our trips is a tie between Angelus Hut and Punakaiki. She loves the pristine alpine environment of Angelus Hut and the rewarding feeling of getting there versus the Jurassic feel and looming limestone cliffs of the Paparoa National Park.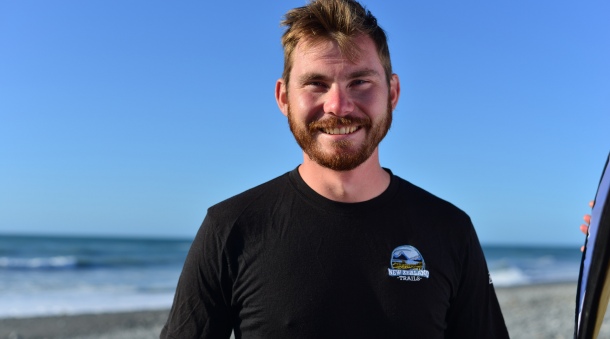 Rob Dunkerley
"I would do another trip with Rob any day. He is fun, intelligent, brave, organised, reliable, and has a positive attitude. He instills confidence and was always there to help people who were having difficulty with an activity." Kerry Dunn-Coves, Pure South
Rob is a certified skydiving instructor, qualified first responder, paragliding pilot, and served in the military for over three years. In winter, the self-proclaimed adrenaline junkie can be found doing twenty jumps a day in his work as a skydive instructor. When he's not out on the road on a New Zealand Trails trip, Rob is in the mountains waiting to take off on his paraglider to absorb the decadent views of the Southern Alps. Or else skydiving in Wanaka!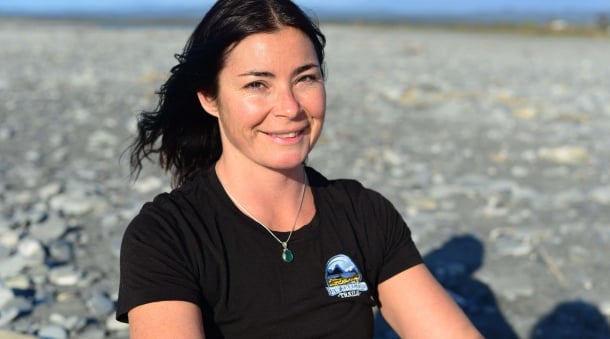 Racheal Helleur
"Rachael was unflappable, knowledgeable and a wonderful person to be around. Thank you for making our trip so unforgettable." Sarah-Jane Walsh, Masterpiece
Rach hails from the lower half of the North Island, from a little town called Dannevirke. She holds a Certificate 3 and 4 in Tourism, Travel and Business and a Diploma in Business Management. When Racheal isn't on a New Zealand Trails trip, she is camping and swimming in our beautiful rivers and lakes, hiking backcountry trails, foraging for bush tucker or curling up with a good book. When asked about her favourite spots on our trips she says, "it's hard to pick just one but Milford Sound, the Hollyford track, Martins Bay and Nelson Lakes National Park are definitely some of my favourites."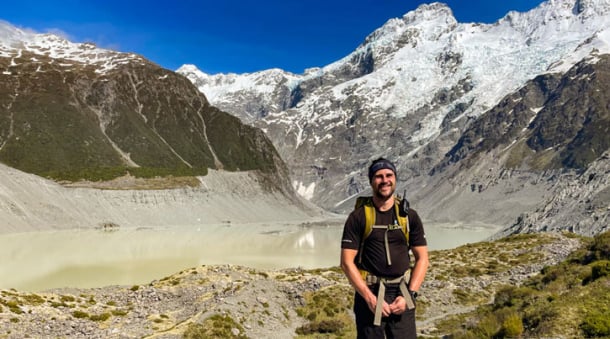 Kahurangi (Kahu) Tapsell
"Kahu was a most thoughtful and organised driver, and great company too. I was impressed by the stories he told as we were driving." Debra Hallett, Pure South
Kahu has a Graduate Diploma in Science (Earth Science), Bachelor of Resource and Environmental Planning (Honours) and Te Ara Reo Māori (Level 2). He can't wait to take you up some mountains on your New Zealand Trails trip. When he is not out on the road, he will be working on his Māori language skills or up in Tauranga enjoying the fantastic sunshine at the beach and also discovering new water holes for swimming with his kids. When he leaves the city behind, it's usually to seek out a new track in his local forest park, the Kaimai Ranges.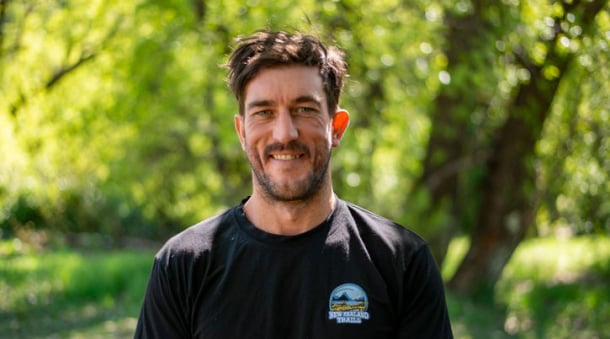 Tim Thorstensen
"Tim was awesome; we always felt safe with him at the wheel. We enjoyed chats with him, and he was always keen to help in any way he could to make the trip comfortable and memorable." Jerry & Betty Johnson, Masterpiece
He's a qualified teacher, ski instructor, inventor and of course, a New Zealand Trails guide! When not on a Trails tour, he is most likely to be found teaching, building anything out of recycled timber, traveling the world or selling his own brand of innovative ski poles. Tim's favourite hike would have to be the Mueller Hut route. He says, "It starts off easy and you can get a good warm up and then, boom, you're into the climb."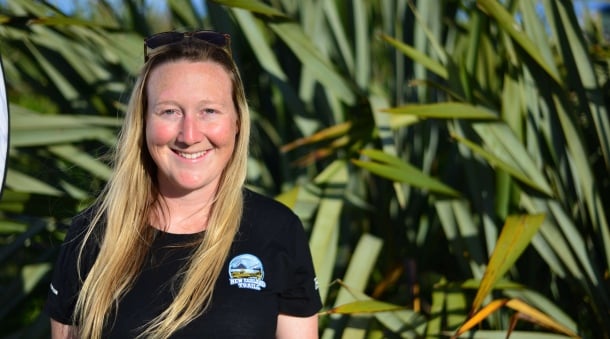 Kim Mackay-Wallace
"Kim is a superb driver, competent, we always felt safe. I loved her repertoire with so much knowledge, and not all from a brochure, she threaded in her personal experiences and gave us such lovely insight." Rose Ruane, NZ Great Walk Adventure
Kim has a Bachelor of Science in Neuroscience and Psychology and is one of our longest-serving guides. Kim is something of a thru-hiking addict and in between guiding for New Zealand Trails has hiked the length of both Norway and New Zealand! If you meet Kim on a trip be sure to ask her about her hiking, skiiing and packrafting adventures in remote Fiordland.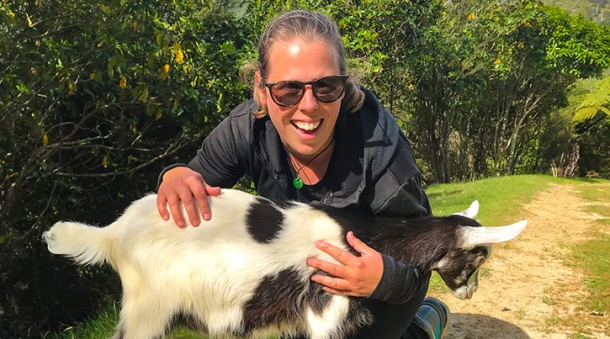 Jodi Alexander
"Jodi's knowledge, her enthusiasm for sharing her country, her flexibility, her professionalism, and her wonderful sense of humor helped to make every day something new, something special seemingly designed just for us." Kathy Frank, Masterpiece
She has a Certificate III in Fitness, Class 2/Medium Rigid Licence, P Endorsement and an LF Forklift Truck Licence. When not on a New Zealand Trails trip, Jodi is most likely to be found hiking/camping somewhere beautiful with her friends. Jodi's favourite spot on our trips is up at Angelus Hut, watching the sunrise/sunset.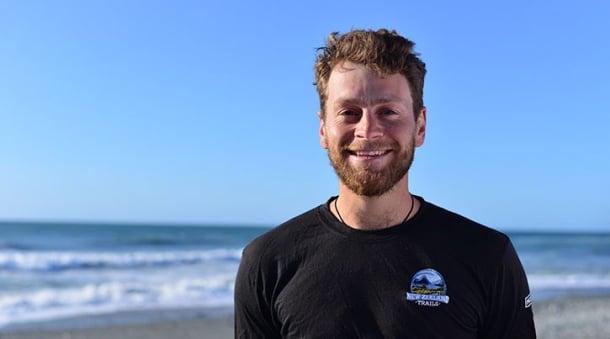 Tom Prebble
"Tom was seriously incredible. He made the trip what it was! He went beyond expectation in every aspect. He treated every person as an individual and everyone fell in love with him. We were so lucky to have him." Peta Williamson, NZ Great Walk Adventure
Tom is a qualified pharmacist and all-round energiser bunny. When he is not on a New Zealand Trails trip, he is most likely to be found outside; tramping, mountain biking, diving, paragliding or kayaking. Tom's favourite activity on our trips is kayaking in the Marlborough Sounds on a good day.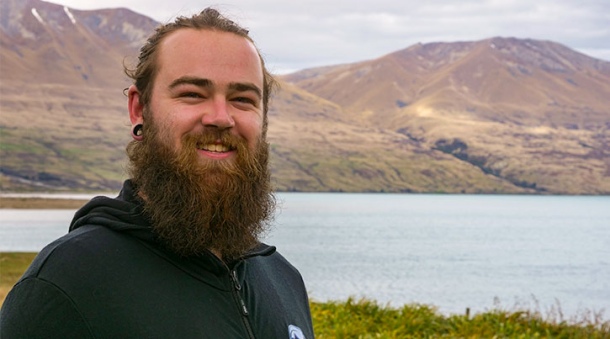 Chris Gillard
"Chris is amazing. He is so calm and confident and able to lead with great success. Everybody felt confident with his leadership and planning and taking care of us. He was always surprising us with a little something extra over and above what you expected." Mayo Friedlis, Pure South
When not out on a New Zealand Trails trip, he can be found at the beach, lying in the sand and strumming away on his guitar. Chris' favourite spot on our trips is the Tongariro Alpine Crossing, this was the first big hike he ever did. He says. "It was in school camp in year 10 and it was before I realized how much I loved hiking".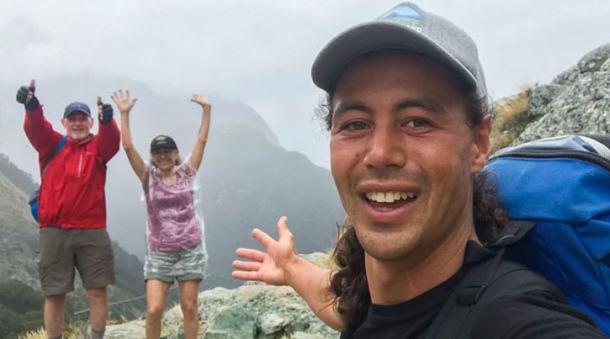 Chris Tafili-Reid
"I cannot come up with words to express how superlative Chris was as our guide. He was friendly, enthusiastic, knowledgeable, funny and concerned about the experience of each person on the tour. Not just amazing, but totally amazing." Eric Frank, World Heritage Walking Tour
The all-round good guy loves nothing more than to see you with a smile on your face and enjoying everything New Zealand has to offer. Chris has a Diploma in Adventure Tourism. When not on a New Zealand Trails trip, he is most likely to be found on the road, in the moment following his true north or out sailing. When asked about his favourite spot on our trips, Chris said "definitely the Angelus Circuit in Nelson Lakes. It's the most incredible multi-day hike in superb surroundings".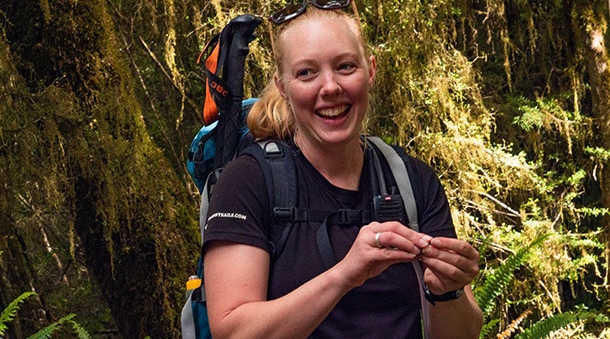 Kristy Williamson
"Kristy was genuine, authentic, creatively helpful, friendly, charming and an excellent cook. She was such a wonderful part of our experience that I can't thank her enough." Syd Wright, Pure South
Here at New Zealand Trails, we see guiding as a life-long calling. It's a profession, not something you tick off on your gap year. With a Certificate in Outdoor Recreation and a Diploma in Outdoor Instruction and Guiding, the skydiving instructor turned outdoor instructor, turned guide, has done it all. You'll know the moment you meet Kristy that you're in good hands!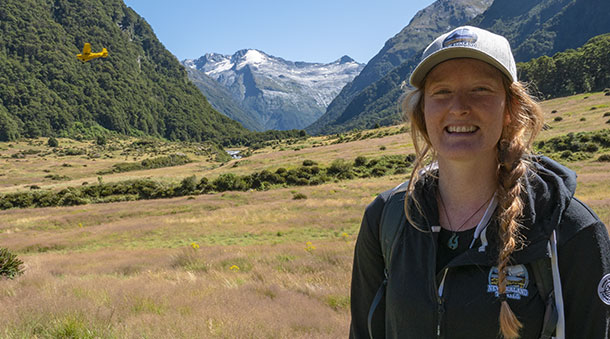 Finn Bulman
"We loved Finn. She went above and beyond to make sure we were all well-fed, happy, and had everything that we needed, even before we knew we needed it. She is not only an amazing cook but also a truly wonderful person." Michele Hudson, Pure South
Growing up in the stunning Tasman region, Finn has hiked, kayaked, rock climbed and skied her way through life. Spending extended periods of time in the Canadian Rockies, Indian Himalayas and European Alps has given her an even deeper respect and appreciation for the incredible natural beauty here in New Zealand and an enthusiasm to share it with our guests. Nothing gives her greater pleasure than tramping (New Zealand's way of saying hiking) in all terrains and conditions, especially the feeling of reaching a mountain summit.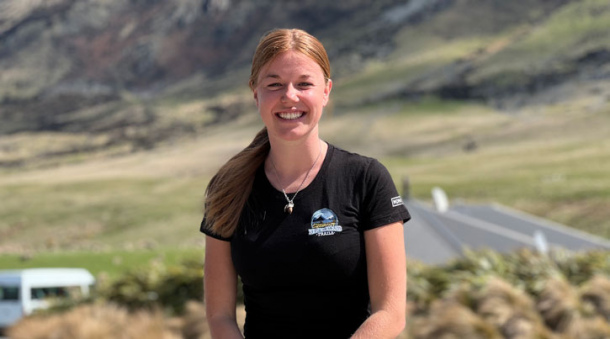 Emily Heath
"Emily was just amazing. For a woman of her age, she has tremendous maturity. She had a wide range of knowledge. Her energy level was incredible." Michael Sanders, Masterpiece
Emily is from the beautiful town of Wanaka, where the mountains and lake make for some of the most wonderful outdoor adventures.  When she's not guiding for New Zealand Trails, you'll find her tramping, reading, spending time with her friends and family, or studying for her Bachelor's Degree in Veterinary Science.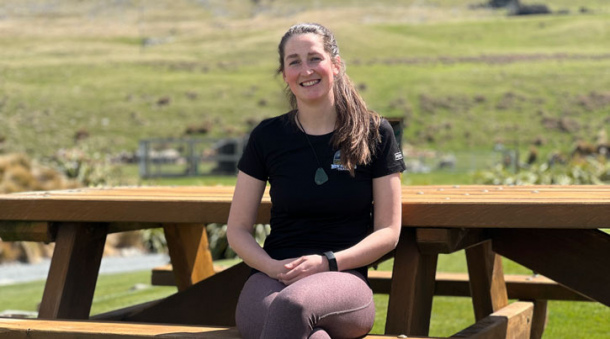 Georgia Corbett
"Georgia is an absolutely wonderful young woman who kept us safe and entertained the whole trip. I can't say enough good things about her. Her driving skill, knowledge, and professionalism are truly stunning for someone only in their mid-twenties." Darren Freeman, Masterpiece
Georgia grew up on the West Coast of the North Island. Prior to New Zealand Trails, she was a sea kayak guide in Kaikoura and a hut ranger on the Paparoa Track. In her spare time, Georgia loves spending time in the mountains either tramping, rock climbing, or adventure camping. She has a Certificate in Outdoor Education and can speak conversational Spanish!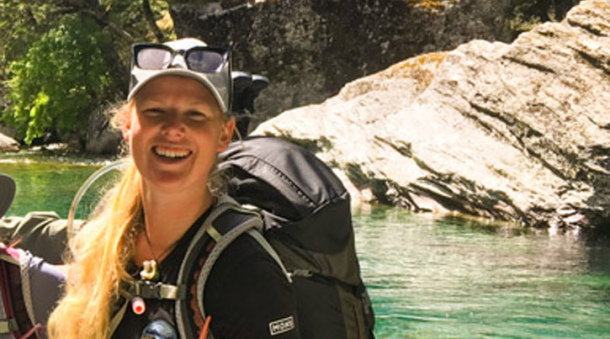 Niamh Matthews
"Niamh was very generous with her knowledge and love of the land. I appreciated the depth of her knowledge of your amazing country. She was enthusiastic, friendly, fun, encouraging, and kind. She was a pleasure to be with every day." Suzanne Roeder, Sweet North
Niamh has a double degree in Physical Education and Commerce, so it's no surprise that she loves the adventure tourism industry and outdoor education. Before becoming a hiking guide Niamh spent years working on the water as a senior kayak guide, divemaster, whale watch guide, and deckhand in both New Zealand and Australia. Niamh is also a Padi Divemaster and a Red Cross Lifeguard. When not on a New Zealand Trails trip you'll find her surfing, diving, or sailing.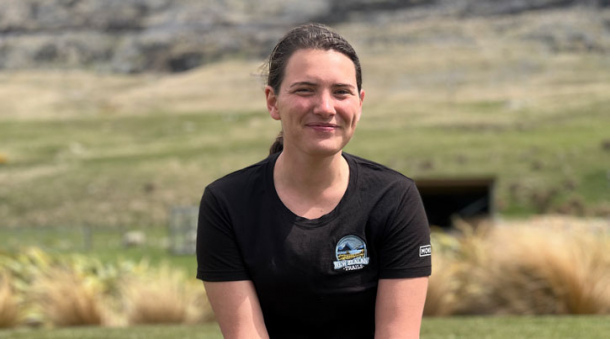 Tasha Hawkes-Board
"I am only giving Tasha 5's because your scale won't let me give her a rating beyond Amazing! Besides the wonderful meals she made us and keeping us safe on the trails, Tasha's knowledge of Maori culture was exceptional - I learned so much and this wasn't my first trip to NZ!" Darren Freeman, Pure South
Tasha grew up on a sheep farm in Waitomo, the home of the famous Waitomo Caves. She's a country girl at heart but loves spending her time in the mountains now that she lives down in the South Island. When she's not guiding, Tasha loves cooking, hiking, gardening and planning her next multi-day backpacking adventure.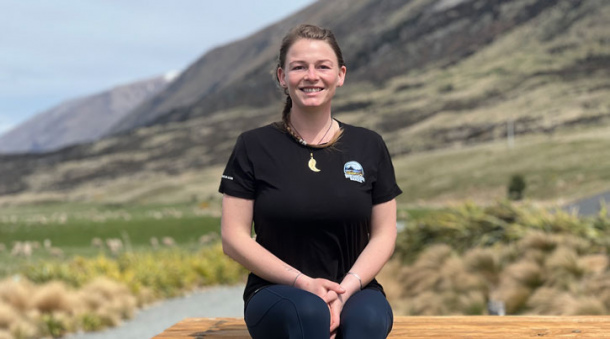 Sarah Purchase
"Sarah was amazing. So passionate and positive about all aspects of life. A great asset for New Zealand Trails." Carolyn Rutter, NZ Great Walk Adventure
Sarah grew up in the small country town of Roxburgh in Central Otago. When she's not guiding you'll find her snowboarding in winter and rock climbing and hiking in summer. Sarah's favourite place in New Zealand is the Southern Fiords and she has a passion for plants and ferns from her years of guiding.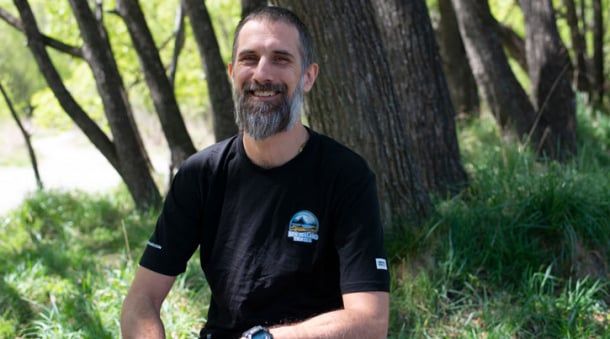 Daniel Sutherland
"Daniel is a special guy! So much Maori culture and history knowledge. He is a great driver and a wonderful person." Aileen Grossman, NZ Great Walk Adventure
Daniel hails from North Canterbury where he lives off grid with his young family, a few animals and a lot of fruit trees. Daniel has over a decade of experience as a hiking guide and in his spare time he loves rock climbing, tramping and getting out into our National Parks with his kids.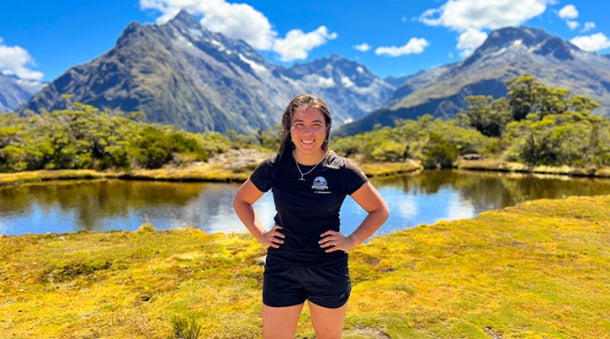 Cass Marrett
"Cass is so sweet and caring! And an amazing cook! She is strong, confident, easy-going and very patient. I have no doubt that her love of the country, the outdoors, and people make her one of your top assets." Suzanne Roeder, Pure South
Cass was born in Rotorua and raised in a small dairy farming town. She has a Bachelor of Broadcasting Communications and in a past life worked as a journalist. When she's not guiding you'll find her on the back of a horse, up the mountain with her snowboard, knocking off all the amazing hiking trails in Queenstown, or curled up at home with her two cats and a good book.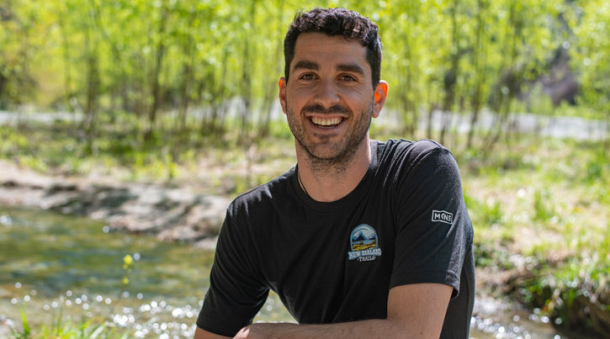 Ryan Jarvis
"Ryan is so warm, kind, helpful, and willing to do anything for us. He was creative in his food prep while also sensitive to those who had food preferences and all with great care, kindness, and sincere graciousness. What a special exceptional person." Paula Hardison, Masterpiece
Ryan grew up in the beachside town of Gisborne and is an avid hiker and photographer, so make sure you get him to capture some snaps of you on your trip! When he's not guiding Ryan enjoys surfing, hiking and spending time with his dog Koda.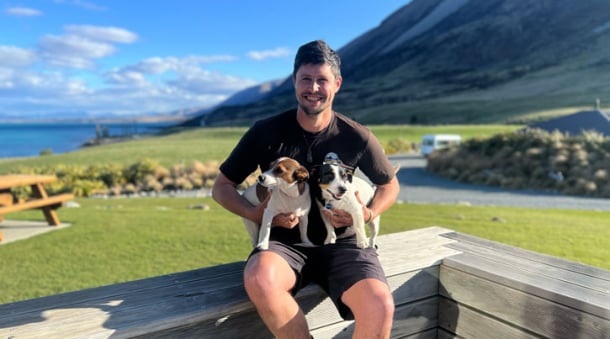 Tim Grant
"Tim was AMAZING!!!!! I felt 100% safe with him behind the wheel. The range of his knowledge was exceptional, and the diversity of information was as well. He was so warm and affable, easy, accommodating, and responsive. He made the trip! We all adored him." Peta Williamson, Masterpiece
Tim has a Bachelor's Degree in Marketing and Tourism from Otago University and has spent the last 7 years guiding guests around New Zealand. When he's not on a New Zealand Trails tour he's most likely to be found kayaking or hiking in all corners of Aotearoa or playing a round of golf.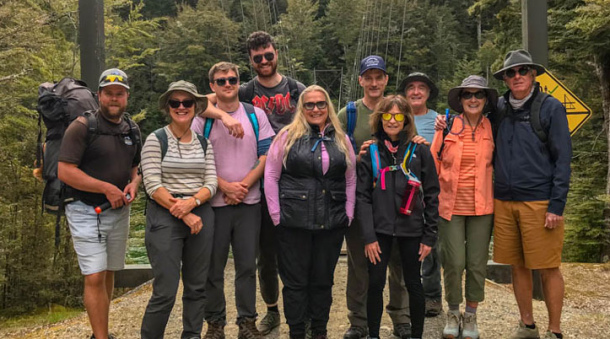 Blake Hanna
"Blake's skills as a driver and an avid outdoorsman made me feel safe and well cared for. He interacted with everyone and was thoughtful and respectful of everyone's needs and skills while being humourous and fun-loving." Suzanne Roeder, Kiwi Classic
Blake first guided for New Zealand Trails in 2017 and is an avid hiker and backcountry enthusiast. When he's not on a New Zealand Trails trip he'll be found kayaking, mountain biking or out tramping in our beautiful mountain ranges.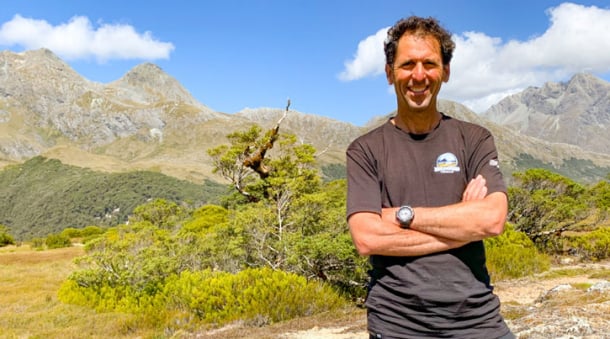 Ross James
"Ross was excellent - he has a quick sense of humor and is also very humble. I loved his adventurous spirit!" Shawna Weyers, Pure South
Ross was born into an active outdoor family in Auckland and was lucky enough to grow up sailing and tramping. He completed his first "great walk" at 10 years old! Ross has a passion for the backcountry and for snow sports instruction where he won a gold medal as a sighted guide in the downhill skiing event at the Lillehammer Paralympics.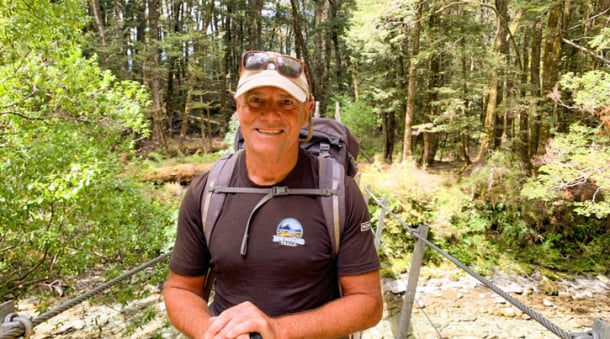 Tony Molloy
"Tony was outstanding, everything one would hope for in a guide and more. We felt very safe and Tony drove extremely well. He was helpful and informative." John Butcher, Pure South
Tony was born on the West Coast of the South Island and enjoys spending time hiking, fishing, mountain-biking and exploring the NZ back-country. In between fun times Tony has worked in the sport and event tourism sectors here and overseas - including 7 Olympic Games, 4 Rugby World Cups and 4 America's Cups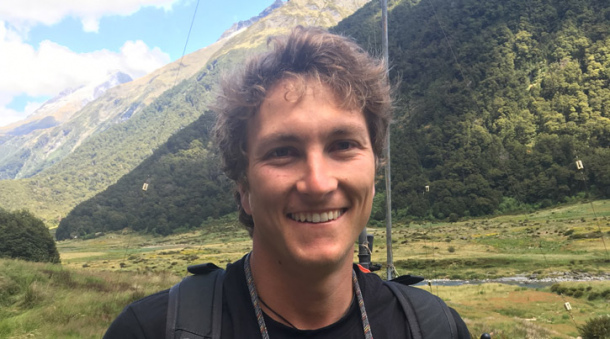 James Webster
"James was fantastic. Pleasant, informative, knowledgeable, great sense of humour, warm and helpful. I can't think of anything negative to say. We enjoyed getting to know him, and learning from his knowledge about NZ geology, outdoor life, and culture." Nancy Everds, Pure South
Born in Dunedin and having lived in Queenstown and Wanaka, James is a true South Island expert! At university, James studied Geology before becoming a fully qualified builder. When James isn't out guiding for NZ Trails he's a true outdoor enthusiast and can be found white water kayaking, climbing, hunting, surfing or skiing in our beautiful backcountry. One of James' favourite places in New Zealand is Fiordland National Park and who can blame him - cascading waterfalls tumbling into deep fiords, surrounded by a wilderness paradise of native forests - what's not to like!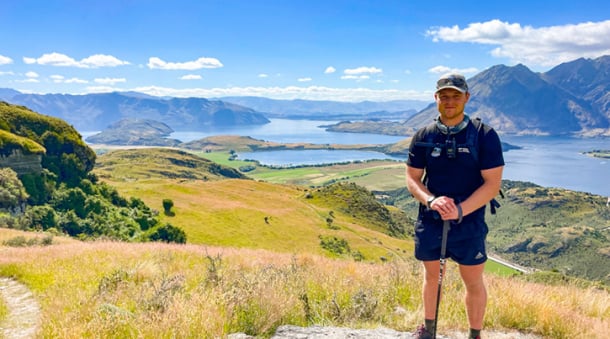 Cameron Andrews
"I've travelled to nearly fifty countries and Cameron is easily in my top 2% of guides. He is patient, resourceful, smart, knowledgeable, caring, interested in his clients and invested in their enjoyment of and immersion in the tour activities. He is wise beyond his years and a great ambassador for NZ Trails. I would jump at the chance to tour with him again. A super guide!" - Pam Payne, New Zealand Great Walks Adventure
Hailing from Invercargill, the most Southern city in New Zealand, Cameron has a background in physiotherapy and a true passion for the outdoors and health. When he's not guiding, Cameron loves to challenge himself with ultra-marathons and open swimming water events or take on a fun 4WD mission into the New Zealand backcountry.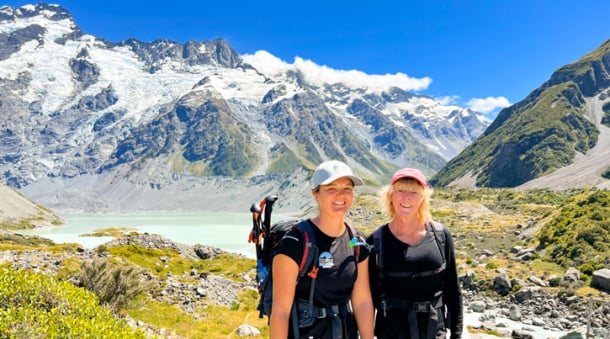 Corinne Frischnecht
"Corinne has an amazing personality, she could not do enough for everyone. She is so personable and caring for each individual. Great sandwich and food prep, always smiling, laughing, and engaging with everyone. She was always so fun to have around." Linda Pennycook, Masterpiece.
Corinne is from the sunny beachside town of Tauranga and loves hiking, biking and mountain biking. She has a Degree in Environmental Management and a Masters in Urban Design and when she's not guiding for New Zealand Trails she works for Tauranga City Council as a Senior Policy Planner.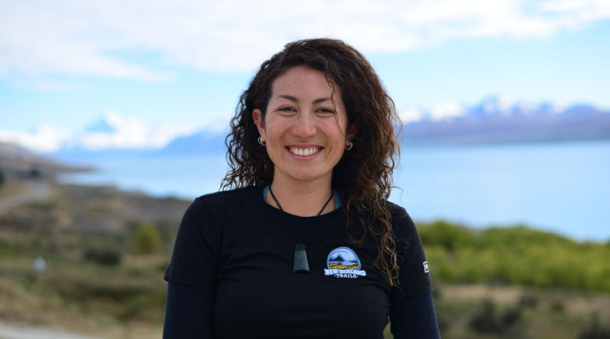 Miki Brown
"Miki was super amazing. Such a lovely person, engaging and a super hostess. Service was her specialty." Ali Kelley, Kiwi Classic
Miki comes from the adrenaline capital of New Zealand, Queenstown. Not one to shy away from adventure, she spent several years working as a hiking guide in Fiordland, home to some of the country's most iconic scenery, and has also worked in snowsports on the South Island. Wanderlust is in her nature and her favourite foreign destinations include Japan, India and the Philippines, but the South Island's rugged landscape called her home, luckily for us!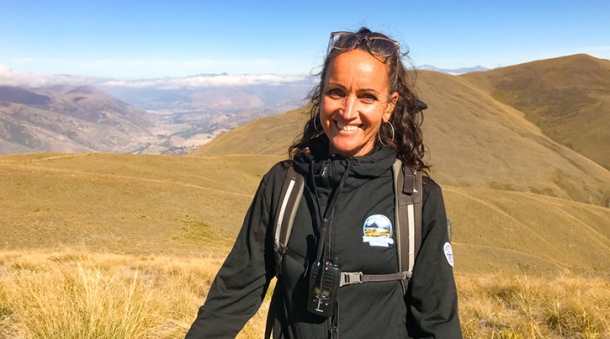 Kelly Keenan
"I love Kelly. She was kind, careful, helpful, energetic and always took care of anything that was needed. I would do another trip with her anytime! Could not have asked for more in a guide/friend. Really enjoyed her company and our conversations." Bonnie Cutts, Masterpiece
Kelly hails from Waiheke Island and loves trail running, paddling waka (a traditional Maori canoe) and fishing with her family. Kelly first started guiding on overland tours in Africa and now loves sharing her own backyard with our guests!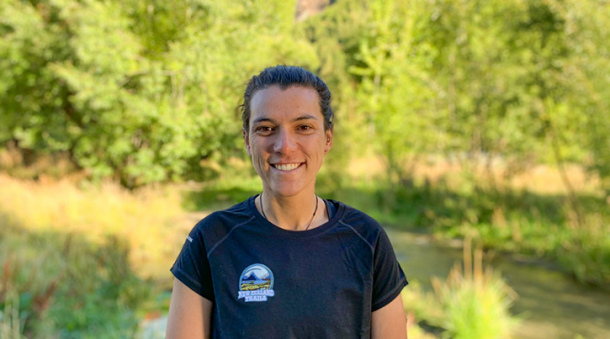 Morgan Erickson
"Morgan was amazing and so supportive and encouraging on hikes and so knowledgeable on the Maori culture. Morgan makes amazing lunches too!!!" Rosalie Carne, Pure South
Morgan completed a bachelor of Sport and Recreation-Outdoor Education at Auckland University of Technology and then worked as an outdoors instructor for 5 years. When she's not guiding Morgan works for the Department of Conservation as a Hut Warden and a Biodiversity Monitor, she also loves getting outside in our beautiful backcountry to climb and hike in our gorgeous Southern Alps.