Our Guided Hiking and Adventure Tours
Discover the perfect balance between adventure, experience and comfort on our New Zealand guided tours
Aotearoa/New Zealand is our home - we know it better than anyone and we want to share it with you. Join us and we'll hike our favourite trails, climb to awe-inspiring heights and skim stones over clear turquoise lakes. We'll share with you the best of our adventures, the most delightful accommodation and delicious food and wine. Our trips are about the whole experience, with not a stone left unturned. Our famous New Zealand guided tours are based on the same magic ingredients but each has its own personality and style, varying in length from five to 14 days.
Your perfect New Zealand experience
From our original luxurious walking tour, the 13-day World Heritage, to the thrilling 14-day Kiwi Classic for those who want to earn their views. Our 14-day Masterpiece is a South Island itinerary like no other, perfect for you if you're looking for an action-packed itinerary with a healthy dose of comfort and style. If time matters, the 8-day Pure South ticks all the boxes. If New Zealand's Great Walks are on your bucket list, The New Zealand Great Walk Adventure will have you hiking four Great Walks over five unforgettable days. If you're not short on time, you can combine any of the South Island trips with our standalone North Island itinerary, the 5-day Sweet North, for the complete North 'n' South New Zealand experience. Whatever you're looking for, we're sure to have a New Zealand itinerary to suit you.
Find out more about our New Zealand tours
Take a look at our gold award-winning guided tours of New Zealand and you might see right away which trip is right for you. If you're not sure or would like to know more, we'd love to talk. You can chat with Jodi the friendly Kiwi voice on the other line, or request your free copy of our brochure for the full scoop on all our New Zealand itineraries.
GET YOUR FREE NEW ZEALAND TOUR BROCHURE
Do you want to experience New Zealand in the best possible way?
Request your free brochure here and discover exactly how.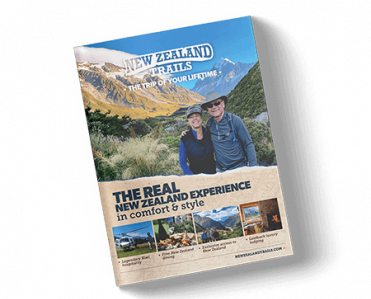 GET YOUR BROCHURE
Choose from our Fully-Guided New Zealand Hiking Tours