New Zealand Guided Tours – 5 of the best
Creating the perfect New Zealand guided tours takes a lot of hard work!
A whole lot of thought and research into planning and delivering our outstanding New Zealand guided tours. In fact, we reckon you'd be hard-pressed to find anyone who cares just as much as we do about creating the perfect New Zealand itinerary.
We've spent countless hours carefully planning our New Zealand guided tours, poring over maps and drawing on our extensive New Zealand hiking experience and travel know-how. We've worn through multiple pairs of hiking boots exploring thousands of kilometres of tracks and trails up and down our beautiful country.
We've spent many a clear night gazing up at the endless starry skies in search of the most serene spots. We've captured the most breath-taking views in our mind's eye and sought out the best Kiwi experiences – underground, overground, on the water and in the sky! We've forged relationships with exclusive accommodation providers and sampled the finest in New Zealand food and wine (it's a tough job we know!), happy in the knowledge that we get to share these delights with visitors from around the globe.
A New Zealand itinerary for everyone
We have created five different New Zealand guided tours ranging in length between five and 14 days. Our well thought-out and impeccably planned trips vary in activity level, from relaxed through to action-packed, so there's something for everyone.
From our original luxury walking tour, the World Heritage, for those who want to experience New Zealand in true comfort and style, to the always-exciting Kiwi Classic hiking trip for those after a heart-pumping adventure. Our Masterpiece trip is one of the best New Zealand South Island itineraries out there, perfect for travellers who enjoy an active trip without a heavy pack. For those looking for an action packed South Island experience, the Pure South tour ticks all the boxes, and if you want to see it all, combine any of the trips with our standalone New Zealand North Island itinerary, the Sweet North, for the complete North 'n' South experience!
Find out more
Take a look at our gold award-winning guided tours of New Zealand and find out which trip's right for you. Chat with the friendly Kiwi voice on the other line, Jodi and request your free copy of our brochure for the full scoop on all our New Zealand itineraries!
GET YOUR FREE NEW ZEALAND HIKING TRIP BROCHURE!
Too many options out there? Want to "do New Zealand" your way, with expert local guides to help?
Our FREE brochure is focused on New Zealand only. It's packed with detailed hiking itineraries, maps and behind-the-scenes tour info.
ALL YOU NEED – NOTHING YOU DON'T.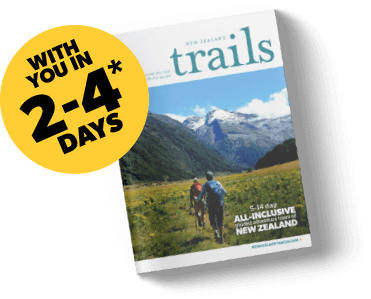 GET YOUR COPY NOW
*Mail to Australia and Canada could take a little longer, but it's worth it!
Choose from our 5 Fully-Guided New Zealand Adventure Tours