New Zealand Food & Wine
New Zealand's food culture
New Zealand cuisine is tasty and satisfying. With a focus on fresh, local food, our reputation as a foodie heaven is growing. This section of the blog will set your taste buds tingling with New Zealand food articles and traditional recipes!
New Zealand traditional food
Food and drink have always been a way for Kiwis to connect with one another. We love nothing more than sharing a delicious meal with family, catching up with friends over a perfectly-made coffee or sipping a local wine in one of the many award-winning and globally-renowned vineyards dotted about the country.
Our traditional food (kai) is hearty and heart-warming – think wild venison*, sweet roasted kumara and wilted fresh greens, accompanied by various tasty sauces and sides. While simple, we take pride in serving up expertly-cooked food that fuels the nation's adventurous spirit.
*there are plenty of wholesome vegetarian alternatives as well!
Fine dining
New Zealand food is so much more than meat and two veg, we have a somewhat sophisticated side as well. There are hundreds of fine dining restaurants serving excellent New Zealand cuisine to discerning palates around the country.
Our seafood, some of the best in the world, is highly sought-after by the nation's most talented chefs. Fresh green-lipped mussels, crayfish, white bait, king salmon, scallops and oysters can be found gracing the plates of many internationally-recognised eateries.
Sweet treats
For those with a sweet tooth, our stone fruit is write-home delicious - ripe cherries, juicy peaches and sweet nectarines put big smiles on our faces over the summer months. And for a truly Kiwi treat, you can't beat pavlova topped with fresh cream and colourful fruit!
Liquid refreshment
Coffee is a serious business for Kiwis and we're extremely opinionated on what constitutes a 'good' one. With a seemingly endless selection on offer, we recommend starting with a flat white and working your way down the menu to find which suits you best.
And of course, we would be remiss not to mention our world-class wines. Pair your meal with the perfect Marlborough Sauvignon Blanc or rich Central Otago Pinot Noir as you learn more about New Zealand's wine regions. 
Taste the real New Zealand
We LOVE food – whether it be the first taste of a warm savoury pie after a big adventure in the outdoors, a fresh picnic lunch with a view, a tasting platter and drinks before dinner, or an elegant degustation menu in a delightful local restaurant, we savour every bite.
Fortunately, as committed foodies, we're very well catered for and we're more than happy to let you in on all our secrets on your New Zealand Trails trip.
We know exactly where to find the best food in New Zealand – the best restaurants and cafes, the finest vineyards for wine tasting, and the best spots to grab a flat white on the go. Plus, our Kiwi guides are fantastic at creating home-cooked meals that will have you wondering whether they missed their calling as a chef!
New Zealand food recipes
We've been flicking through our well-thumbed recipe books and rustling up some old favourites recently (including the mouth-watering pavlova) – our team lunch is getting quite competitive in fact!
ORDER A FREE BROCHURE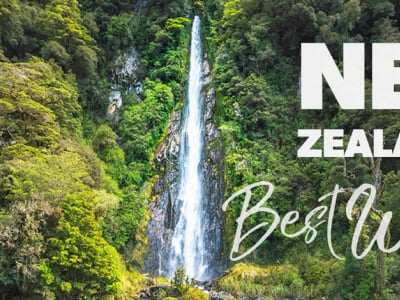 Our Latest Article
New Zealand's Best Waterfalls
Aotearoa/New Zealand is blessed with natural beauty of all kinds. As a relatively young landscape, you can witness it still being carved by the immens...
READ THIS ARTICLE