New Zealand Hiking Trails and Walking Tracks
Walking and hiking in New Zealand – what could be better? With thousands of kilometres of tracks and trails crisscrossing the incredible landscape, exploring on foot is without a doubt the best way to experience New Zealand.
But if you're overcome by the thought of planning a New Zealand hiking trip, fear not, we've got you covered. Contained in this section of the blog, you'll discover all you need to know about our New Zealand hiking trails.
The best place to start is with our 2019 definitive guide to hiking in New Zealand. This article has been exhaustively researched and the result is a completely comprehensive guide to planning hiking trips in New Zealand. It's packed full of handy tips and information that will make trip planning that much easier. If there's only one article you read before embarking on your New Zealand hiking adventure, make this the one.
Dig a little deeper into the blog and you'll find more about the best hiking in New Zealand with pieces on New Zealand's Great Walks, as well as detailed articles on hiking the Milford Track, discovering the Routeburn and Hollyford tracks and most people's New Zealand bucket list hikes worth including in your itinerary.
Get a little further off the beaten track and discover 10 of our favourite lesser known hikes, feel the chill on a glacier hike or explore New Zealand in style on a luxury hiking trip.
Learn how to prepare physically for your hiking adventure, what to wear while you're walking, how to use trekking poles and how to choose the best hiking boots for you.
Hiking trips in New Zealand are what we're all about, so there's also the chance to find out more about our tours and learn which of our incredible trips is right for you!
For anyone who's ever wanted to learn more about New Zealand hiking trails and the best hiking in New Zealand, we hope this helps you. We'll be adding to this resource over time, but if you have any questions between now and then, drop us a line or give us a call – we love to chat!  
ORDER A FREE BROCHURE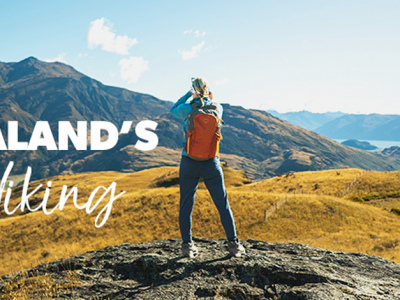 Our Latest Article
Top 5 New Zealand Hiking Destinations
When most people think about New Zealand the first thing that comes to mind is a land of breath taking scenery, with a diverse range of landscapes ran...
READ THIS ARTICLE