Best places to visit in New Zealand
With so many incredible places to visit, how do you narrow down your options? Most people only have a few weeks to explore, so it's important to know the best places to visit in New Zealand and how to include them in your travel plans.
North vs South
New Zealand is made up of two islands, North and South. The North Island is lush and green with rolling hills, sandy beaches and a bubbling geothermal heart. Home to the majority of New Zealand's 4.8 million population, the North Island is also where our largest city, Auckland, and the nation's capital, Wellington, are located.
The South Island is rugged, sparsely populated and devastatingly beautiful. With increasingly impressive vistas around each corner, the wild coastlines, thick forests, deep fiords and towering peaks vie for attention and keep your camera clicking.
It's not all wilderness though – the colourful town of Nelson illuminates the upper South Island with its arty eccentricity, while the historic city of Christchurch and surrounding Canterbury plains act as a bedrock for most of the South Island's population.
If you are limited on time and trying to decide which island to visit, find out the best places to travel in New Zealand with our North vs South Island debate.
New Zealand's cities
Our main centres are gateways to the rest of New Zealand with international airports and transport links to the surrounding countryside. They're also cultural centres with art galleries, museums, markets and monuments illustrating New Zealand's history and culture, both past and present.
Of course, most visitors come to New Zealand to experience our stunning landscapes, not our city life, but we think there's merit in both, so we like to include a blend in our Trails trips.
New Zealand's best landscapes
Outside of the main centres, the top places to visit in New Zealand include our outstanding National Parks which make up some of our most spectacular wilderness areas. Home to many world-class hiking tracks and trails, New Zealand's National Parks are a national treasure. Visit six of the best New Zealand National Parks on a New Zealand Trails trip.
Explore the wild west coast of the South Island, hike Jurassic-like surroundings in Punakaiki and Paparoa and pick your jaw up off the floor as you gaze in wonder up at our highest peak, the majestic Aoraki/ Mount Cook.
Get off the beaten track in the relaxed coastal retreat of Okarito, explore the hidden reaches of wild Fiordland National Park and discover a uniquely New Zealand nature sanctuary of Mou Waho Island.
And to complete your trip, let us show you the best places to stay in dreamy accommodation. These are the places that other guests want to visit and stay in, but don't know how to find!
This section of the blog will help you tick off the best places to visit in New Zealand and show you the best way to go about it. You can always get in touch if you have more questions or want to chat about your travel plans!
ORDER A FREE BROCHURE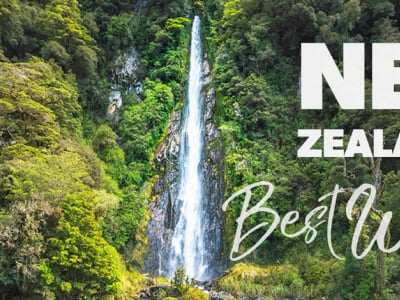 Our Latest Article
New Zealand's Best Waterfalls
Aotearoa/New Zealand is blessed with natural beauty of all kinds. As a relatively young landscape, you can witness it still being carved by the immens...
READ THIS ARTICLE