Planning your New Zealand hiking trip
Planning a New Zealand hiking trip? You're in the right place! This section of the blog contains all you need to know about New Zealand travel planning and how you can make the most of your time here. Flick through entertaining articles written by hikers for hikers - you'll find practical advice, travel tips and insider information to ensure that your New Zealand hiking adventure goes off without a hitch.
Your one-stop resource for all things hiking New Zealand, check out our comprehensive 2019 hiking guide – ideal for people planning their own hiking adventure or for those who want to find out more about the differences between independent and guided hiking options in New Zealand
For those keen to join a guided hiking tour, learn how to choose the best hiking tour in New Zealand. Get trail-ready with our 5 top tips for hiking preparation and fitness. Discover practical hiking style from Kiwis in the know, with handy video guides to choosing the right gear for your hike including your all-important boots and how to use trekking poles.
The ultimate New Zealand travel planning resource for hikers – lace up your boots and dig in!
ORDER A FREE BROCHURE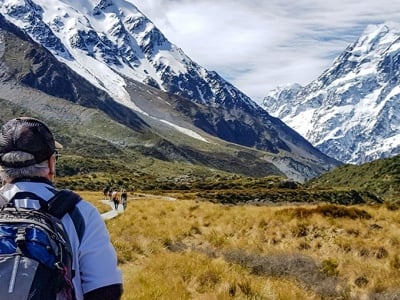 Keeping Safe out on the Trails with Mountain Safety Council
We've teamed up with New Zealand Mountain Safety Council to provide you with a comprehensive guide to keeping safe out on our trails.There are a few q...
READ THIS ARTICLE