The Best of the South Island of New Zealand
The South Island of New Zealand is a treasure trove of adventurous pursuits and diverse panoramas. Explore the streets of Queenstown and Christchurch before embracing the best of New Zealand's South Island, its wild spaces! Boasting 10 national parks, seven Great Walks, numerous glaciers, rainforests, and pristine beaches, the South Island is truly a fascinating area! These are the must see spots of the South Island which you will get to tick off on your adventure with us.
Visit our national parks
Aoraki/Mount Cook National Park
Aoraki/Mount Cook National Park is one of the world's finest mountaineering playgrounds. A place for both serious mountaineers like the first Everest summiteer - the Kiwi, Sir Edmund Hillary - as well as for those who prefer a leisurely stroll amongst stunning terrain. From flat winding tracks to rewarding climbs, there's something to suit everyone in Aoraki/Mount Cook National Park. Read all about the incredible walks and activities to do in Aoraki/Mount Cook National Park.
Fiordland National Park
A journey into the heart of Fiordland National Park is a must when visiting New Zealand. Not only is it home to one of the world's most mystical fiords, Milford Sound, it is also home to several of New Zealand's Great Walks like the Milford Track, the Kepler Track, and the Routeburn Track. Read all about the majestic Fiordland National Park.
Mount Aspiring National Park
With snow-capped peaks dominating the landscape and intricately braided rivers carving through the valley, Mount Aspiring National Park is the perfect place to find serenity and seclusion. Some top spots worth visiting are the Blue Pools, Siberia Valley, and, of course, you should bag a peak like Roy's Peak or Isthmus Peak. Read all about Mount Aspiring National Park.
Paparoa National Park
You won't realise how diverse the New Zealand South Island is until you enter the wild West Coast. Here, you'll discover caves and canyons filled with glow worms, limestone rock, ancient podocarp forests, and New Zealand's tenth Great Walk, the Paparoa Track. Read up on everything you need to see and do when you visit Paparoa National Park.
Arthur's Pass National Park
Over on the East Coast, in the Canterbury High Country, is Arthur's Pass National Park. Walks, views, and crisp mountain air in abundance, you could easily spend a few days exploring this park and barely scratch the surface. Walks like Devil's Punchbowl Track and Bealy Spur are just two out of hundreds of hikes to be found in the area. Find out more information on Arthur's Pass National Park here.
The best hikes in New Zealand's South Island
Routeburn Track
One of New Zealand's most famous Great Walks, the Routeburn Track, attracts visitors and locals alike to take on its trails every year. The 32km (19 miles) route is an incredible multi-day hiking route, but you can easily take on a section of it for the perfect day walk. Read all about the Routeburn Track.
Kepler Track
The Kepler Track is another of New Zealand's Great Walks. The 60km (37.3 mile) looped track traverses Fiordland National Park. Highlights include the side trip to Luxmore Hut and the views of Lake Manapouri from Motaru Hut. Read on here to learn all about the Kepler Track.
Mt Crichton Loop Track
This picturesque looped walk can be found just outside of Queenstown. As you hike the track, you'll get a glimpse into our gold mining past. There are plenty of opportunities for photos en route, from Sam Summers Hut to the incredible views of Lake Dispute. Read up on Mt Crichton Loop.
Ben Lomond
A firm favourite for Queenstown visitors looking for a bit of a challenge is the Ben Lomond hike. Accessed from downtown Queenstown, the 1,438m elevation gain will get your heart pumping. The views along the track of Queenstown, Lake Wakatipu, the Remarkables, and Cecil and Walter Peaks will motivate you to keep going. Read all about Ben Lomond.
Mount John
For a short walk that packs a punch, there's Mount John. The track emerges out of the forest to views of the startling blue Lake Tekapo. The area is part of the Aoraki Mackenzie International Dark Sky Reserve, which is the largest dark sky reserve in the world. This is one of the best places in New Zealand to see the stars! For more information, read on about Mount John.

Things to do in the South Island of New Zealand
If you want more than just hikes, the South Island will more than deliver!
Cruise Milford Sound
You don't travel all the way into the heart of Fiordland National Park not to experience Milford Sound out on the water. Take a cruise on our most famous fiord to experience its cascading waterfalls at their best.
Kayak Queen Charlotte Sound
The Marlborough region is renowned for its sunshine, wine, and beautiful Sounds. The best way to experience Queen Charlotte Sound is by kayak. A night in the remote Lochmara Lodge, followed by a kayak in its tranquil waters, is the perfect way to embrace the Sound.
Kayak Okarito Lagoon
Another spot for a delightful paddle is Okarito Lagoon. At 3000 hectares, the area is New Zealand's largest unmodified wetland and home to more than 76 species of native birds. Nature lovers will adore this hidden gem. Learn more about Okarito Lagoon.
Visit Mou Waho Island
This incredible little eco-sanctuary can be found in Lake Wanaka. Reachable only by boat, Mou Waho is a pest-free environment where native species like weka and weta can thrive undisturbed. For anyone interested in conservation, read all about Mou Waho and plan your visit!
Explore Franz Josef
Seeing a glacier with your own eyes is a special experience. Franz Josef can be found in Glacier Country on the West Coast. This World Heritage area is well-known for its diversity; it is home to high mountains, glaciers, rainforests, and beaches. There are so many ways to experience the area, from hikes to fly-overs to heli-hikes, which one will you choose?
Swim with Dusky dolphins in Kaikoura
Spend a day by the sea in the quaint town of Kaikoura. Best known for its thriving marine life, this is the best place in New Zealand to swim with dolphins and go whale watching!
All of these incredible spots are featured on one or more of our South Island trips! Get in touch to learn more about them, or you can also request your free copy of our brochure for all the details on our adventure tours of New Zealand.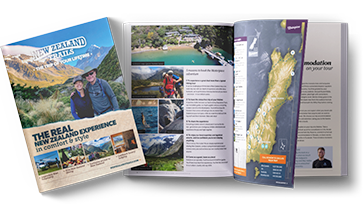 GET YOUR FREE NEW ZEALAND TOUR BROCHURE!
Too many options out there? Want to "do New Zealand" your way, with expert local guides to help?
Our FREE brochure is focused on New Zealand only. It's packed with detailed hiking itineraries, maps and behind-the-scenes tour info.
ALL YOU NEED – NOTHING YOU DON'T.
GET YOUR FREE NEW ZEALAND TOUR BROCHURE!
Since arriving back in Canada I have not stopped praising the country, its people, and the exceptional service and experience that my wife and I had with New Zealand Trails.
This was my second visit to New Zealand, the first I toured the North Island via a car rental. New Zealand Trails' tour opened our eyes to the extensive beauty of the country and the warmth of its people.
Gerry Potter
Read more reviews