The Best of the North Island of New Zealand
The North Island of New Zealand couldn't be more different from the South. In place of the alpine peaks and glaciers that define the South Island, there are volcanoes, geothermal wonderlands, and magical glowworm caves. Walk on 'Mars' (the Tongariro Crossing), float beneath a cluster of 'stars' (glowworms), stroll beneath the giants (the Redwood Forest), and immerse yourself in Maoritanga (Maori culture and traditions) in New Zealand's North Island. You'll experience all of these wonderful New Zealand landmarks on our Sweet North tour. Read on to find out about our North Island must-see spots.
New Zealand's North Island must-see spots
Glowworm caves
One of New Zealand's most fascinating fauna is its native glowworms. It is a unique and magical experience as you journey underground to walk or float beneath a canopy of lights. The Waitomo Caves are our most famous refuge for these fascinating creatures. Learn more about the weird and wonderful glowworms in the Waitomo Caves.
Geothermal New Zealand
The North Island of New Zealand is a land of bubbling mud pools, dramatic geysers, and natural hot pools! Whether you're a geographer, a fan of spas, or anything in between, you'll love the delights of Rotorua. Tick off seeing the largest active geyser in the southern hemisphere, Pōhutu, and the mystical Purapurawhetu mud pool! Read all the fascinating facts on geothermal New Zealand.
Huka Falls
Huka Falls is one of the most impressive waterfalls you'll ever see. Between its crazy vibrant colour and its sheer power, it's well worth a look! A massive 220,000L passes through the chasm every second! The best way to see it is by taking a stroll along the Huka Falls Walkway. Learn more about Huka Falls and Lake Taupo.
Coromandel Coast
If your idea of a holiday involves glorious sunshine and pristine stretches of white sand, then the Coromandel is the place for you. Lay out in the sun, dig your own spa at Hot Water Beach, or kayak to the stunning Cathedral Cove; you can find out more in our handy guide to the Coromandel Coast.
Best hikes in New Zealand's North Island
Tongariro Crossing
One of the most famous hikes in the world for a good reason, the Tongariro Crossing is a stunning day hike that feels like you're on another planet. The red earth, vivid colours of the lakes, and incredible views of the volcano, Mt Ngauruhoe (Mount Doom), adds to the feeling that you are roaming through a fantasy world. Find out more about the Tongariro Crossing.
Redwoods hike
A great little walk that is otherworldly in a very different way is the Redwoods hike. Found in the magical Whakarewarewa Forest in Rotorua, you'll be lost in a trance as you cast your eyes towards the sky and take in these Californian giants. Read up on the Redwoods hike.
All of these incredible North Island spots are featured on our Sweet North trip! Get in touch to learn more about them, or you can also request your free copy of our brochure for all the details on our adventure tours of New Zealand.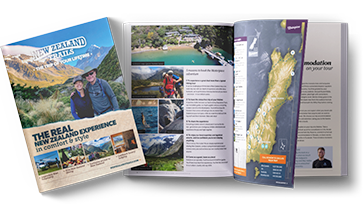 GET YOUR FREE NEW ZEALAND TOUR BROCHURE!
Too many options out there? Want to "do New Zealand" your way, with expert local guides to help?
Our FREE brochure is focused on New Zealand only. It's packed with detailed hiking itineraries, maps and behind-the-scenes tour info.
ALL YOU NEED – NOTHING YOU DON'T.
GET YOUR FREE NEW ZEALAND TOUR BROCHURE!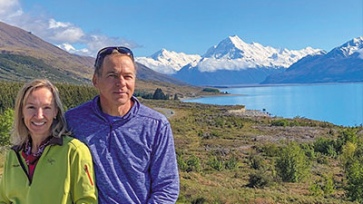 It was the trip of a lifetime! My overall expectations were exceeded!
I am absolutely confident that having tried to do something similar on our own, we would not have been able to see and do so much, nor to have found many of the hidden gems that were part of this tour.
Courtney & Gary Corda
Read more reviews