New Zealand Landmarks
Welcome to your one-stop guide to visiting Aotearoa/New Zealand. Here you'll find information on the must-see New Zealand landmarks and all the incredible things to do in New Zealand.
Why visit New Zealand landmarks
New Zealand is a land of fire and ice, from the vast, brilliant white glaciers of the South Island to the rising steam and volcanoes of the North Island. It is a country steeped in culture, from the landing of the first Maori to the coming of the Europeans. From Captain Cook to Edmund Hillary, it has long been known as an adventurer's paradise. With mountains and tracks to hike, glacial lakes to swim and kayak in, cliffs to rock climb and waves to surf, there are endless things to do in New Zealand. You'll see endemic creatures like the takahe and kiwi as well as lush green rainforest and alpine peaks. The awe-inspiring New Zealand landmarks, unsurprisingly, have hosted many a blockbuster like Jurassic Park, the Lord of the Rings trilogy, and Narnia: Prince of Caspian. When you travel with us, you can tick off all the New Zealand famous landmarks from Aoraki/Mount Cook and Milford Sound to those only we, the locals, know about. A visit to New Zealand is a no-brainer and you'll learn all about why within these pages!
The South Island
The South Island is a treasure trove of adventurous pursuits and diverse panoramas. Explore the city streets of Christchurch before escaping to the vast wilderness of one (or all!) of our national parks. Journey from the glaciers of Aoraki/Mount Cook National Park and Mount Aspiring National Park, to the tropical vibes of Paparoa National Park or the limestone boulders of Arthur's Pass National Park. Hike incredible walks like the Mt Crichton Loop Track, Ben Lomond and Mount John. Tick off some of New Zealand's Great Walks like the Kepler and Routeburn Track. Cruise along the waters of our most famous fiord, Milford Sound, tucked away in Fiordland National Park. Kayak the iconic Queen Charlotte Sound or the hidden gem that is Okarito Lagoon. Learn about our unique native wildlife on Mou Waho Island, walk to the terminal face of a glacier in Franz Josef and swim with dusky dolphins in Kaikoura. The South Island has it all!
The North Island
The North Island is the other New Zealand, and it couldn't be more different from the South. Experience more incredible New Zealand landmarks, from the stunning depths of our glowworm caves to the geothermal wonderland of Rotorua and the powerful vivid blue water of Huka Falls. Hike the best day walk in the world, the Tongariro Crossing, and stroll amongst the Californian giants on the Redwoods hike. Explore the idyllic white-sand beaches of the Coromandel, topping off your adventure with a kayak to the picture-perfect Cathedral Cove. The North Island is where you'll find the cultural heart of New Zealand.
Why visit New Zealand's famous landmarks with us?
Here at New Zealand Trails, we have amassed a team of Kiwis with decades of experience in adventure travel. Our company focuses solely on New Zealand and we hire only New Zealand guides to take you to these extraordinary places. Between our exclusive access to many of the New Zealand landmarks and exceptional value, we guarantee we'll take you on the trip of your lifetime.
If you'd like to know more, grab a copy of our brochure, give Jodi a call or send her an email. We'd love to hear from you.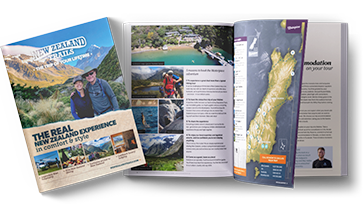 GET YOUR FREE NEW ZEALAND TOUR BROCHURE!
Too many options out there? Want to "do New Zealand" your way, with expert local guides to help?
Our FREE brochure is focused on New Zealand only. It's packed with detailed hiking itineraries, maps and behind-the-scenes tour info.
ALL YOU NEED – NOTHING YOU DON'T.
GET YOUR FREE NEW ZEALAND TOUR BROCHURE!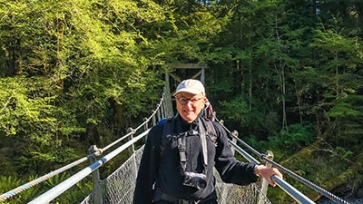 I have been lucky enough to have visited New Zealand many times...
But this tour took me to places of great beauty that were new to me, and deepened my understanding of the South Island.
Jonathan Thompson
Read more reviews