The New Zealand Great Walk Adventure - South
Discover Milford Sound, Stewart Island and day walk on our favourite New Zealand Great Walks including the Kepler Track, Milford Track and Routeburn Track.
The New Zealand Great Walk Adventure - South Route Map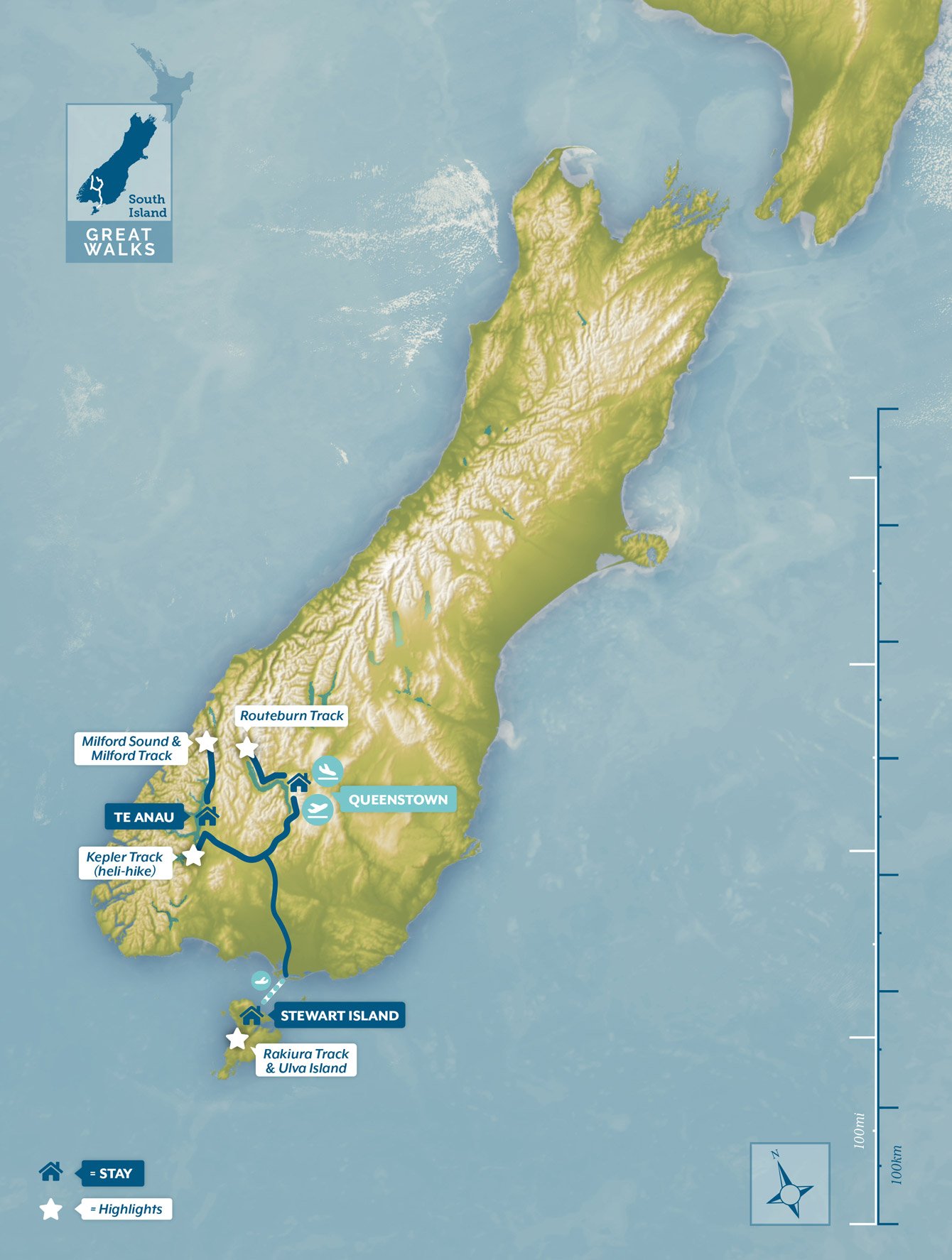 The New Zealand Great Walk Adventure - South Day-by-Day Itinerary
Queenstown
Day walk on the Routeburn Track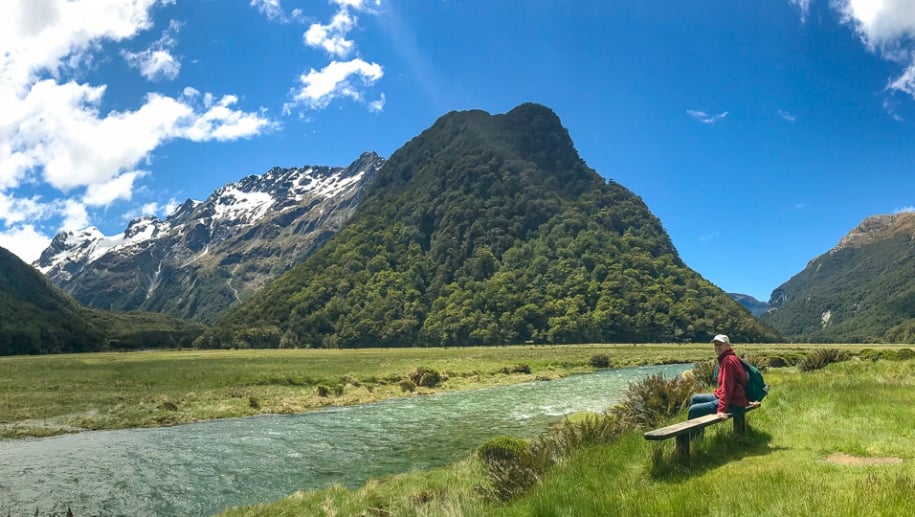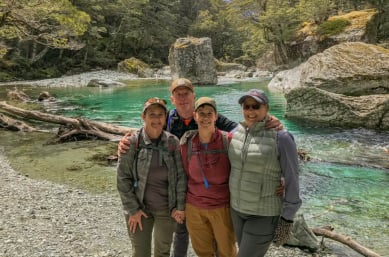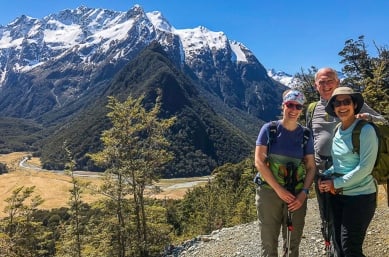 Day 1 - Day walk on the Routeburn Track
This morning you will meet your local guide and fellow travellers in Queenstown before heading to Glenorchy at the head of Lake Wakatipu. This is one of the most scenic drives in New Zealand and you'll be greeted by mountain peaks and endless impressive vistas before we reach the first of our Great Walks, the Routeburn Track.
Your guide will fill you in on the local history and special flora and fauna of the area as you walk through beautiful native beech forest alongside a crystal clear glacial river. Our destination today is the expansive open meadow at Routeburn Flats, where you'll enjoy a picnic lunch alongside the Routeburn River.
Refreshed from today's wilderness experience we'll head back to Queenstown to enjoy a delicious dinner at one of our favourite local restaurants.
Tonight we stay at Queenstown Ramada Central*
Helicopter to Mt Luxmore
Day walk on the Kepler Track
Includes
Breakfast
Lunch
Dinner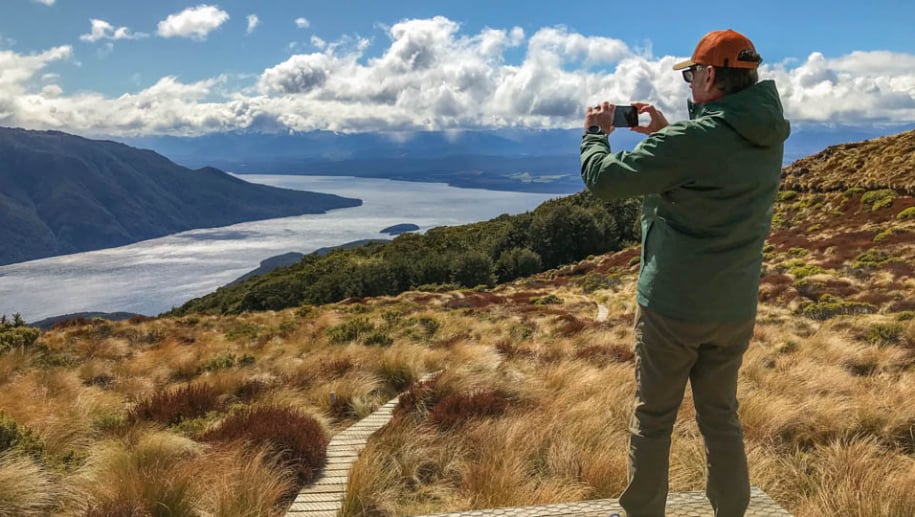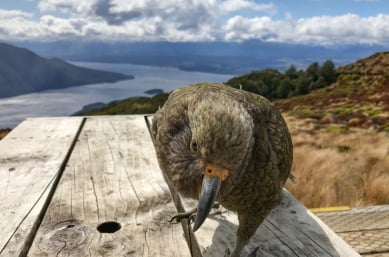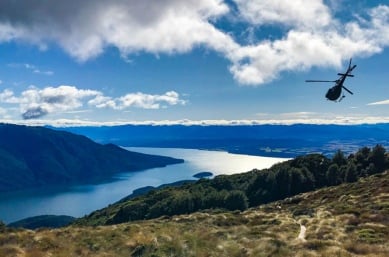 Day 2 - Helicopter ride and day walk on Kepler Track
This morning we'll travel south tracing the shores of Lake Wakatipu and through the open plains and tussocks of the Southern high country to reach Fiordland National Park and our second Great Walk, the Kepler Track.
We'll be met at the helipad by our local Fiordland guide before taking a spectacular flight over the hidden lakes and beech forest of Mt Luxmore and touching down in the alpine area of Luxmore Hut on the Kepler Track. Panoramic views of the Te Anau basin and the mountains of Fiordland will greet us and our local nature guide will teach you about the unique flora, fauna and history of this remote area.
This afternoon we'll walk through beautiful beach forest and alongside towering limestone rock formations as we descend down to Brod Bay, the pick-up point for our cruise back to Te Anau, our resting place tonight.
If helicopters aren't really your thing, that's no worries at all, your New Zealand Trails guide will be able to take you on a day walk through the forest floor instead.
Tonight we stay at Distinction Te Anau*
Milford Sound Cruise
Day walk on the Milford Track
Includes
Breakfast
Lunch
Dinner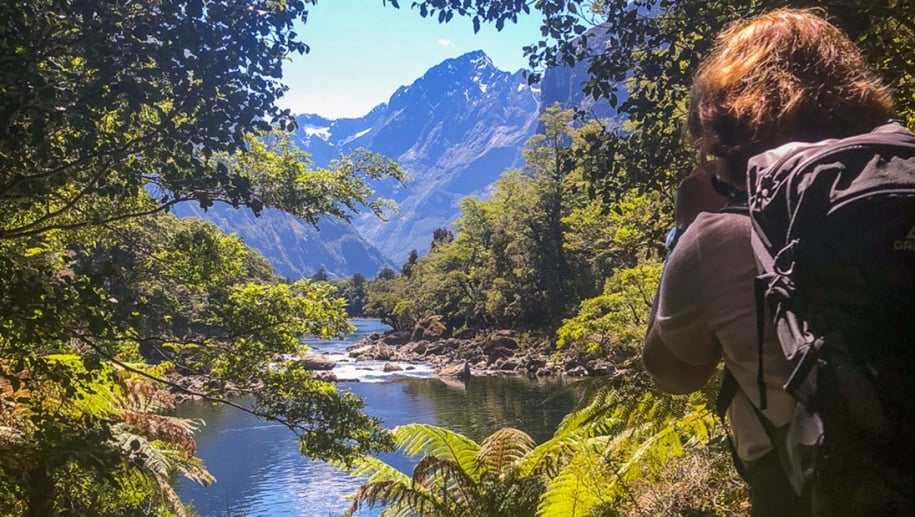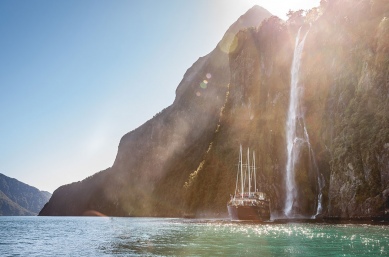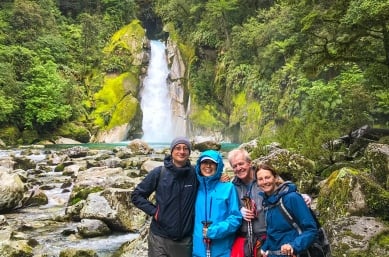 Day 3 - Day walk on the Milford Track and cruise Milford Sound
Today we'll journey through some of the most spectacular and dramatic views in the country. We leave Te Anau and head through to Milford Sound, the Eighth Wonder of the World. There are many highlights along the drive including the glacier-carved Eglinton Valley, the Divide and Homer Tunnel, keep an eye out for the cheeky Kea, NZ's alpine parrot.
When we arrive in Milford Sound we'll board a small boat that will take us across the fiord to the world-famous Milford Track, your third Great Walk of the trip. We'll walk through this unique World Heritage area underneath a canopy of towering emerald-green ferns to the tumbling falls of Giant's Gate. Be sure to take a moment to take in the birdsong that echoes through the forest.
This afternoon we'll take a nature cruise on Milford Sound. We'll check out Bowen Falls, Sinbad Gully and the dramatic Mitre Peak as we make our way towards the Tasman Sea. This is your chance to learn more about the unique Fiordland environment from your Milford Sound guide on board while enjoying the sights and sounds of waterfalls tumbling down around you.
Tonight we stay at Distinction Te Anau*
Stewart Island
Day walk on the Rakiura Track
Includes
Breakfast
Lunch
Dinner
Accommodation
Stewart Island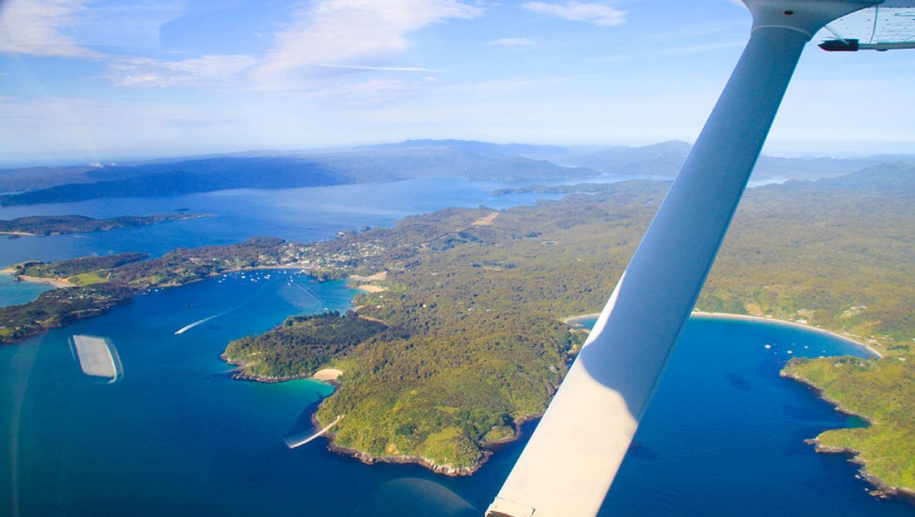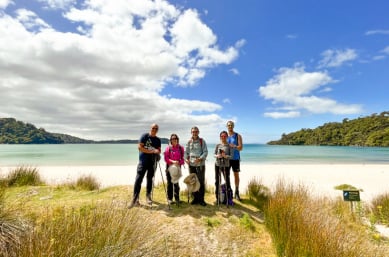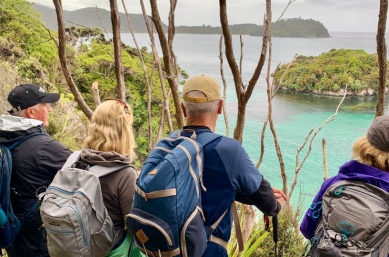 Day 4 – Scenic flight to Stewart Island and day walk on the Rakiura Track
Today we're venturing further off the beaten track to Stewart Island and Rakiura National Park. Tucked off the southern coast of the South Island, Stewart Island is the smallest of our main islands. A haven for brown kiwi birds, who outnumber the 400 humans on the island, and part of New Zealand's Dark Sky Reserve, Stewart Island is a paradise of untouched rugged peaks and rainforest.
This morning we'll take a scenic flight across Foveaux Strait and touch down in Oban, the main settlement of Stewart Island. We'll spend the afternoon exploring our fourth Great Walk, the Rakiura Track. We'll walk from Lee Bay to Māori Beach, which in the early 1900s was a bustling settlement. Today the rainforest hides most of what remains of the early village but remnants of the boiler and steam engine used by the old sawmill can still be found, along with clumps of montbretia and bluebells - legacies from the sawmiller's cottages.
Tonight we'll return to Oban where we'll enjoy a delicious dinner at the local tavern, the best place in New Zealand to try our famous blue cod. Stewart Island is known as Rakiura which means 'the land of glowing skies' and tonight you'll be able to experience some of the best stargazing straight from the balcony at your accommodation.
Tonight we stay at Bay Motel Rakiura*
Day 4 Optional Add-ons
Below are some of the optional add-ons you can also enjoy:
Optional Kiwi Encounter Tour
This evening you'll have the option of going on a Kiwi Encounter Tour. At dusk, you will depart from Stewart Island's Halfmoon Bay for a cruise across Paterson Inlet to Little Glory Cove. During the cruise, you will pass Ulva Island (a predator-free sanctuary) and learn about Stewart Island's rich history. As dusk sets in and daylight diminishes, you will venture by torchlight through the native forest, with the stars and forest night sounds around you. The walk will take about 45 minutes one-way and the track will emerge onto Ocean Beach. This wide sandy beach is where kiwi are often found feeding among the grasses and seaweed. Here in the darkness, you will get to see the Southern brown kiwi (Rakiura Tokoeka) - often searching for food.
NZD$229
Stewart Island
Explore Ulva Island
Accommodation
Finish in Queenstown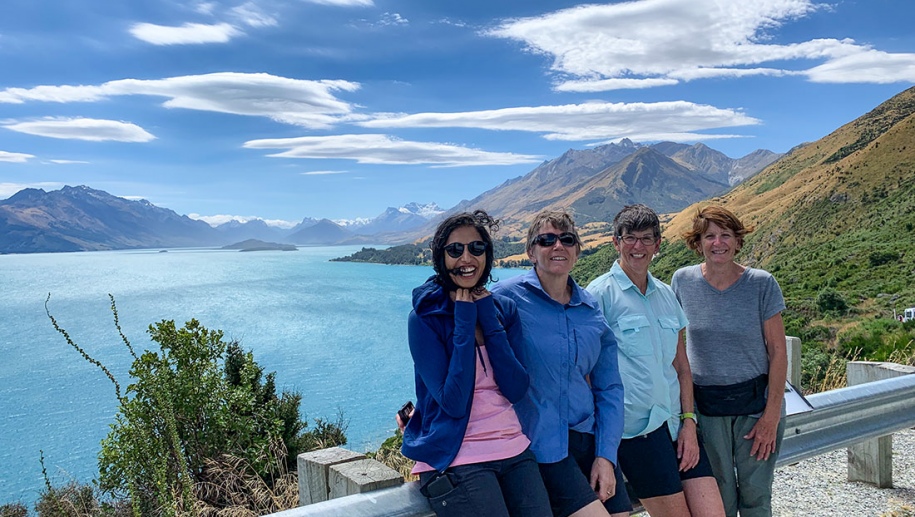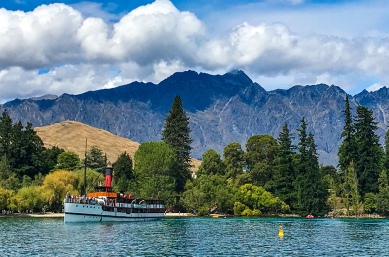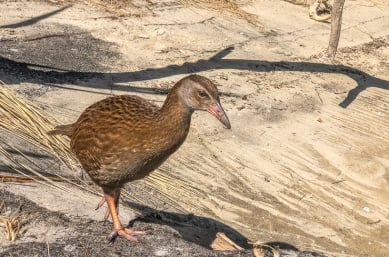 Day 5 - Explore Ulva Island & finish in Queenstown
On the final morning of the trip, you'll explore the untouched paradise of Ulva Island. This small predator-free island measuring just 3.5km is tucked just off the coast of Stewart Island. We'll take a short boat ride across to this beautiful island sanctuary that is home to flourishing populations of kiwi, saddleback and yellowhead birds. Ulva Island is a haven for bird lovers, nature enthusiasts and the perfect place to explore on our last day together. 
We'll then return to the mainland. Our last journey together is a scenic trip through tussock country and small farming towns, before tracing the shoreline of the Lake Wakatipu back to Queenstown. Once there, it's time to say goodbye to your guide and other travellers as we drop you at the airport or your accommodation.
If you're joining us to explore the North Island on our Sweet North trip, we'll ensure a smooth transition for you. If not, we hope to see you again soon!
*For logistical reasons, we may make small changes to our itineraries or accommodation from time to time.
Dropoff Information
Today your guide will drop you off either at Queenstown Airport or your Queenstown accommodation.
5.00pm Queenstown Airport 
             OR
5.30pm Queenstown Accommodation
**When booking flights please make sure that your flight departs from Queenstown no earlier than 6pm Domestic or 7pm International.
Photos of the The New Zealand Great Walk Adventure - South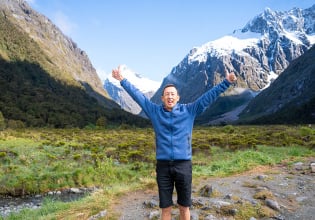 Monkey Creek, Fiordland National Park.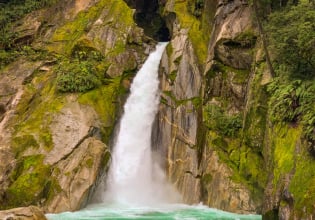 Giant Gate waterfall on the Milford Track.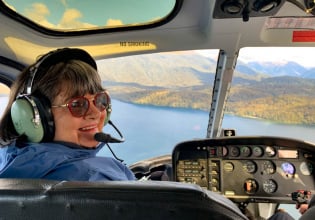 Heli-hiking on the Kepler Track.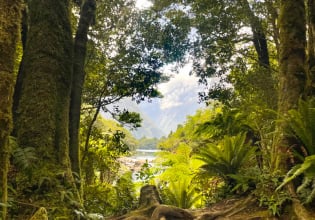 Milford Track, Great Walk.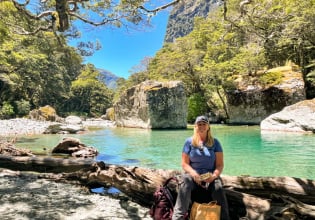 Exploring the Routeburn Track.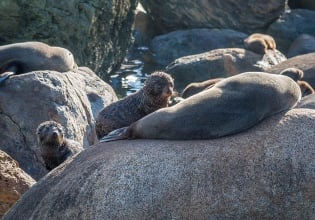 NZ fur seals in Milford Sound.
Milford Track.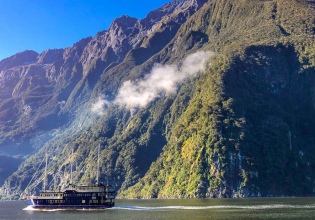 Cruise Milford Sound.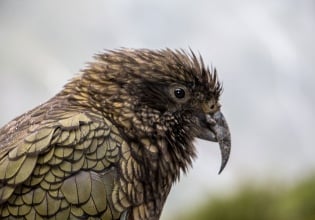 Kea in Fiordland.
See more photos
The New Zealand Great Walk Adventure - South Accommodation
Radfords On The Lake
Ramada Queenstown Central
Bay Motel Stewart Island
Read More about accommodations
Frequently asked questions
It's very important to us that you have all your questions answered about our New Zealand Great Walk Adventure. We've collected some of the questions we get asked most often and answered them below. Or visit our general FAQ page here for more answers!
And if you still can't find the answers you need, give us a call or send us an email and we'll help you out!
Which National Parks and Great Walks does the The New Zealand Great Walk Adventure visit?
How fit do I need to be for The New Zealand Great Walk Adventure?
What is the accommodation like on The New Zealand Great Walk Adventure?
What time does The New Zealand Great Walk Adventure start and finish?
What are the bathroom facilities like on The New Zealand Great Walk Adventure?
Is there electricity at all of the places we stay on The New Zealand Great Walk Adventure?
Will I have WiFi or internet access throughout the trip?
What's included in The New Zealand Great Walk Adventure?
What's not included in The New Zealand Great Walk Adventure?
What kind of people will be on The New Zealand Great Walk Adventure?
Is The New Zealand Great Walk Adventure suitable for families?
Can you organise a private trip of The New Zealand Great Walk Adventure for me and my family/friends?
Tell me about your safety standards
How old are the people on your tours?
How hard are the hikes and activities – how fit do I have to be?
Do I have to pay extra if I'm travelling by myself?
Do you need any outdoors experience for The New Zealand Great Walk Adventure?
How many people will be on my trip?
What does going on a guided trip entail?
Can you help with pre/post-trip accommodation and flights?
More frequently asked questions
Tour dates
Explore Stewart Island, Milford Sound and day walk on four of the best of Fiordland's Great Walks. Combine this trip with the Sweet North for 10 days of the best of New Zealand.
We regularly organise private trips for specialist groups, clubs, extended families and groups of friends wishing to travel together and would be more than happy to help you with your travel plans.
Thinking of visiting New Zealand in the next year or so?
We only run a limited number of departures each year and as you can see below, they fill up months in advance! Most of our guests lock in their trips at least a year out from travelling so they don't miss out on their preferred dates. If you have specific dates in mind, let's chat!
See all available dates
The New Zealand Great Walk Adventure - South – ready to book?
Ready to start your New Zealand adventure?
Your New Zealand 'Trip of a Lifetime' - with New Zealand's best walks, very comfortable accommodation, great food, iconic New Zealand activities in a friendly, small-group setting led by your local guide.
What's included:
✓ Local Kiwi guide, small groups
✓ All inclusive
✓ All food, transportation and activities
✓ The very best accommodation
✓ Local naturalist guides
✓ Helicopter transfer
NZD$4799 AUD$4799 USD$4299.00+tax GBP£3899 NZD$7999 CAD$5699.00+tax
per person (twin or double share)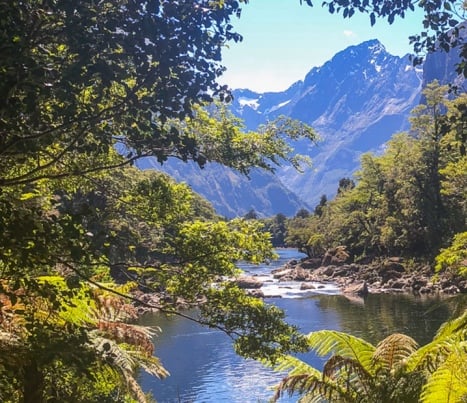 Want more information?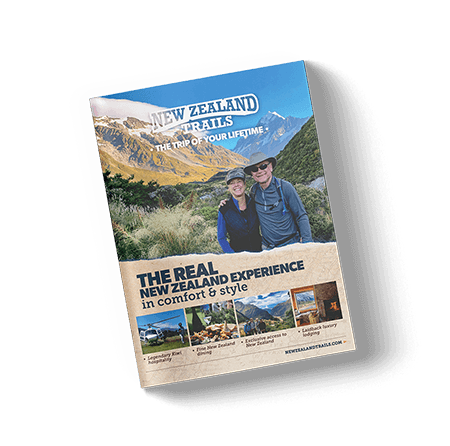 Get a free New Zealand Trails brochure!
Too many options out there? Want to "do New Zealand" your way, with expert local guides to help?
Our FREE brochure has 36 pages of detailed itineraries, maps and behind-the-scenes tour info.
All you need – nothing you don't.
SEND ME MINE

›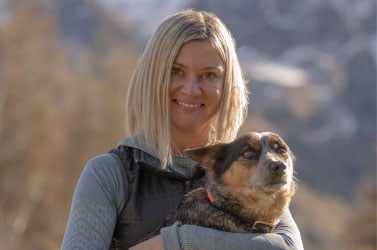 Call us!
If you're still not sure, or just want to hear a friendly voice, contact Jodi!
Email: jodi@newzealandtrails.com