So much more than a brochure, and you can read it in the bath!
• 5-14 day, all-inclusive, guided walking tour options with detailed itineraries and maps.
• Find out if small group travel is right for you.
• Hidden gems, the must-see destinations you won't find travelling on your own.
• A local's guide to New Zealand food, culture, and the lingo.
• Everything you need and want to know about New Zealand to plan your adventure.
• Bonus: get special offers, trip advice and updates to your inbox.

FREE TRAILS MAGAZINE
Our magazine is an extension of our tours – a collection of everything that makes New Zealand unique. Some might say we shouldn't have put so much love and elbow grease into creating a magazine, when you can find anything you want on the internet, but we say nope, we're proud of our work and we reckon you'll love it too! Here, you'll find a carefully thought out collection of 80+ pages of gorgeous pictures & inspiring Kiwi stories. You can read it anytime, anywhere. Even in the bath! You'll find maps, itineraries for our five trips, gear advice, stories from the locals, extraordinary landscapes and much more. Kick back and relax as we take you on a journey to New Zealand and introduce you to the people and stories behind the places, our laid-back outdoor lifestyle, Māori heritage, vintage Kiwiana and cheeky NZ pop culture.

Heoi anō tāku mō nāianei, and see you soon!

Jodi & the New Zealand Trails crew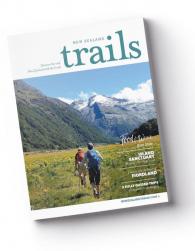 FREE MAGAZINE
We'll mail it out to you today – wherever you are – absolutely FREE. Future issues once or twice a year, or whenever we get around to it :) Cancel any time, if you want to.